If you want to try Graze, please do use my code to receive your first box for free – B1H37JDB. Everybody who gets Graze boxes gets these free box codes to refer their friends, so no I'm not affiliated by I will get £1 off my next box if you join :) you can even cancel after the free box if you want to.

Everyone's heard of Graze, haven't they? For the benefit of those who haven't, the short version is that they will send you boxes as frequently as you like filled with 4 nutritious punnets to snack on throughout the day for £3.79 per box – and you can cancel any time. Perfect for those like me who don't really have a lunch break to speak of! They're also great for people who are watching what they eat, with different plans that you can choose from so that Graze will never send you anything naughty if you choose. I get the original Nibble boxes, because frankly I'm not overly concerned with health freak snacking and I wanted to try Graze more out of curiosity and for something fun and different. Even so, it's better than giving into the mid-afternoon sugar craving and nipping out to get a pain au chocolat or something.
Possibly the best thing about Graze is their rating system where you can mark each different product as Try, Like, Love or Bin. I immediately Binned all products with peanuts and brazil nuts in – I've not got an allergy, I just hate them. This is great because you can make sure you never receive something you won't like! Marking something as Like means they'll send it to you occasionally, and if you Love it they'll send it regularly. I started with all my non-Binned products on the Try setting (this is default for everything).
I'll have had 6 boxes by the time this post goes live, and so far I've been really enjoying the experience so I wanted to share my thoughts on each of the things I've tried. It's always exciting getting my Graze box and they're always beautifully presented – personalised, with a leaflet (with your name on it) containing a nutritional breakdown of all the foods in your box, and a napkin hidden under the punnets. So, what was in my first box?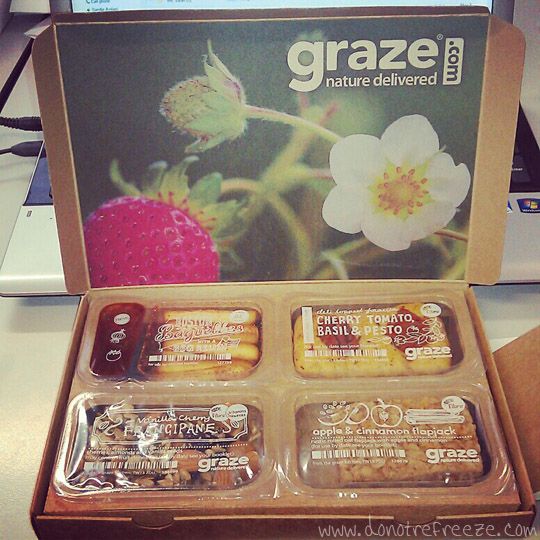 Vanilla Cherry Frangipane


Cherries, almonds, vanilla pumpkin seeds and vanilla sunflower seeds
Yum! Just the right of chew and crunch in here. Other than raisins, I'd never really eaten much in the way of dried fruit before I tried Graze but these dried cherries were lovely. Perhaps a few too many almonds in the punnet, and they were quite tasteless, but the sweet chewy cherries and authentic vanilla flavour of the seeds balanced it out. I marked this one as Like. 4/5
Cherry Tomato, Basil and Puglian Pesto Focaccia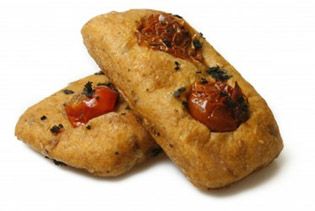 Focaccia bread topped with a basil and pesto cherry tomatoes
Blah! I've never been a fan of tomatoes, ever. I don't mind tomato flavoured things, but actual tomatoes just aren't appealing to me. This was the first thing I ate out of the box, and I have to admit it disappointed me from the word go until the rest of the box saved it. The focaccia itself was soggy, probably from the tomatoes, and just blah. I thought I'd try it anyway but totally not for me, and immediate bin. 1/5
Boston Baguettes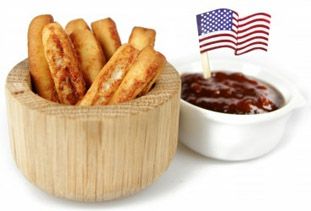 Tomato breadsticks with BBQ relish
These were tasty! It was like posh grown up monster much. The breadsticks didn't taste particularly like tomato but they were nice enough, and the BBQ relish was nice and sweet but not overly sugary and synthetic like BBQ sauce is. I marked this one as Like – I did enjoy it but wouldn't want it to show up in my boxes too regularly. 3.5/5
Apple and Cinnamon Flapjack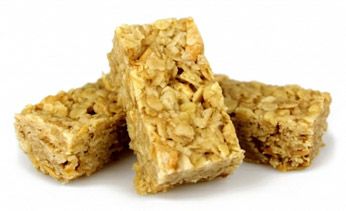 Rolled oat flapjack with apple pieces and cinnamon
I am a BIG lover of flapjacks, so I knew I'd like this. The cinnamon flavour is noticeable, but not overpowering. There are tiny little pieces of soft dried apple in there, but I didn't notice the taste of them too much. Very tasty flapjack – but it loses a point for being ever so slightly crumbly and not quite as sticky as I usually prefer. A bit naughty too, at 4g saturated fat in a 54g flapjack. Like I said before though, I'm not doing this for health freak purposes! 4/5
Overall box rating: 4/5 – whilst I didn't love the Focaccia bread thanks to the tomatoes, I really enjoyed everything else and my first experience of Graze was brilliant. Certainly enough to keep me subscribed and start paying for boxes.
Have you tried Graze before? Are you tempted? I wanted to do these ratings for all my boxes, but let me know if you'd rather not see that.