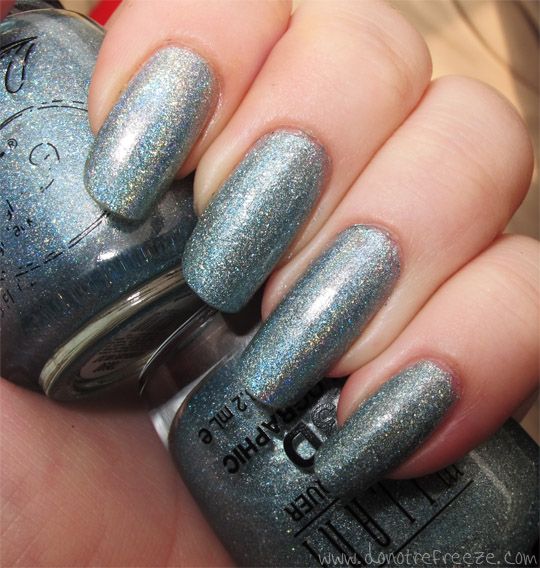 I mentioned in one of my recent posts that I'd been on a bit of a winning streak with old discontinued nail polishes on eBay. One of the ones I managed to get my hands on was China Glaze Kaleidoscope Him Out from the Kaleidoscope collection (2009 I think, maybe even late 2008?). I was super excited about this one. I don't know why it hadn't twigged before, but when it arrived I looked at it in the bottle and thought 'hmm.. I have one exactly like this'.
The polish in question is Cyberspace from Milani's 3D Holographic range. I honestly don't know why I didn't realise Kaleidoscope Him Out was going to be a dead ringer for Cyberspace as I love the Milani holos and use them quite frequently. Anyway, after this admittedly super delayed realisation the first thing I had to do was do some side-by-side swatches to compare.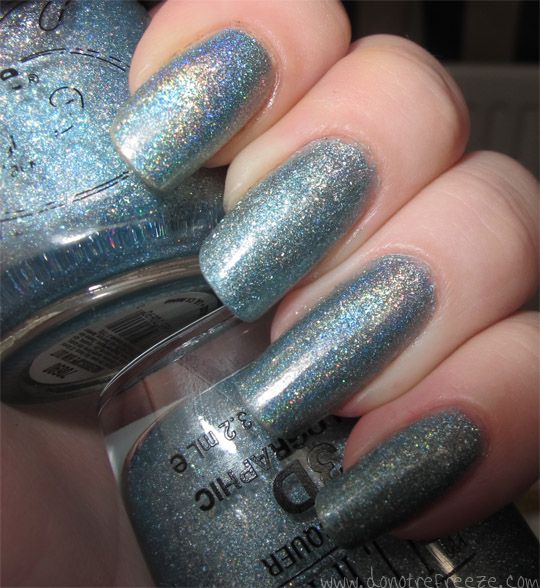 Unfortunately it was quite an overcast day when I took these pictures so you can't get the full holo effect that comes out in bright sunlight, but it's clear to see that these are 95% identical. The colours are spot on, the particles are exactly the same… but Kaleidoscope Him Out has definitely got a stronger holographic finish. I'm not sure what makes it so, but you can't deny that it is.
In short, if you ever feel disappointed about missing out on Kaleidoscope Him Out (or in fact any of the China Glaze Kaleidoscope colours), give the Milani 3D Holographic polishes a whirl. There are only 6 shades available (I have this one, pink, green and purple and there's also a gold and silver) and they're slightly less holographic than their China Glaze cousins, but they're only $5 and a really good substitute. Find yourself a Stateside blogger to swap with or custom purchase them for you!
Did you pick up any of the China Glaze Kaleidoscope collection way back when? One of my favourite polishes of all time is Let's Do It In 3D from that collection, I've used about half the bottle but it's only ever cracked out on super special occasions now!
P.S. Yes, I realise my nails were a fair bit shorter in my most recent nail post. They haven't grown miraculously in a few days, I've just got lots of posts backed up so most of my nail posts for the rest of the month will be from before I cut my nails down!