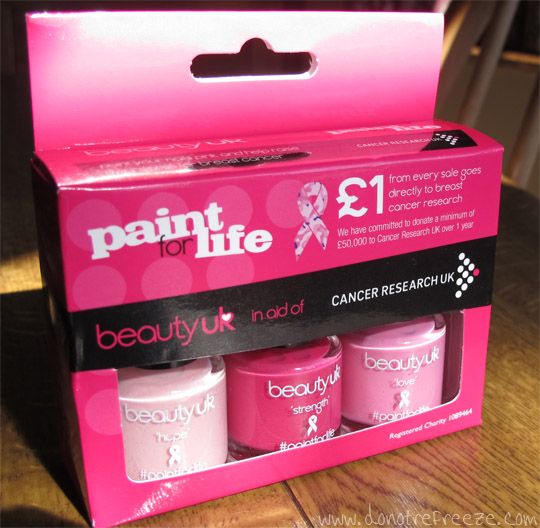 These have been all over the blogosphere lately, and quite rightly so. I'm a bit late to the party (what else is new?), but it took me weeks to track them down as the BeautyUK stands in all my close-by Superdrug store were all annoyingly devoid of this set.
I'd never tried anything from BeautyUK before, but always one to support a good cause it was a great excuse to finally try out the brand. And at only £5.99, £1 of which goes directly to Cancer Research UK, it wouldn't be too much of a disappointment if they were rubbish. Luckily, they are not!
This is Hope. If I'd have taken a little more care instead of rushing some quick-n-dirty swatches, I would have got away with 2 coats but it was still a little streaky so I added a third. Worth it though, I really love the colour. I'm not often a huge fan of such pale shades but this milky pink stole my heart, the colour totally reminds me of strawberry milkshake.
This one's Love. I'm at a loss for how to describe this one because it somehow manages to be a bubblegum sort of shade but a dusky pink at the same time. Do you know what I mean? You know I have a lot of nail polishes but I can't think of any I own that are quite the same shade of pink as this one – quite unique. Within my collection it is anyway! To coats, no problem.
This is Strength. My kinda shade! A darker cerise sort of pink (actually a little brighter in real life, photo's not quite colour accurate), and the application was a breeze. Pretty much opaque in just one coat but I added a second just to even things out.
Overall I'm really impressed with the set, such a bargain and when a decent chunk is going to a good cause you've got no reason not to pick them up, really. I must have more than 40 different pink nail polishes but as far a I'm concerned, you can never have too many and I'd definitely recommend grabbing this set next time you pop into Superdrug. This was a good experience for my first foray into the Beauty UK brand, and I may try some more of their polishes in the future. They weren't much of a pain to apply (Hope more so than the other two), they had a nice shiny finish – the swatches above are sans topcoat – the dry time was moderate but I always use a quick dry topcoat anyway. Colour me impressed!