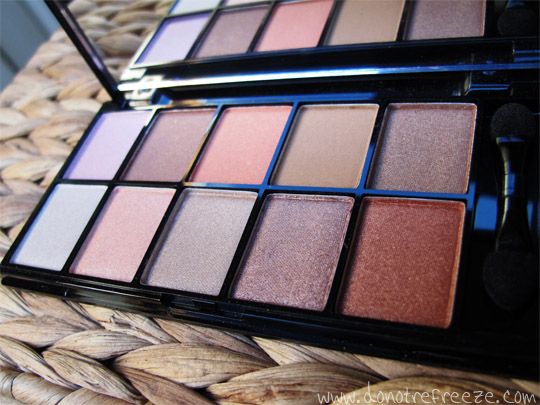 I recently hauled some of the NYX Runway palettes on eBay – six in all, on a bargain bulk deal from Joy's Cosmetics on eBay. I massively recommend this eBay seller, I've bought from them a ton of times before and never had any issues, it's absolutely the resource for NYX stuff! I also noticed there's some bulk deals on Kleancolor nail polishes in the store which I may have to accidentally purchase at some point in the future… we'll see.
Anyway, I'd been lemming these NYX palettes for absolutely ages. I bought 6 in total but doubled up on two for a giveaway in the coming weeks, so stay tuned for that. I'll be reviewing each of the 4 I got for myself individually, and the first one I used was Catwalk. The Catwalk palettes are encased in shiny black plastic which admittedly feels slightly flimsy but I think I've been spoiled by the quality of the packaging on Sleek MakeUP's i-Divine palette, haha. No complaints really, there's a big mirror in the lid which is always a bonus even if I never really utilise them. There's also the cursory mini sponge applicator – these always go straight into my nail art box so they're not too unwelcome.
Unfortunately the shadows aren't named, so I just think of them as numbers 1 to 10 going left to right on the top row then the bottom row. Swatches below! Sorry the lighting's a little different in each one, it managed to change a lot in the two minutes it took me to change the swatches on my hand but they're all colour accurate. Swatches are one swipe on bare skin.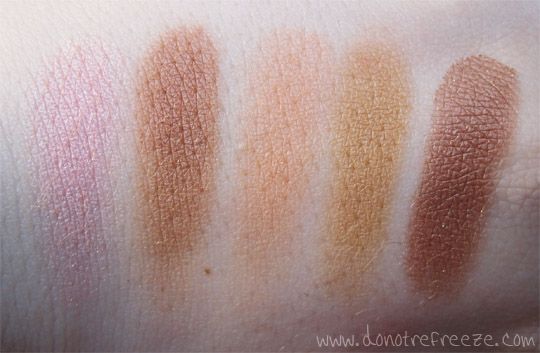 Top row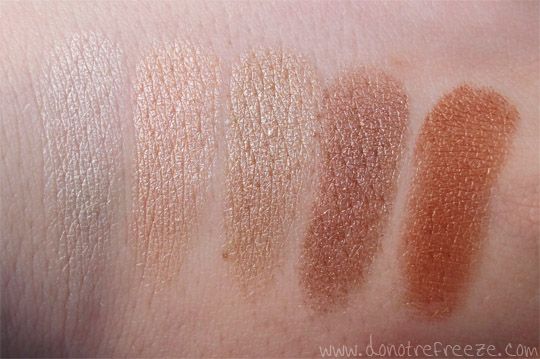 Bottom row
Whilst the palette lacks any matte shadows, you can see that the shadows on the top row are mostly a soft satin finish which I really like. Even the shimmers aren't overly frosty which I appreciate. These shadows feel ridiculously soft and silky to the touch and they apply and blend really nicely. Too much blending does cause them to lose a bit of their pigmentation (which is fantastic, by the way) but you can always pack a bit more on. They aren't the longest lasting shadows I own – I noticed some colour fading after about 8 hours over UDPP, but that's plenty enough for me and still no creasing in sight.
I totally recommend the Catwalk palette if you like warm toned colours for your eyes, but if you prefer cool toned shadows I'd probably avoid this one. If you've got blue eyes though, definitely worth picking up! Below is a sloppy 5 minute EOTD, I forget which shades I used but I really was in a rush that morning, I spent a bit too long taking pictures and swatching the palette then realised I needed to leave for work ;) oh the perils of blogging.
Do you own any of the NYX Runway palettes? Coming up soon will be posts featuring the Smokey Eyes palette, Caviar and Bubbles palette and Versus palette. Yay!