I can't believe it's time for a bi-monthly favourites post again. And by bi-monthly, I mean once-every-two-months. We had a bit of a debate in the office over whether it means twice a month, or once every two months. Oxford Dictionaries reckon it's both, which is completely useless as it means you have to clarify which one you mean so you may as well just not use the word bi-monthly and save the hassle, right? I digress… Let's hope May will mean the end of the bloody horrible April showers. Never thought it'd happen that we'd have a flood warning and a hosepipe ban on the same day!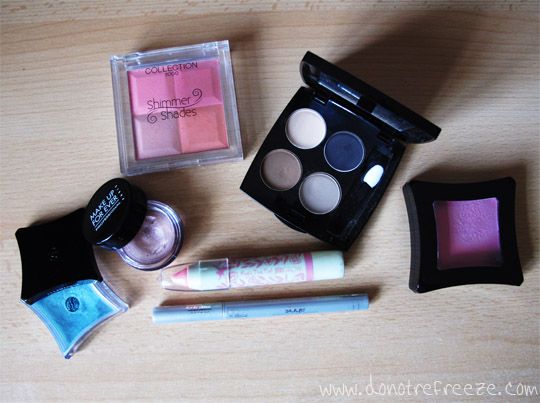 :: Collection Shimmer Shades in Blushalicious – Still can't quite get used to calling the brand Collection… I like to call it Collection-not-2000. Regardless of the brand name and the cheap price point on this (about £4 in Boots and Superdrug) it's a really nice product. The four different shades of varying texture – some shimmer and some satin – can be used individually if you use a blush brush with a small head, but I love the colour it makes when all the shades are swirled together. It's got quite a coral tone to it when they're all mixed together, which is good because it reminds me of summer and makes me feel warm. Where is the summer? *Sigh*
:: Make Up For Ever Aqua Cream #16 – Possibly my single favourite eye makeup purchase of the year so far. I LOVE THIS. Shimmery champagne shade with definite pink tones, and it's just bloody beautiful. The texture of the Aqua Creams is my favourite, so smooth and rich but never creases on me even sans-primer (and my lids are oily). This one is perfect for mornings when I have to get ready quickly, a slick of this on the lids with a dusting of Urban Decay Sin eyeshadow on top, plus liner and mascara makes my favourite two-minute eye makeup look. Also, with careful blending, this can work amazingly as a highlighter for the cheekbones, cupid's bow etc. Can't recommend this highly enough!
:: Stageline Precise Liner – The gorgeous Kate from gh0stparties gifted me this a while ago along with a couple of other bits from Stageline. I used to love felt tip liners, with Maybelline Eye Definer being my first love for eyeliner and later being replaced by Eyeko's old Grafitti liner, but I stopped using them ages ago in favour of the more precise control of cake or gel liners. This has made me love them again, though! The tip of the nib is thin, precise and firm but still with enough give in it to customise the thickness of your line. Super pigmented and quite glossy looking even when dry, it's fantastic for a speedy statement eyeliner option.
:: Illamasqua Pure Pigment in Chasm – I never used to wear blues/greens/teals/any variation thereof on my eyes, since my eyes are a mishmash of those colours and I just feel like it doesn't look that great with them. Since I picked this up for a criminally cheap £5 at IMATS though, I've suddenly come to love wearing this colour on my lower lashliner in conjunction with a neutral look on my lids. It's very pretty!
:: HD Brows palette (Foxy) – This was in a Glossybox months ago, and I only started using it in mid-March. Totally can't believe it I ignored it for so long – the two bottom colours mixed together make my perfect brow shade, and they all work great as matte neutral eyeshadows, too.
:: Pixi PixiGlow Magic Tink Tint – I sang the praises of this in my post full of mini reviews on the PixiGlow collection; this is definitely my favourite product of all of them. I love the shade of pink that it turns on me, and the super subtle spearmint-y scent and flavour when you apply it.
:: Illamasqua Cream Blush in Sob – Another bargain £5 IMATS purchase, Illamasqua blushes are some of my favourites, both the powder and the cream ones. They're undoubtedly the most pigmented blushes I've ever come across, but also the easiest to blend. I like to apply the cream ones with a small stippling brush from Crown, and layer them with a gentle dusting of a powder blush – Sob looks gorgeous with Nymph powder blush on top.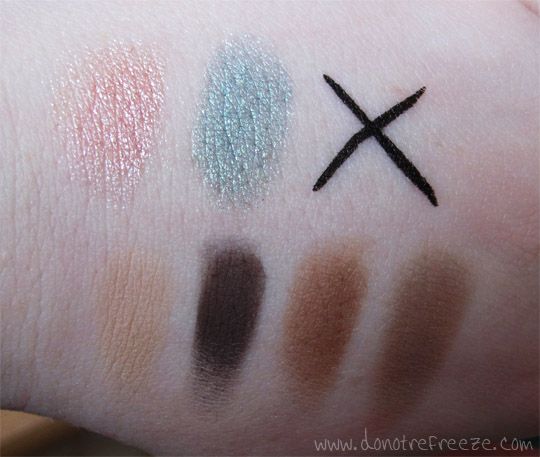 MUFE Aqua Cream 16, Illamasqua Chasm pigment, Stageline Precise Liner, HD Brows palette

Pixi Magic Tink Tint, Illamasqua Sob cream blush, Collection Blushalicious
What have you been loving lately? As always, please do feel free to link to your most recent favourites post in the comments!