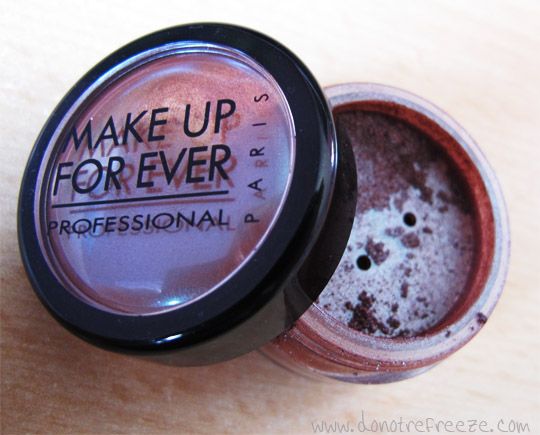 Whilst I am immensely pleased with each and every product I bought at IMATS this year, this badboy is probably in the top 3. Meet Make Up Forever's Star Powder number 955!
It's described by MUFE as 'plum with blue highlights' but as far as I'm concerned it's a reddish brown with a strong blue-green duochrome. It's absolutely beautiful, completely unique in my collection and I love it. I don't often use loose shadows/pigments just because they're a faff in comparison to pressed shadows but this is so lovely that the extra effort is more than worth it. In fact it's not much effort at all because I don't tend to wear other shadows with it – I like to let it shine by just wearing it alone over a carefully chosen base.
While 955 is very pretty alone over just an eyeshadow primer, it really comes to life over a base. The two bases I like using most with it are Kiko Shadestick 06 and Maybelline Color Tattoo in Turquoise Forever. I got a bit pic-happy with the swatches below, but I just wanted to show the duochrome from some different angles! The top swatch is 955 by itself, the middle one is 955 over Kiko Shadowstick 06 and the bottom one is 955 over Maybelline Turquoise Forever. You can see that Turquoise Forever as a base really brings out the blue-green duochrome: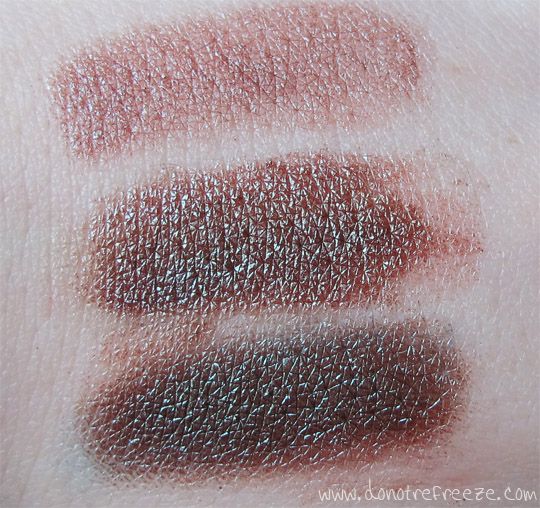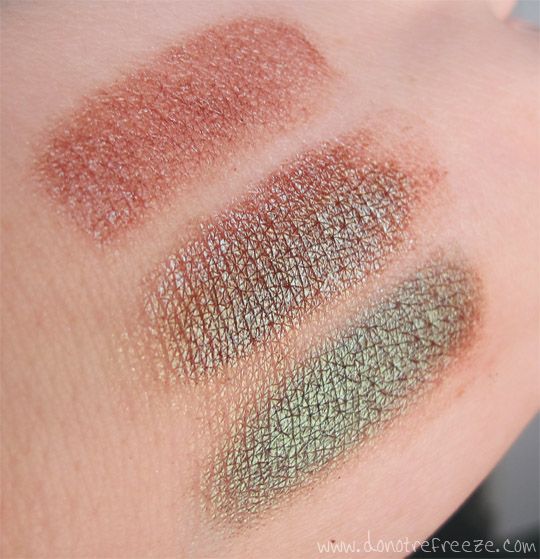 Are you as in love with it as I am yet? Like I said, I don't feel the need to do anything elaborate with it because I don't want to detract from the beautiful duochrome. The photos below show how I usually wear it – with Maybelline Turquoise Forever on the lid, 955 on top and the edges blended out with a clean brush, then Turquoise Forever on the lower lashline too set with Urban Decay Flipside eyeshadow to complement the duochrome.
So what do you think? I think I'll be hunting out some more unusual colours from the Star Powder range next year! I'm not 100% sure on the UK RRP of these but I know that Guru Makeup Emporium sells them for £13.50.
P.S. I gave my blog layout a pretty but minimalist makeover – what do you think? It's a lot more 'me' than any other design I've had in the past. :)