Liz Earle have once again taken the beauty world by storm with their new release of a full collection of colour cosmetics. I was given a couple of bits from the range to try and have been using them daily for the last couple of weeks, so here's what I think.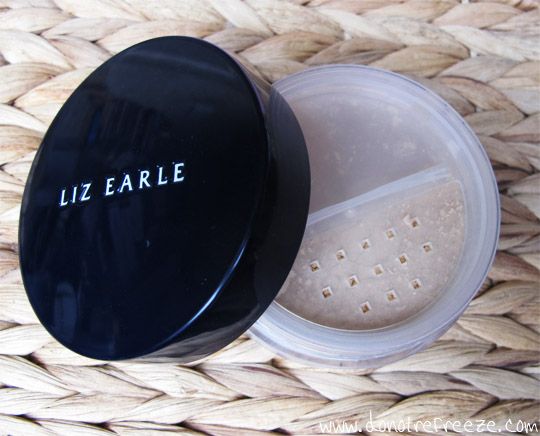 Liz Earle's Sheer Skin Tint is genuine Holy Grail material for me, so I was interested to see if their new releases matched up to it in terms of quality. Naturally my hopes were high, I've never tried a Liz Earle product I didn't like!
Pictured above is Natural Finish Loose Powder in Natural Ivory. I am not a fan of coloured powders, I usually use a translucent one (Ben Nye Neutral Set is a favourite) but in the name of blogging I gave this a whirl. I actually really like it, it's a great match for my skintone and looks lovely on top of Sheer Skin Tint. It looks good on top of other foundations but definitely best over Sheer Skin Tint. It's made with four different sized particles for smoother skin – that sounded like a bit of bull to me when I read it but when you tap the powder out you can actually see that the particles of powder are different sizes which is pretty cool. I tap a couple of times into the lid and swirl my brush around before dusting over my T-zone then onto the cheeks with whatever's left. It's a good product but I'm not convinced I'll repurchase when it runs out (£19.50 for 12g).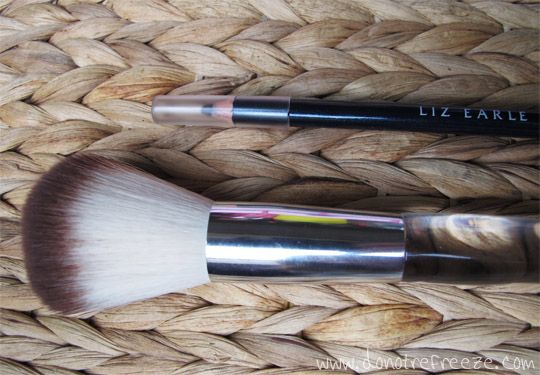 I've been using the Liz Earle Powder Brush to apply the finishing powder – it shed one or two hairs during its first wash but other than that there's really nothing to complain about, it's lovely and soft and the bristle aren't too densely packed so you're in no danger of caking on too much powder. The Power Brush is £20.
The real star of the show for me is the Eye Pencil in Black (pictured above with the Powder Brush). You can see in the above swatch that it's SUPER black. I have plenty of black pencil eyeliners that come out super black in swatches, but barely show up at all in the waterline. This is a dealbreaker for me, as you know I always, always wear black in the waterline. I shit you not, this Liz Earle pencil probably shows up the best in the waterline out of all the black pencils I've ever tried, even more than Sleek MakeUP's Eau La La one which I'd been previously using. No other pencil has had a look in since I got this one, it does need reapplying after about 5 hours or so but that's to be expected. Very impressed with this and will definitely be repurchasing when I've used it all up at £11, which I think is a great price.
Have you tried any of the new Liz Earle Colour products? I might give one of the cream blushes a go when I repurchase Sheer Skin Tint soon!