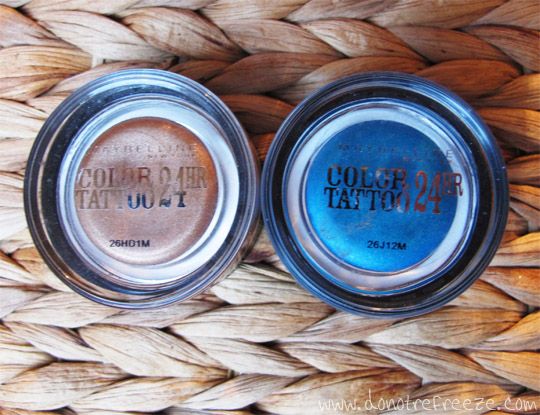 Another bandwagon I couldn't wait to jump on was this one, Maybelline 24 Hour Colour Tattoos. Predictably, the US got them way before us and we also have less colours than them – I MUST get Pomegranate Punk from across the pond! I picked up Turquoise Forever and On and On Broze (aka Tenacious Teal and Bad to the Bronze – totally don't see why they had to change the names for the UK release either, I prefer the US names!).
Anyway, you all know by now that I'm an absolute sucker for cream eyeshadows and eyeshadow bases. You also know that I love to call out brands on their ridiculous crease-free or long-wear claims. None of that here, though – whilst the Maybelline Colour Tattoos don't quite last 24 hours crease free, they do last a good 12 hours on me with only minimal, barely noticeable creasing so I have nothing to complain about.
I think the biggest appeal of these is that they're filling a real niche – there's dozens of awesome cream eyeshadows on the market but they're all at the high-end part of the spectrum. The UK drugstore market has been in desperate need of a product like this for a very long time, and for us to actually get one that's great quality for a great price (they're only a fiver!) is awesome.
The colours are richly pigmented and very smooth and creamy. The texture, colour payoff and longevity of them is often compared to MAC Paint Pots but I can't vouch for that since I've never tried one (not much of a MAC fan really). They do feel quite similar to Benefit Creaseless Cream shadows though, although I find the Colour Tattoos last a fair bit longer on me.
I only really got Turquoise Forever to use on the lower lashline as it's not really a colour I can get away with all over the lid, but I've actually found that it makes an amazing base for Make Up For Ever Star Powder 955. Post coming about that soon! On and On Bronze on the other hand was a no brainer for me being a massive fan of bronze, brown and gold shades on the eyes.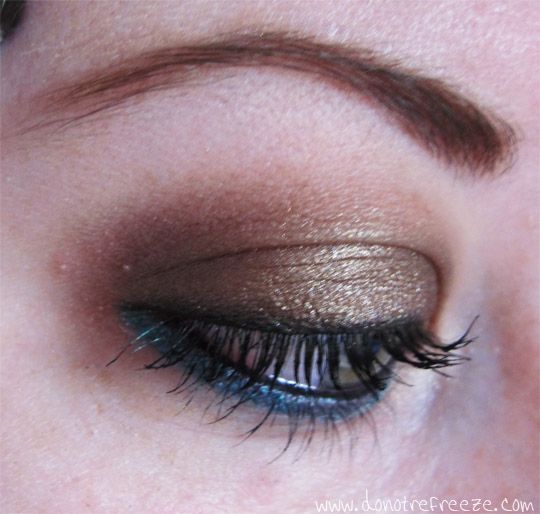 My favourite way to wear these two is together, with Bronze on the lid set with Inglot 421 eyeshadow and a touch of Urban Decay Half Baked eyeshadow in the centre of the lid to highlight. Then on the lower lashline, Turquoise set with either Illamasqua Chasm pigment or Urban Decay Flipside eyeshadow; both look lovely!
Have you tried the Maybelline Colour Tattoos yet? What do you think of them?