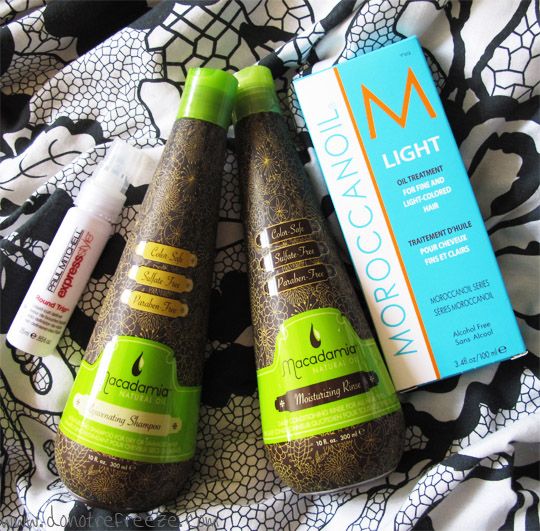 I'm still not really a hair person. I'm not into styling it and I wear it the same every day, but lately I've been getting much more into caring for it. You've heard (well, read) me describe my whacked out skin type many times on here before – it's oily as shit in the T zone but I still get dry/flaky patches on it. Well, my hair is similarly annoying. The roots get greasy real quick, but the ends (and by ends I mean from my ears downwards) it's dry and frizzy. I have my dad to thank for my super curliness and oiliness, and my mum to thank for my dryness. Thanks parentals.
The first product from the photo that I tried was Moroccanoil Light. I was given a 25ml sample of it at a press day in March; I was talking to the Moroccanoil representative about my fear of using anything with the word 'oil' on my hair because of its greasiness (which is silly I know, because oil treatments like this are only really meant for use on the ends of the hair). She recommended I give the Light version a go, despite the fact that it's targeted to those with fine or light coloured hair (my hair is SUPER thick and long, and a medium brown). I used it that evening when I washed my hair, just rubbing a trickle of it between my hands and applying it to the ends of my hair and moving upwards towards my ears with the leftover product. WOW. The difference in the morning was instantaneous, so after a few more successful uses I promptly placed an order for a full size bottle. I love that the pump on the bottle can be locked closed so there's no chance of it leaking (the pump comes in the box to replace the screw-top lid if you wish).
It was my mum that first introduced me to Macadamia products. One weekend when I was visiting home, I borrowed her Macadamia Shampoo and Conditioner and used Moroccanoil Light as normal. Even bigger improvement! Macadamia products smell delicious, and this shampoo and conditioner worked wonders for smoothing and moisturising the frizz and dryness without making my scalp and roots greasy too quickly. Of course, I had to order my own set and I have to say I've been well and truly bitten by the Macadamia bug – I'm dying to try more of their products.
The Paul Mitchell 'Round Trip' Liquid Curl Definer was in a Glossybox many moons ago, but I only started using it in the last 4 weeks or so. This is another one that I will be buying a full size of when it runs out – one pump is enough for my masses of hair, I just rub it between my palms and run my hands through my curls to give them some separation and definition (that'll be why they call it a curl definer then…).
The combination of these three wonder products has indeed done wonders for my hair. The frizziness is practically obsolete, my split ends (which I've always suffered from, despite not using heat on my hair in a couple of years) are smoothed and sealed for the most part, and overall my hair's just looking healthier than it ever has before. Obviously products work differently for different people, but if your hair's anything like mine then these three come highly recommended!