Hey, hey… May the Fourth be with you ;) sorry.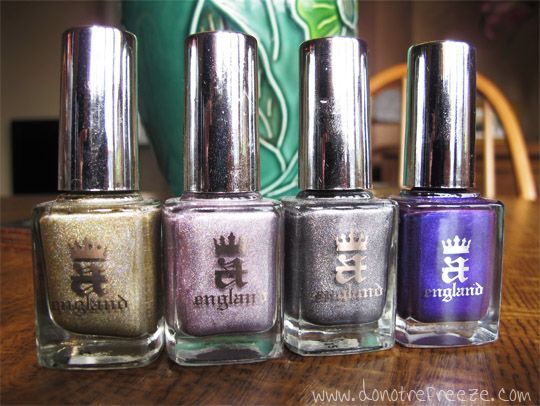 Quite some weeks ago, a-england had a 30% off sale to celebrate Tristam's birthday. Tristam is a-england creator Adina's cat! N'awww. Since I fell massively in love with Saint George, a 30% off sale was the perfect excuse to try out a few more shades. I picked up three more from The Legend collection, and one from The Mythicals collection. As expected, they are all as bloody delightful as Saint George!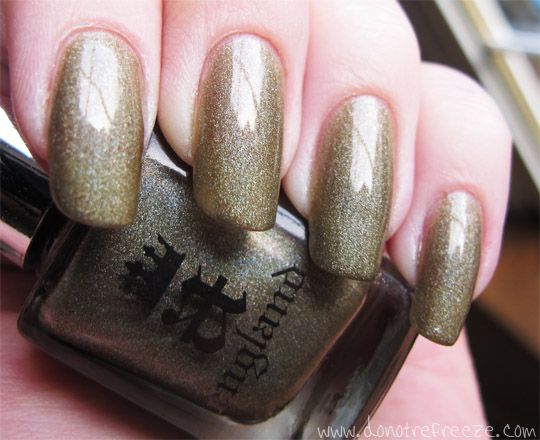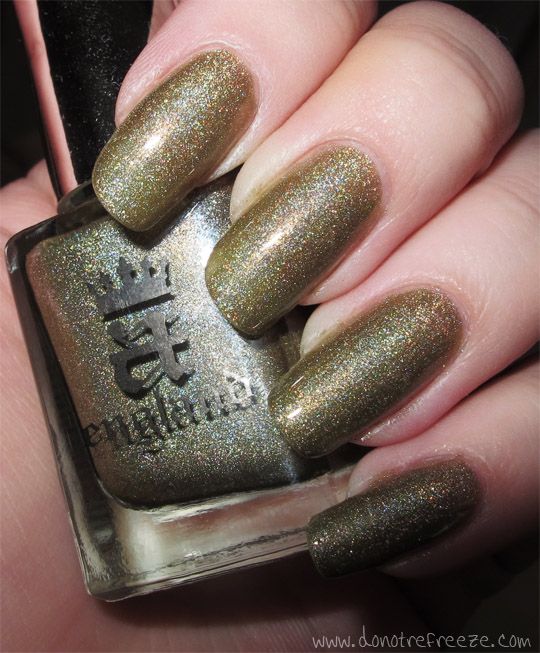 First up is Princess Sabra (aka Tristam Eyes). A light, olive green holo? What's not to love? Perfect application (two coats shown) – and whilst I'm not 100% sure that the shade suits my skintone I'm 100% sure that I'll wear it anyway because it's beautiful. My mum apparently thinks so too, since she promptly 'borrowed' this after seeing me swatching. Haven't seen it again yet. Tch!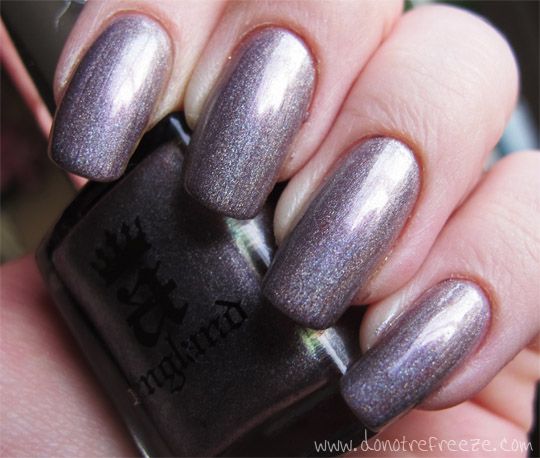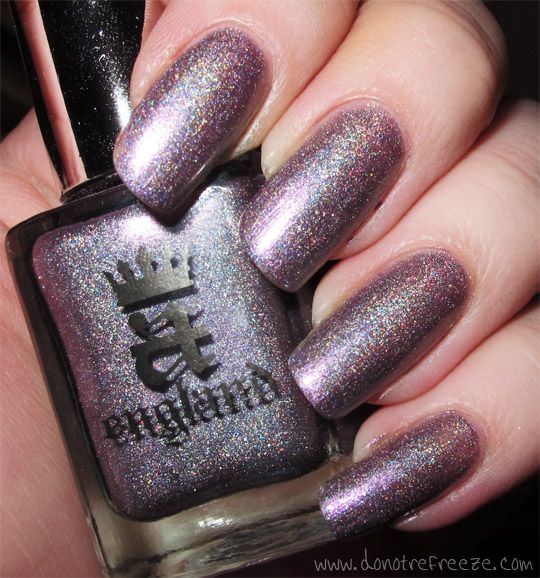 This one is Princess Tears. Holos normally require viewing under direct sunlight to look their best, but not this one, oh no. Not only is Princess Tears holographic, it's also a duochrome! Holochrome? It's a sort of dark silvery lilac, which shifts to a more definite grey with flashes of pink and even sometimes green in it.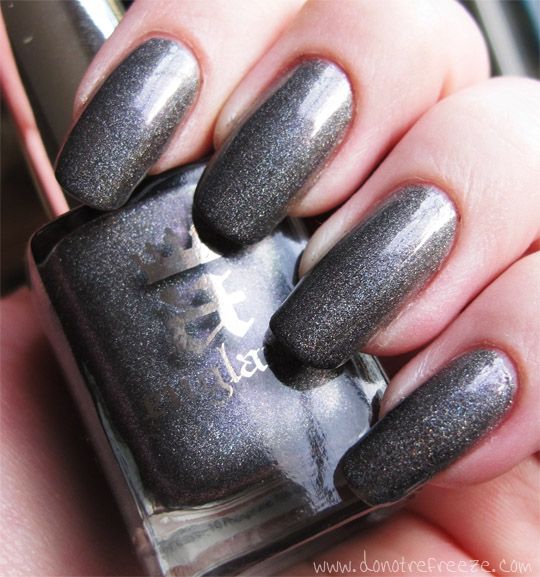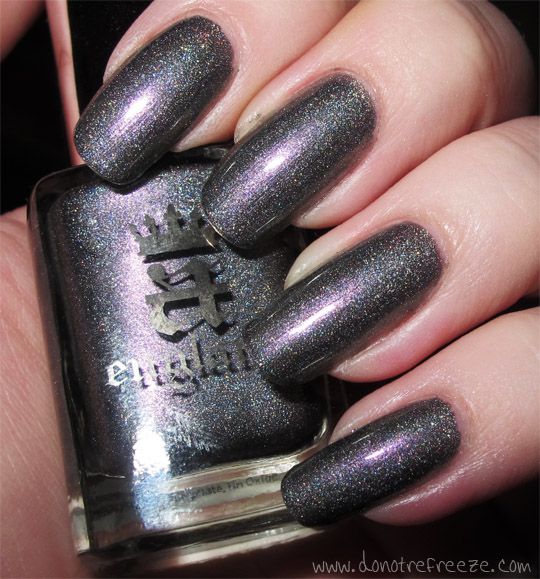 Ascalon is the last one I picked up from The Legend collection. This is so lovely! It's another 'holochrome', with the dominant shade being a deep grey. If that was all it was, it would be quite reminiscent of China Glaze Let's Do It In 3D, but it's not. It has a strong pinky purple duochrome to it which I found really difficult to capture in the photos.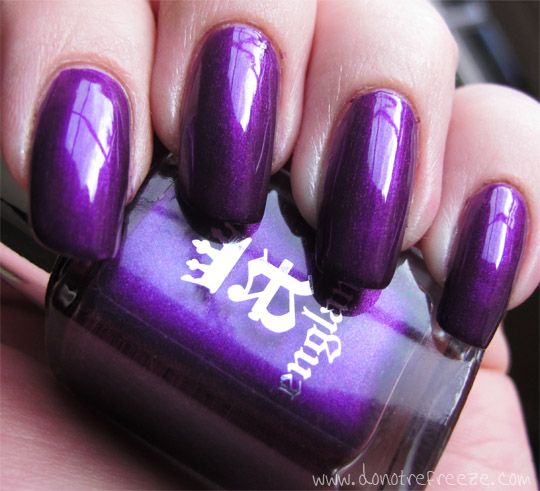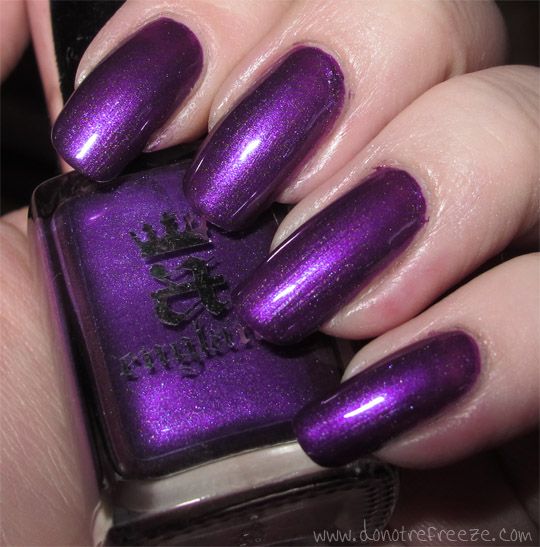 This is Avalon, from The Mythicals collection. It is literally the sexiest purple I've ever seen! I've always wanted a proper Cadbury purple polish, but frankly this is better than Cadbury purple. It's slightly more magenta and less blue than that. As we all know, true purples are an utter pain to photograph but with a bit of colour tweaking in Photoshop these aren't too far off being accurate.
So, what do you think? I think everyone needs to try at least one polish from a-england. They cost £9 each, which I think is a great price for the quality. I've literally never come across a formula that's nicer than these, they last a long while and apply beautifully. It's nice to see a brand of polish that costs less than it's worth for once!