First of all, thank you all very much for the entries to my giveaway which ended last night. I'll need a couple of days to go through all the entries, so the winners will be announced on Thursday :) Also, a huge thank you for the love on my water marble post on Sunday, much appreciated!

Secondly, Sleek MakeUP are coming out with some fantastic new products of late aren't they?! I was lucky enough to get a sneak peek of the Blush By 3 palette prototypes whilst catching up with Tracey and Kim from Sleek at IMATS, so I couldn't wait to actually get my hands on one. The old Glo face and body highlighters have also been refomulated, so I was also given one of those to try. I've been using both of these for way over a month now, so here's what I think.

Blush By 3 – Pumpkin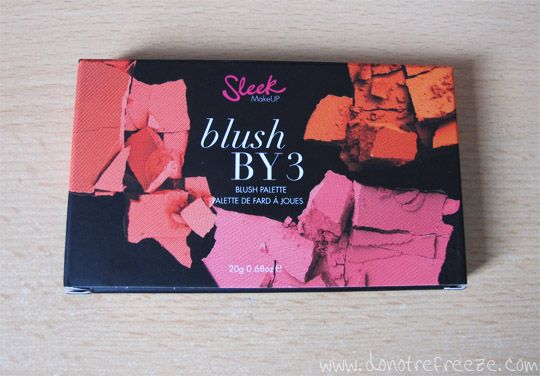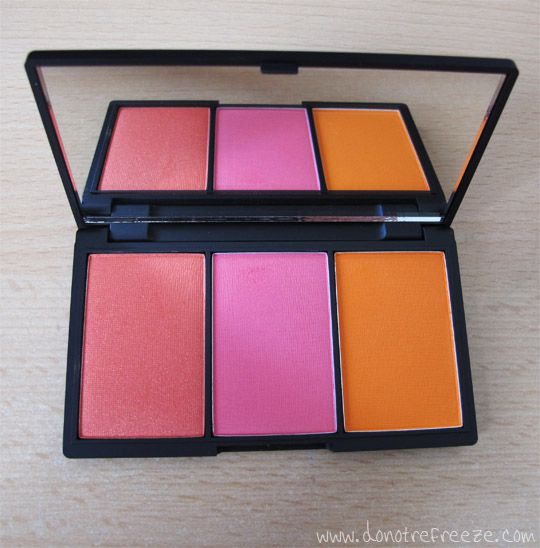 As always, lovely cardboard outer packaging! But it's what's inside that's really great. 3 super pigmented and blendable blushes and a huge mirror, for the excellent price of £9.99 (or is it £10?)! When I first saw them, I thought Lace was going to be the only one I really wanted but since I was given Pumpkin, I actually think this one is way more interesting. The colours are INSANELY pigmented – Sleek definitely provide the most pigmented products among all drugstore brands – but despite that they're still super easy to blend and, with a light hand, surprisingly wearable. The swatches below are one swipe onto bare skin.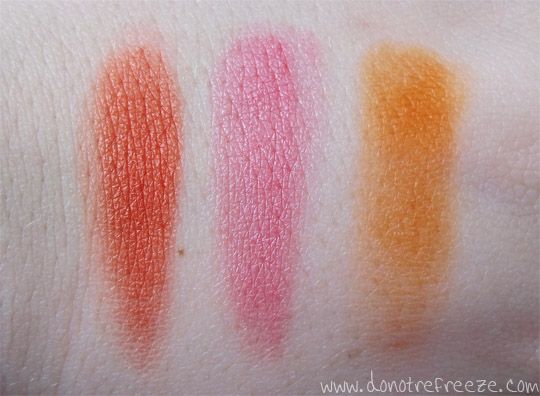 The shades from left to right are Lantern, a sort of rosy orange with gold shimmer, Squash, a bright pink satin and P Pie (stupid name), a proper matte orange. I love that each of the shades have a different finish – I believe this is true of each of the different Blush By 3 palettes – and I love playing about with them by mixing shades together to come up with new ones. Naturally P Pie (I can't even type that without shaking my head) isn't the best suited for my skintone, mixing it with Squash makes a really amazing electric coral shade.
I absolutely love this, and think I'll be adding Lace to my collection soon too. These were a limited edition in Superdrug, but they're still available on the Sleek MakeUP website and I believe they're also still available in the Superdrug at Marble Arch, being the only place you can still buy them in store in the UK. They'll be released in Sephora in Portugal in May.
Glo Face and Body Highlighter in Peach Shimmer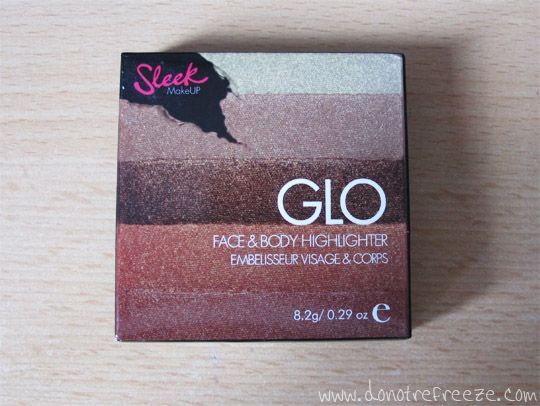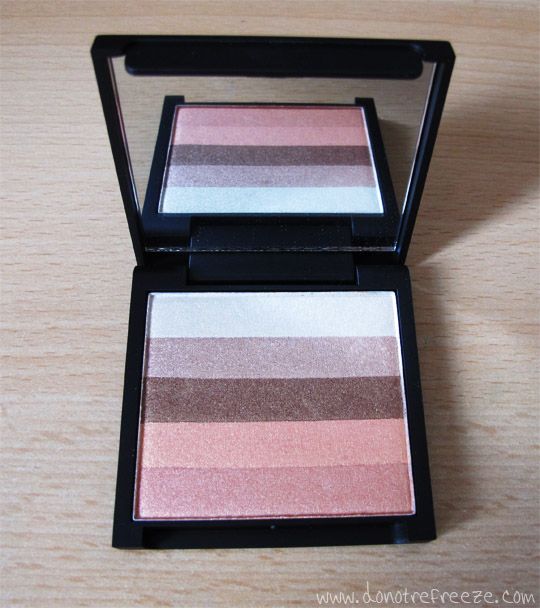 I absolutely love highlighters, I have far, far too many of them but they are one of the prettiest things ever when you swatch them which is what always gets me and how so many of them have ended up in my collection. Whilst I generally have a preference for liquid of cream formulas, I have been thoroughly impressed by this one. Before the reformulation, the Glo highlighters used to be overly powdery and tended to emphasise pores so I wasn't the greatest fan. Now though, they are SO worth having a look at.
Glo comes in 3 shades, Peach Shimmer is the lightest one featuring strips of pale gold, light bronze and peach in Bobbi Brown Shimmer Brick style. Of course if you wanted, you could use any one of the 5 colours alone but I like the colour it makes when they're all swirled together! Pictured below: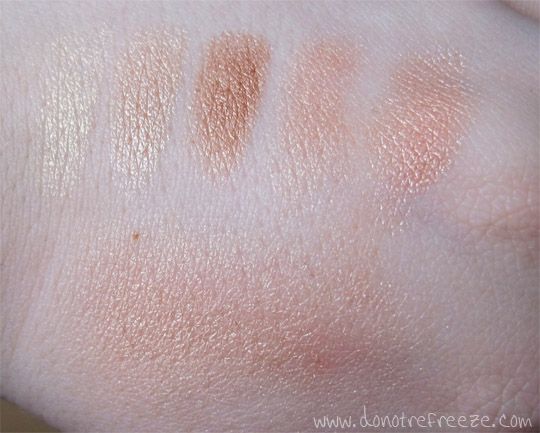 Thanks to the reformulation, the texture of them actually feels similar to the Sleek eyeshadows but obviously with less pigmentation. Because of this, I wanted to try them as eyeshadows!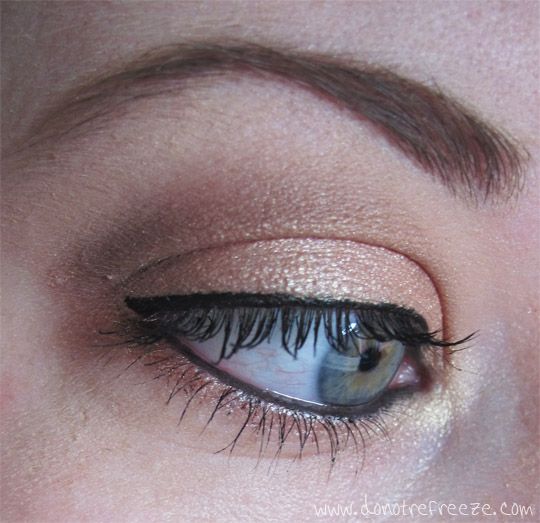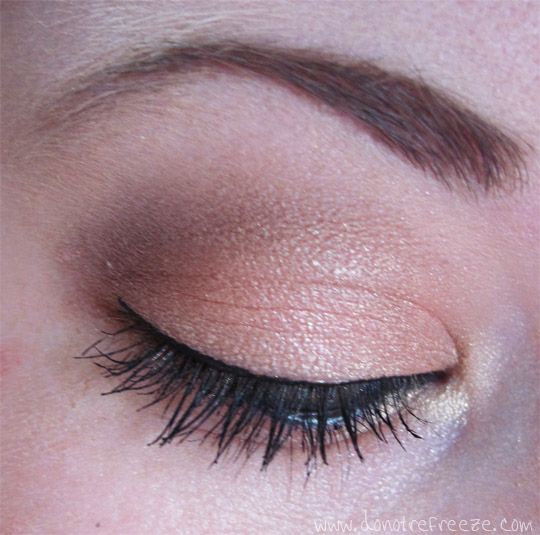 It worked really well actually, and added another use for it so it's more than worth the £6.49. These ones are an online exclusive, though!
Have you tried either of these products yet? Any of them taking your fancy?