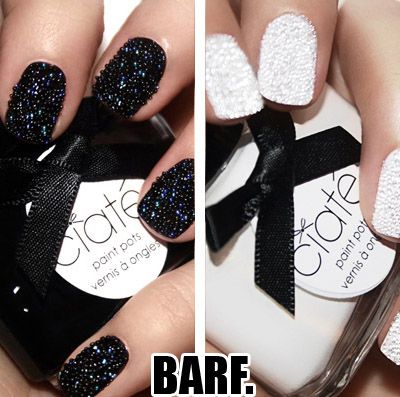 So, a couple of weeks ago I posted a little rant about totally not getting the whole caviar nails craze. I wasn't best impressed with Ciate in the first place for treating people as though they're stupid enough to pay an extortionate £18 for a little bottle of pearls (although let's face it, some people probably are), when you can quite easily get the same thing – in a greater variety of colours, might I add – for a few pence in a craft store or online.
I still think the bobbly beaded look is ugly as sin, but fair play to all the bloggers who've been recreating their own DIY purse friendly versions on their blogs. One of these bloggers was Anna, of Pretty Digits. It was brought to my attention by a post on Lucy's blog that Ciate were getting their probably equally fishy knickers in a twist over people blogging about the super duper original nail look.
Anna, and several other bloggers for that matter, received an email from Ciate that reads as follows:
"It has come to our attention that you are using the mark caviar manicure and/or caviar nails in relation to a manicure product/method of manicure.
This relates to post on the 30th March 'Caviar Nails Again' as per link below:
http://prettydigits.blogspot.co.uk/2012/03/caviar-nails-again.html
Brand Agency Limited (Ciate) own the trade marks caviar manicure and caviar nails and we are in the process of applying to register these mark around the world.
Therefore you should not use the trade marks caviar manicure and/or caviar nails unless they are used in relation to products or to a method of using products that are produced by Ciate.
Please confirm once you have removed references to our trade marks from your website."
WOW. Frigging really, Ciate?! After Anna posted this on her blog and was met with an instant uproar of bloggers rallying behind her, Ciate sent another email imploring that she "Please don't feel offended by this email", and that "the reason behind it was simply to protect the trademark and avoid any confusion from the point of view of our customers". Oh cool! So not only do Ciate think that people are stupid enough to buy their ridiculous product, but they also think that these fools might be 'confused' by a blogger posting about their 'trademarked' idea. Which isn't actually trademarked, by the way – it's in the 'process of'.
It's all pretty rich coming from them, really, since the caviar nail look (and indeed the term 'caviar nails') was already showcased by Dashing Diva, a nailcare brand, over a year ago.
I hope Ciate realise what an epic PR fail they've committed. I know that I for one certainly won't be purchasing any of their products in the future, for fear of never being able to blog about them(!). Seriously though, Ciate have never interested me as a brand, most of their polishes look pretty boring and this has pretty much sealed the deal for me that they're just not a brand worth giving my money to. Ever.
What do you think about all this?