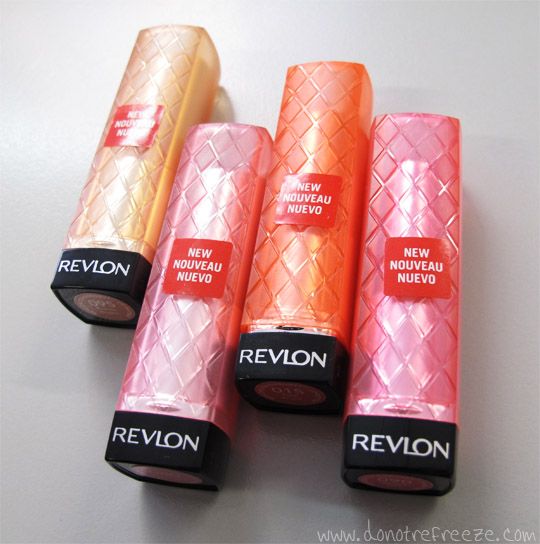 Finally. Finally, finally. After fruitless attempts to find them in several London Boots and Superdrug stores and a botched online order, I finally got my hands on a few of the much hyped Revlon lip butters. I'm not actually that late to the party with these, I've had them for a few weeks now but I've had such a backlog of posts to get through!
The four shades I went for, from left to right, are Creme Brulee, Strawberry Shortcake, Tutti Frutti and Sweet Tart. They are pretty much just how I imagined them – they're essentially just fairly pigmented tinted lip balms. Having said that, whilst they feel moisturising on, they don't have much of an effect on lip care in the long run. They don't actually offer any moisture to the lips, they just feel soft on. Not that that's really a complaint for me since I wear lip balm under everything!
The colours pack a bit more of a punch than I thought they would and are surprisingly buildable. I like this versatility. As for the colours, I like them all – I didn't think I was going to like Creme Brulee when I opened it 'cause it looked really beige, but it's actually turned out to be my favourite one. It's a great natural nude colour for me. Strawberry Shortcake and Sweet Tart are very similar in hue, just a few shades apart in brightness. Tutti Frutti is great, a real orange-y coral that looks amazing when paired with a nude eye and lashings of liner for a summery look.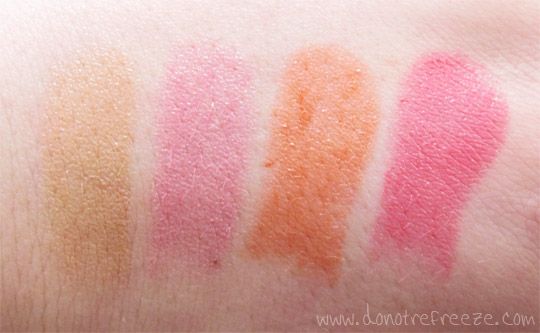 Creme Brulee, Strawberry Shortcake, Tutti Frutti, Sweet Tart
These cost £7.99 each. Whilst I like the products, I do feel that's a little bit steep but I suppose Revlon is one of the most expensive drugstore brands. I got the four colours I wanted on a 2 for £10 deal which was great, I feel like a fiver is a much better price. I'm glad I've got all the ones I want now, because I probably wouldn't pay full price for them.
Have you jumped on the Lip Butter bandwagon? What do you think of them?