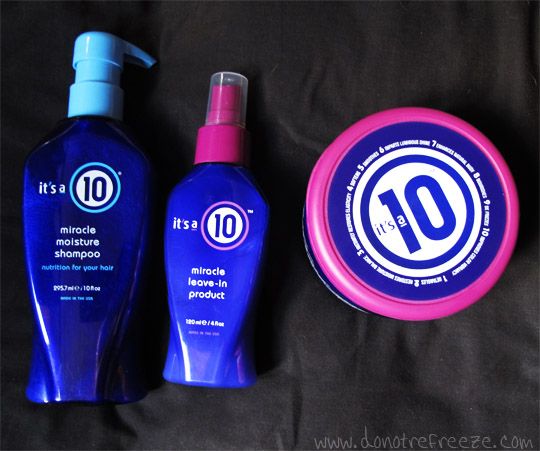 You probably know that I'm not very much of a hair person – I just wash it and leave it. After years of straightening the life out of it on a daily basis, I fully embraced my natural curls a couple of years ago and now only straighten it once in a blue moon. I guess the main reason I never do anything with my hair is simply that it's so hard to manage. It's ridiculously thick, it gets nasty tangles so easily, it somehow manages to be simultaneously oily and frizzy.. basically it's just a pain in the arse. Cue the It's a 10 haircare range!
When I was first sent these, I was actually a bit reluctant to use them because I always worry about anything claiming to add moisture just making my hair more greasy. I bit the bullet at went for it, though – I used the Miracle Moisture shampoo but skipped the Miracle Mask (which is used like a normal conditioner), and had a little spritz with the Miracle Leave-in Product while my hair was still wet. Then I went to visit home and took the 3 with me to use and ended up leaving them there by accident. For the next few weeks until I went home again, I noticed my hair feeling particularly frizzy and horrid, more so than usual, so once I got the It's a 10 stuff back I used all 3 – the shampoo, the mask and a liberal spraying of the leave-in product. HOLY CRAP. My hair had honestly never looked smoother once it dried. I didn't have any issues with it making me greasy, either, in fact I actually went a day longer than usual before washing my hair 'cause it just wasn't greasy. Frankly I'm pretty amazed by this range.
The scent isn't very exciting, it smells just like any old generic salon brand but it's pleasant. The range claims to offer 10 haircare benefits, hence its name: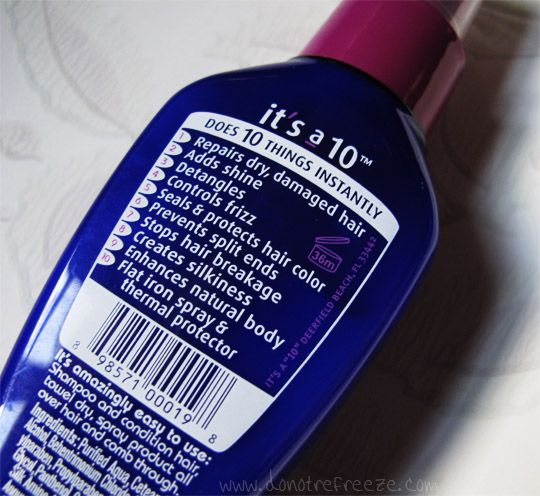 Well, I don't have dry hair or coloured hair, but I can certainly vouch that it adds shine and silkiness, controls frizz, detangles, stops hair breakage.. I'm sure it does all the other things too, really – I'll be interested to see how well it prevents split ends after my next haircut as I've already got too many to judge that at the moment! And since I don't use any heat on my hair I can't say how well it works as a thermal protector.
I am honestly really impressed with these products. It seems to be a mostly US salon brand, and doesn't have huge availability in the UK although you can find several places that sell it online if you look. I was sent these quite some time ago and I can't find the email about them for love nor money so I can't confirm anything! Haha. Each product is around the £15 mark online, which is a fair bit more than I would have been willing to pay before but now I know these products really work for me, I'd be happy to shell out for them in future.
Have you tried anything from the It's a 10 range?