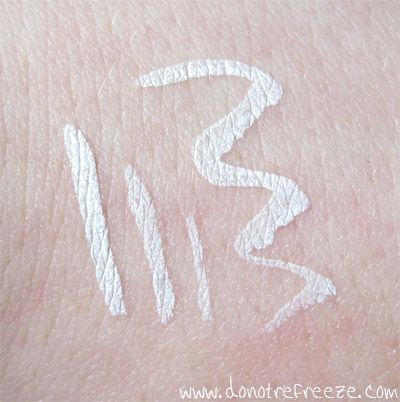 The stark white Scribe Precision Ink from the new Human Fundamentalism collection is hands down my favourite product released by Illamasqua since… I don't know. But it's bloody amazing, and I love it. The Precision Ink eyeliners have been one of my absolutely favourites ever since they were released, it's so easy and quick to get a perfect line with them.
What's especially great about the Precision Inks is the unusual colours they come in. Of course there's Abyss, your staple black. Then there's Alchemy, a rich and intense true gold shade. The ones I own are Glister, an amazing nude liner with pinky-purple shimmer and Havoc, a deep aubergine colour. I love them both and use them reguarly, but Scribe has definitely become my new best friend.
It adds something really unique and so noticeable to your makeup – every time I've worn this (which is a lot) I've had someone compliment me on my eye makeup, which is amazing. Despite being pretty unusual – the polar opposite to the 'normal' black liner, in fact – I think it still looks really classic, for want of a better word.
My favourite way to wear it is paired with a matte neutral eye, with gold shadow under the lower lashline. I also like to do the thinnest line of black just on the upper lashline, which sort of outlines the white and makes the lashes appear thicker. The sharp graphic lines and the hint of metallic gold almost have the feel of a Cleopatra type of look! I featured the look I'm describing in a recent FOTD post, where the pictures are probably better than this one below:
Scribe also works really well with a dark eye look. On the night of the Human Fundamentalism launch event, I was wearing a very dark gunmetal grey eyeshadow. Mika from the art team applied Scribe for me over the top of it, and frankly it looked awesome. Sorry about the shiny skin and slightly creased shadow, I'd had it on all day!
You can buy Scribe (and the other Precision Inks!) for £17 on the Illamasqua website, in the Beak St flagship store and Illamasqua counters nationwide.
Are you loving the look of Scribe? Do you already own it? Want it?