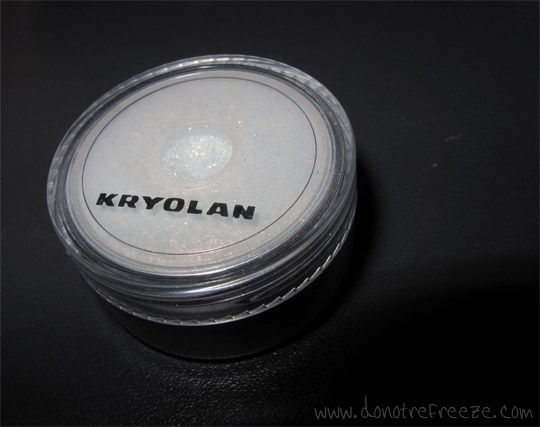 You know, a couple of years ago I used to absolutely hate glitter. In all forms – eyeshadow, nail polish, whatever. I've grown to be a total glitter fiend, though, and I couldn't resist this Glamour Sparks loose powder (shade Copper) from Kryolan at IMATS this year. It retails for £8.95 but I think I paid like £6-something for it.
Glamour Sparks are a loose iridescent powder, Kryolan don't actually refer to it as a glitter anywhere but that's certainly what it is to me. It has no real pigmentation, but offers absolutely beautiful iridescent sparkle when layered over the top of other shades. I've also heard of people using these as a highlight for the cheekbones but that's definitely not something I would do as it IS glitter. I'm sure it would be an amazing addition to lots of nail art designs, though, but that's something I'm yet to try using it for!
The packaging is good – just a clear plastic screw-top jar, but it has a separator inside with a little hole about 5mm round so it never spills anywhere and you never end up with too much. It's a good size to just dip the tip of a brush in, or to tap a little into the lid, but I prefer to put my finger over the hole and turn it upside down to get a bit on my finger and just pat it over my eyeshadow – that's how it works best for me and I don't really get any fallout from it.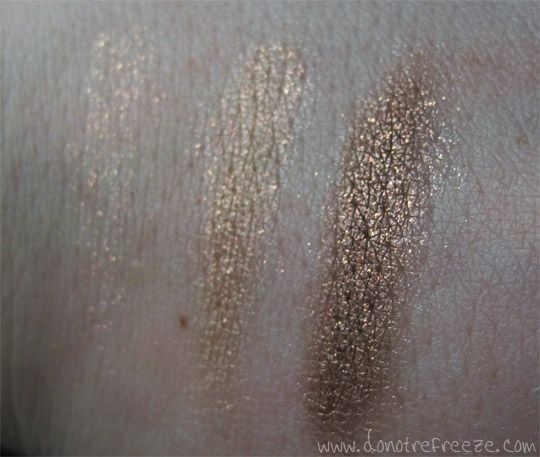 I have now learnt what a bugger glitter is to photograph. Here, it's pictured alone (left), then patted over Pixi Catching Shadows crayon (middle), and patted over Kiko shadow stick 06 (right). In hindsight I probably should have photographed these before the glitter was added so you could see the difference, but I hope you can still see how lovely this is! The sparkles in Copper mostly are a coppery gold colour, but shift to a beautiful purple/pink at some angles. It's really very pretty without being too much or too drag.
Here it is in action, over the Kiko shadow stick and Inglot 421 eyeshadow. Trust me when I say my photos haven't done this product any justice whatsoever and if you like a bit of glitter, you need one of these!
Kryolan Glamour Sparks are available from Charles Fox in Covent Garden, and for those who don't live in or near London you can get them online from extrememakeup.co.uk – I haven't used this site before so can't vouch for its reliability!
Do you like a bit of glitter?