Feels like an awful long time since I did one a Favourites post – but I guess that's because I do them every 2 months instead of 1 and the last lot was my collective favourites for 2011!

The majority of my current favourites are IMATS purchases – I think I made some really good decisions there!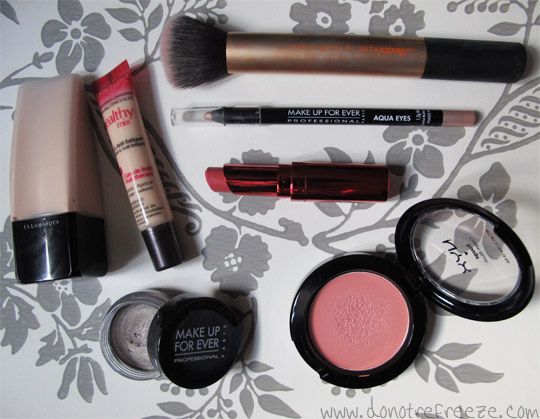 :: Illamasqua Light Liquid Foundation (LF120) – Previously, the only Illamasqua foundation I'd tried was Skin Base, which I do like but I mostly prefer a lighter coverage so I couldn't help but snap this up at IMATS for a truly bargainous £7.50. Now if you were there, you'd know that trying to colour match yourself was nothing short of impossible because of how busy the stand was, so I just asked one of the SAs to take a guess at what my colour would be. Luckily, she was spot on! This matches my skin perfectly and is just the sort of coverage I like – just a bit more than a tinted moisturiser. I'll definitely do a full review of this in future. Incidentally, my favourite tool to apply it with is my next January/February favourite…
:: Real Techniques Buffing Brush – Please do excuse the fact I hadn't washed it before I took these photos, but OH MY GOD. Sam Chapman, you are simply wonderful for bringing this incredible tool to us! I've sung the praises of a few brushes before, saying they're my absolute favourite thing to apply foundation with; first it was the ELF Studio flat top powder brush, then the ELF Studio stippling brush.. but honestly I would be astounded if I ever found anything I love more than this in my lifetime for applying foundation. It is AMAZING. So dense, so soft and creates just the most perfect finish. LOVE IT. SO MUCH.
:: Bourjois Healthy Mix concealer (51 Eclat Clair) – A forgotten gem, this is! Since the weather's been getting a little warmer (juuust a little – touch wood!), my usual BeneFit Boi-Ing concealer is just a little too heavy for my undereye area so I've moved back to this – offers fairly good coverage and is just a touch more orangey-yellowy toned than any other product I have for my face, so this makes it quite effective at correcting the blue colour of my undereye shadows. Despite its medium coverage, it's really light in consistency and is also quite brightening under the eyes. i do prefer it for the undereye area than for blemishes – Boi-Ing still rules there.
:: Make Up For Ever Aqua Eyes (23L) – This is so ridiculously lovely! The MUFE Aqua Eyes pencils set absolutely dead still and will not budge, but if you work quickly they can be quite blendable when you first apply them so this can make a really beautiful base all over the eyelid for a shimmery champagne toned eyeshadow look. It also looks stunning in the waterline – and that's coming from someone who feels nothing less than naked without black in the waterline! My favourite way to use it though, is around the inner corner of the eye and about a 1/3 of the way across the lower lashline, it makes my eyes look so much brighter and more awake. Everybody should have this pencil in their life – everybody!
:: Make Up For Ever Aqua Cream (02) – I've developed a bit of an obsession with using Aqua Creams as eyeshadow bases lately, they are literally my favourite product for the job EVER I reckon. Having said that, though, you can definitely use these as an eye colour entirely on their own; I have pretty oily lids and these last a good 12 hours before starting to crease a tiny bit on me without setting with powder eyeshadow. I absolutely love the pewter shade of this one, and my favourite thing to team it with is Inglot DS 502 eyeshadow. That's a matte grey taupe shade with sparkles in it, but the sparkles don't show up too well on the eye. When I wear it over this Aqua Cream, it gives it a gorgeous luminosity that I never knew it could have. Lovely stuff!
:: FashionistA Double Take Longwear Lipstick (Natural Pink) – I was sent a couple of these a few weeks ago, and I've fallen well and truly in love with this Natural Pink shade. On its own, it is indeed quite a natural pink but I like to wear it best over Kryolan 406 lipliner, which is a bright almost-neon pink. It's perfect, because Natural Pink tones down the scary brightness of 406 lipliner, which in turn gives Natural Pink a brighter, more fun hue. Together they make my ideal proper pink lip! These really are long lasting, too – I managed 10 hours before needing a touch up which included lunch and several cups of tea. Pretty good stuff!
:: NYX Cream Blush (Glow) – I got this beacuse Jennie raves about it so much, and I'm so glad I did. Like Jennie, I like to layer my blush – a powder over a cream – and this has quickly worked its way up into my top 3 'base' blushes of all time. The perfect balance of peach and pink without being overly bright, it gives you a really natural flush alone, but layering it under different powder blushes gives you scope to discover new dimensions within it. Top it with a peachy blush for a more sun-kissed summery look, or cool it down with a pure pink for a truly girly cheek. Looove it.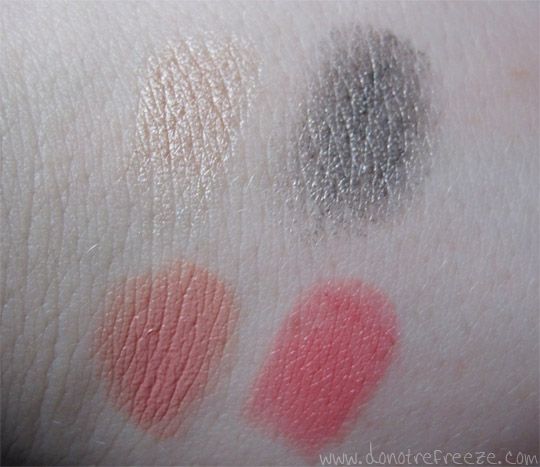 MUFE Aqua Eyes 23L, MUFE Aqua Cream 02
NYX Glow, FashionistA Natural Pink
Have you tried any of these products? As always, please do link me to your most recent favourites post, I love to read them!