My mum doesn't celebrate Mothers' Day – or any other holiday for that matter – no Christmas, birthdays, Easter etc. No, it doesn't bother me, but it does mean I make an effort to give her random gifts throughout the year whenever the mood strikes me or I see something she'd like.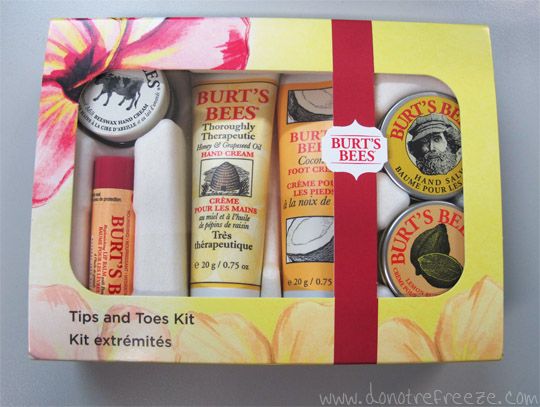 Burt's Bees are always a great choice for gift sets no matter what the occasion, though. Here I have the classic Tips and Toes kit in cute floral Mothers' Day edition packaging – ideal!
Regardless of the packaging, I am quite fond of Burt's Bees products in general. Here's some speed reviews of what's in the Tips & Toes kit, just in case you haven't got anything for your mum yet. It's also a fantastic set to pick up for yourself if you haven't really tried Burt's Bees before as you can test out a variety of their products before committing to anything full size!
Almond Milk Hand Creme – This smells flipping delicious. Like marzipan! It's super moisturising, I don't know if I'm talking crazy but you can almost feel it softening the skin on your hands. Not super practical to carry round with you during the day since it's in a screw-top jar, but perfect for keeping on your dressing table.
Lemon Butter Cuticle Cream – You know how mad the blogosphere is on Lush Lemony Flutter? Well, they should be mad on this quite frankly. It doesn't leave the same greasy residue that I find Lemony Flutter does, and it smells just like it although I'd say this one has a slightly more herbal edge to it rather than being saccharine.
Pomegranate Replenishing Lip Balm – I LOVE this. Bloody love it. I delcared it to be my favourite lip balm of all time back in October and I think it always will be. I bought TEN backups of this. That's how perfect it is.
Thoroughly Therapeutic Honey & Grapeseed Hand Creme – Woah, what a mouthful. This is the one you'll want to carry round in your bag, being in a convenient squeezy tube and all. You can also feel it really hydrating your hands despite being so quick to sink in. And, arguably most importantly, it does of course smell lovely. Sweet, but not sickly. I thought I could smell tonka bean in it as the smell really reminds me of my old favourite Lush soap, Cereology, which was discontinued in 2006. It's not on the ingredients list, though, so it must be something else in there!
Coconut Foot Creme – It's not just coconut. It's coconut and peppermint! A wonderful combination that I wouldn't have thought of before – cooling and refreshing peppermint combined with the velvet creaminess of coconut. Lovely stuff. and will sort out hard dry heels in no time with dilligent use before bed!
Hand Salve – Now this is bringing out the big guns in the hand moisturising department! Chock full of botanical oils and herbs (and beeswax, naturally) including olive oil, sunflower seed oil, eucalyptus oil, lavender, rosemary and a whole lot more. If you have serious dry skin, this will be your saviour. Also, the herbal scent is pretty much unisex if you ask me so if you have any men in your life that work a lot with their hands, they might like to try this. It's definitely a bedtime product, it takes time to sink in, but it REALLY does what it's supposed to.
The Burt's Bees Tips & Toes kit costs £12.99 from the website.
And while we're on the subject of Burt's Bees – have you seen their collaboration with Monsoon? Monsoon's Honey Drop SS12 collection is full of cute pieces inspired by the humble Honey Bee, in support of the initative to save the bees! Did you know there's virtually no wild honey bees left in the UK? The only ones we've got are the ones that beekeepers look after. Worrying, when you consider that one in three mouthfuls we eat is dependant on pollination!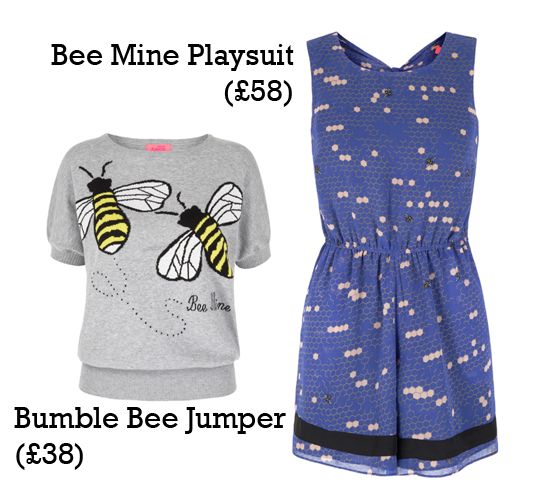 These are the two key pieces from the collection – I am enamoured with the jumper, and was dying to grab it at the launch event but I'm not sure if the Large would fit me and I didn't want to try one on.. we'll see. With the purchase of these key pieces, you also receive a free Burt's Bees Honey lipbalm and some wildflower seeds that you can plant to attract honey bees. Sweet initiative, huh? I'm really quite fond of bees, they're so fluffy and cute and they're actually useful. Don't get me started on wasps, though.
Will you be picking up anything from Burt's Bees or Monsoon in the near future?