I really rue the fact that I didn't haul more Wet N Wild products when I was in America last year – I only picked up a mascara and a couple of nail polishes. I WISH I'd paid more attention to their other offerings – particularly their epic eyeshadow palettes. Amanda sent me this as a surprise in our swap last December, and it's given me some serious lemmings in the rest of the WnW range – I really want the Petal Pusher palette from this same range!
Comfort Zone is set up like two quads – with the left and right side containing shadows embossed with the words Browbone, Eyelid, Crease and Definer. On the back (which I stupidly didn't take a picture of) it has some pretty decent instructions for looks you can create with the palette, so the whole thing is really noob-proof (sorry, I mean suitable for beginners!). Although in my opinion, the Browbone shades aren't really suitable for the browbone at all because they're all a bit on the frosty side – I prefer a matte browbone colour or satin at a push. Let's take a look at some swatches – naturally swatched in the some layout as the palette.
These are some REALLY lovely colours. All colours that I will wear and get use out of, too, barring the green one (nothing wrong with it, green eyeshadow just doesn't look good on me!). My favourites, though, are the mushroom-y taupe on the top right and the beaaautiful brown-blue duochrome on the bottom right. This one really reminds me of Club eyeshadow by MAC – I don't own it, I'm only judging from swatches here – a slightly red toned brown with a strong blue shift. It's amazing!
Whilst the colours are beautifully pigmented and long lasting, and the price is amazing (somewhere around the $5 mark), the palette isn't without faults. The shadows are almost too soft and quite loosely packed – be prepared for a trip to Fallout City if you apply these after your foundation. I dread to think what would happen if I dropped it, too – frankly I'm amazed it got here in one piece! This isn't helped by the slightly flimsy packaging, either. But really these are small prices to pay for such lovely colours for such little money.
For the first look I did with the palette, I used the left Browbone shade all over the lid and then a bit of the right Browbone shade on the outer part of the lid, with the right Crease shade followed by a mix of both Definer shades in the crease. My actual browbone shade was Urban Decay's Virgin, and I also fancied a bit of colour on the lower lashline which I used Urban Decay's Flipside for.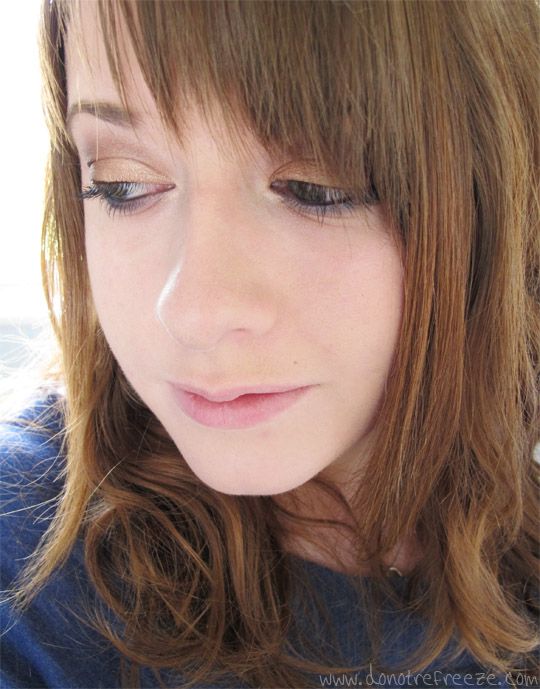 You know.. whenever I look at my FOTD photos I always feel such crippling regret for ever getting a piercing in my face. Idiot.
On the skin I'm wearing BeneFit's Boi-Ing concealer and Illamasqua Skin Base foundation, along with Illamasqua Rumour blush and FashionistA Butterscotch blush on the cheeks (not that these have shown up in the photos!). I also used Illamasqua Havoc precision ink liner, Bourjois black kohl liner, CoverGirl All in One mascara, Sleek MakeUp Brow Kit, and a tiny bit of Topshop Pillow Talk lipstick dabbed on with a fingertip.
Have you tried any of Wet N Wild's eyeshadow palettes before? American bloggers, help me out – which ones do I NEED in my life?