It's been a horribly long time since I last did an Easy Peasy Nail Design for you, I'm sorry! I hope I can make up for it with this second installment to the Tips with a Twist mini-series I began but never continued! My nails are quite a nice length at the moment, so what better time than now to do a tips-focused design? Although this will definitely work on short nails too, by all means.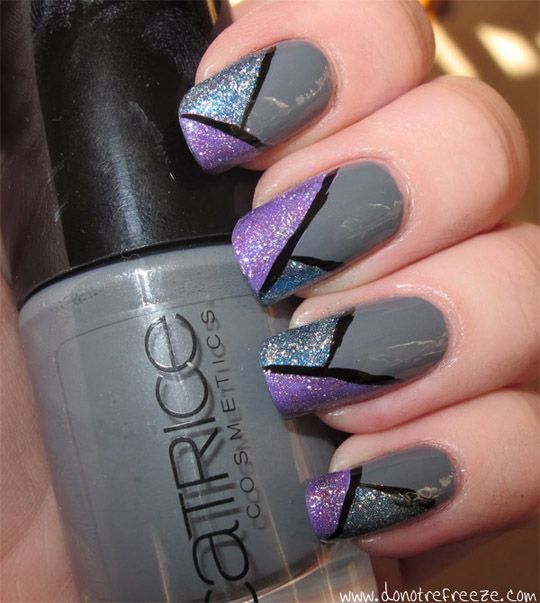 Pick your colours out before you start. I used a grey for the base, I think a dark grey works well here because it offers enough of a contrast against the bright tip colours, but I didn't want to use black because I knew I'd be outlining the tips in black. Choose two holographic or glittery polishes for the tip design – or indeed holographic glitter! You may also want two opaque creme polishes of the same shade family to use underneath your holographic/glitter ones to make them stand out even more. I've done this, but you can certainly choose not to if your holo/glitters are opaque enough to stand up on their own.
After applying a clear base coat, paint your base colour. I used two coats of London's Weather Forecast by Catrice. I have a handful of different grey polishes but this one really stands out thanks to the almost-hidden silver shimmer in it. It just adds something a little bit different to what would otherwise be a plain grey creme.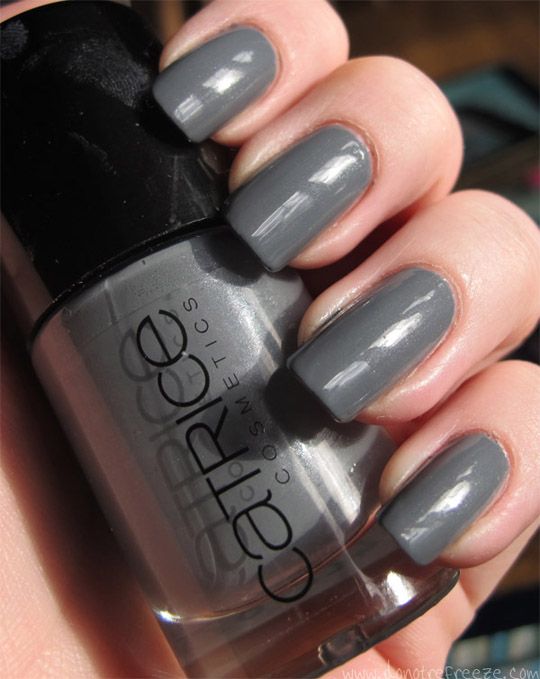 Once your base coat is dry, take your first colour – the base for your holo/glitter, or skip this step if you're using the holo/glitter straight away. My first colour is blue, and as my base blue I used Orly's Sweet Peacock. Paint one corner of the each nail diagonally with this colour – vary the side of the nail, size of the area and the angles as much as you like – I prefer it to look mismatched.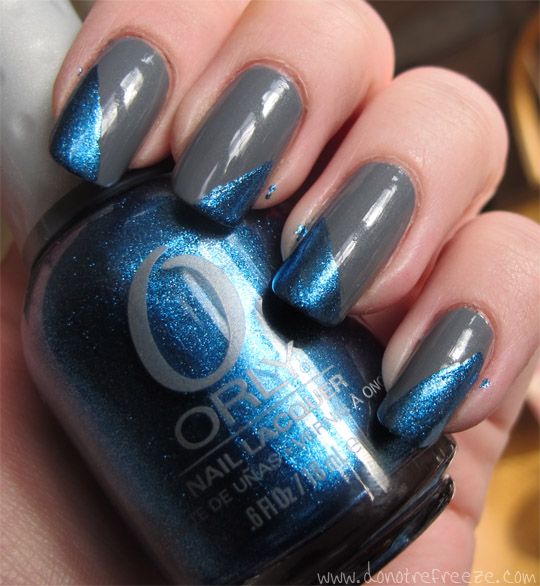 Now, top that colour with your first corresponding holo/glitter. This is Milani 3D Holographic in Cyberspace.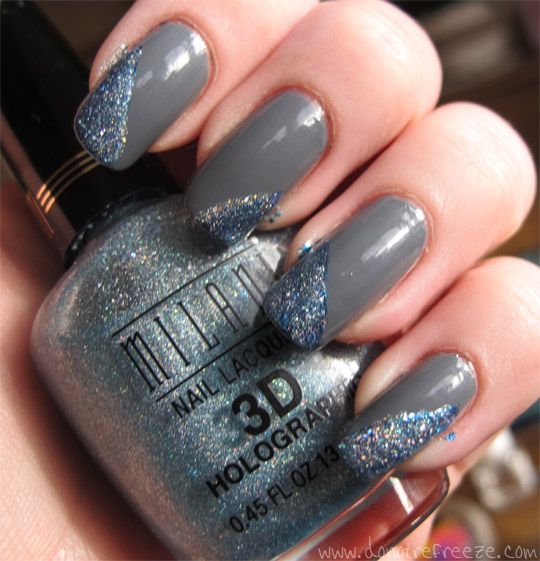 Once the first colour is dry, repeat the process of base colour and holo/glitter on the other sides of each nail. My second colour was purple, and my purple base colour was Illamasqua Jo'Mina…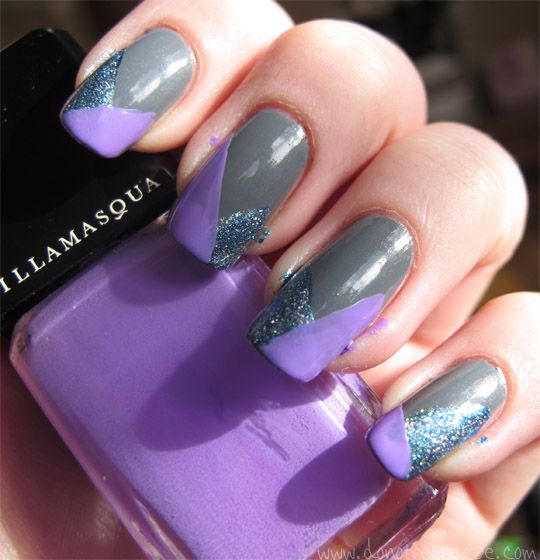 …and my second holo was Milani 3D Holographic in Hi-Res.
Once the second colour is dry, outline the corners in black using your preferred method. I use a black nail art striper pen, but feel free to use liquid eyeliner in a pinch!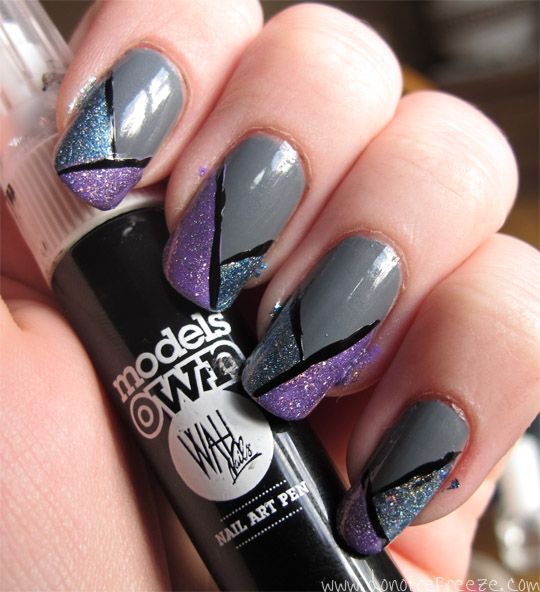 Once the lines are more or less dry, apply a quick drying topcoat to seal your design. Try to resist the temptation of applying topcoat whilst the black lines are still wet as they can be prone to smudging and ruining your design. Clean up any polish on your fingers using your preferred method (a cotton bud dipped in polish remover works just fine), et voila!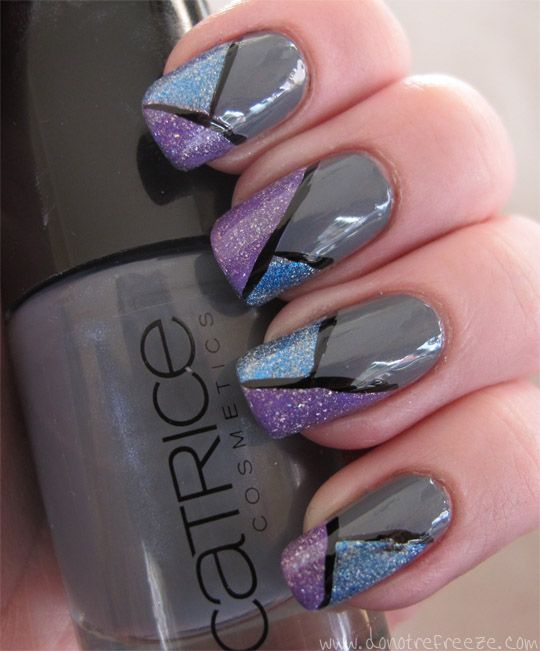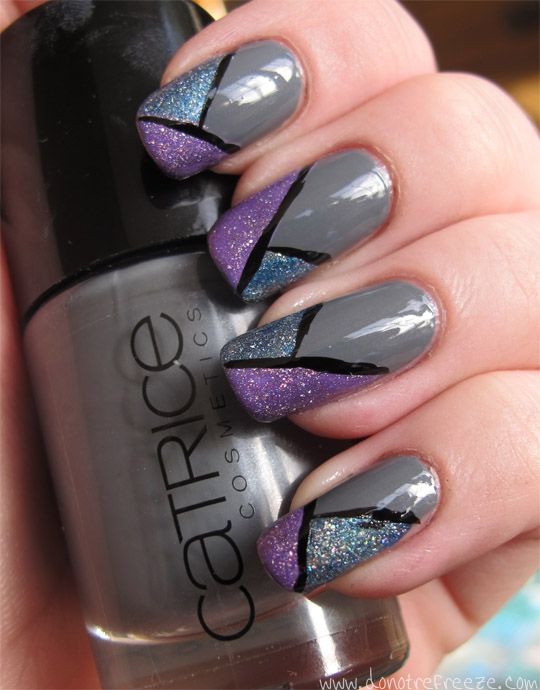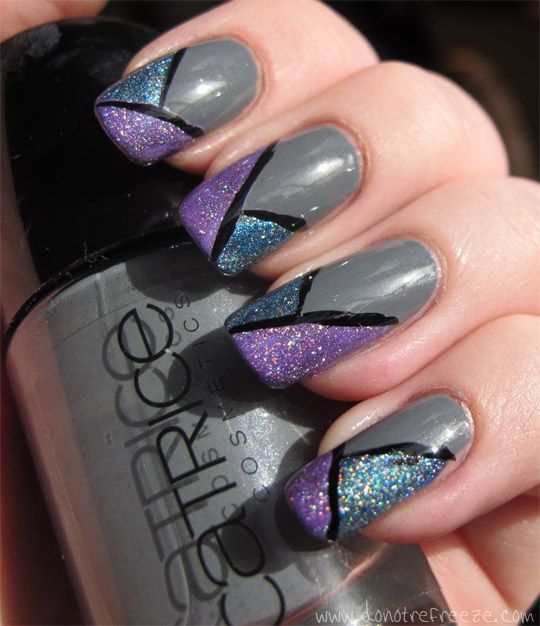 Really hope you enjoyed this criminally simple Easy Peasy/Tips with a Twist hybrid nail tutorial. Do let me know if you try it out, I'd love to see! :) x