Okay, no laughing please. You may remember if you read my IMATS haul post that I bought a ProChart with a view to trying my hand at designing face charts. I still don't have any serious desire to become a makeup artist – although my interest in makeup artistry is constantly growing and evolving – I just wanted to try it out as a hobby more than anything else.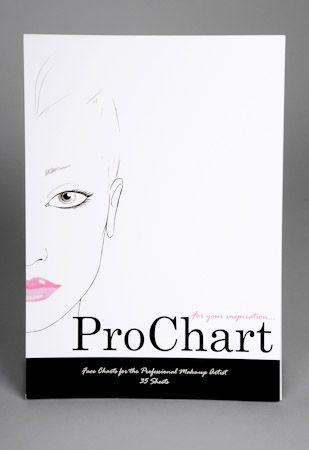 The ProChart, created by makeup artist Victoria Hooker, is absolutely lovely. It's one of the nices faces I've seen on any face chart (I really don't like the MAC one at all!), printed on nice densely textured paper for maximum adhesion of products. There's several features that I think make ProChart a really good choice for beginners to designing face charts – it includes faint half-brows to make it easier to create your desired brow shape, and faint eyelashes so designing those should theoretically be much easier. Most face charts don't include brows or eyelashes at all, which is a plus point in some ways for the more advanced makeup artist, but as I said I think these features are perfect for someone like me who has no experience in this.
I also really like that the eyes are quite large and there's plenty of lid space so you've got ample room to experiment with blending and different shapes or colour combinations. Oh, and another thing – it features plenty of space beneath the face for you to record the products you used, so you can go back and recreate the same look again and again.
Anyway! Before I got stuck in designing my own face charts, I sought out some insider tips and tricks so I didn't feel I was going in without a clue what I was doing. I reached out to Victoria and the ProChart team to find out what advice they could offer me and you on designing face charts. I got a phenomenal response from the team with far more information than I expected, so I'm delighted to be able to share these with you all!
:: "My two tips are using MAC Luna cream colour base all over the eyes, it helps the shadows to blend easier and you get a truer colour pay off. I also use MAC cleanse off oil (the tiniest tiniest amount) to blend lip liner as it emulsifies the make up and stops it from looking drawn on"
:: "Always draw eyebrows in very faintly with a lead pencil to give the desired shape and style of the brow, then fill with a soft angle brush and eyeshadow, this way it's really easy to rub out if you struggle to make them symmetrical! Perfect for big strong brow looks"
:: "My other tip is don't leave out filling the colour of the pupil in this really makes your facecharts look alive! Do this with a small amount of coloured eye pencil and blend in with a cotton bud"
:: "Make sure that you use soft skin tone colours to shape from the eyebrows, down through the nose to make the face look more 3D and realistic."
:: "A white rubber comes in very handy if you make any mistakes but don't use a coloured one as the colour sticks to the paper!"
:: "I use a darker coloured lip pencil than the lipstick to outline & shade which creates a more 3D lip."
:: "I love using a MAC 212 brush to create the most defined socket, gives a very sharp look. Also I love using a darker eyeshadow in the middle of the lips to create an open mouth effect!"
:: "I always start with the brows, using a MAC 266 brush and a shadow to suit, shadow looks more neutral than drawing on with a pencil. It sets the scene for the overall look."
:: "Have a set of brushes that you use for face charts and stick with them as they do become "worn" from use on paper"
:: "Do take advantage of the lined section at the bottom and write the products you've used down, so if you want to recreate the look you have all the products listed."
:: "Set your face charts with hairspray when you're done to hold all powder products in place, for lips use clear, glittery or matt nail varnish top coats to keep your lipstick in place and stop it from smearing"
:: "Just don't use any creams, stick with powders or it makes a mess (with the exception of lipstick of course)"
:: "Collect small lip brush testers and hack at them with scissors to get finer bristles. Then use with MAC Boot Black liquid liner to create beautiful wispy lashes. Also, if you struggle with lashes, try turning the face chart upside down as this angle will give you more control!"
:: "Use a MAC 190 brush and a fix powder for the skin- I tend to work around the outside of the face and pull product in. This technique will create a 3D, structural face rather than a flat canvas!"
Armed with all these excellent tips – but sadly not all the products or brushes mentioned! – I set about ham-fistedly creating my first face chart. I figured it would be easier to try something I'm already familiar with so I attempted to recreate my go-to everyday look. Again – don't laugh!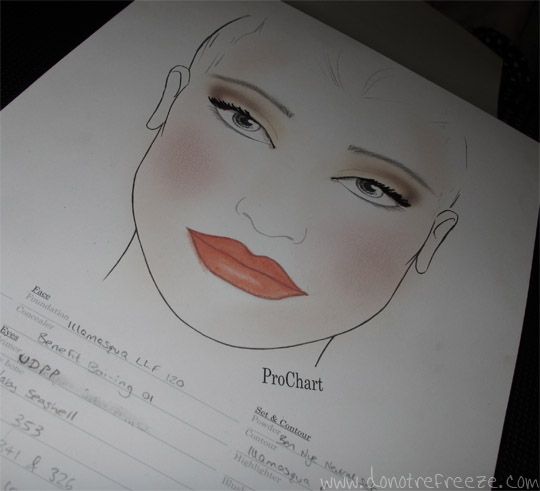 Well… it could be worse I guess. The eyeshadow was the most fun part for me! I also quite enjoyed doing the brows which surprised me because I was dreading those. I struggled a little with the contouring – it just looks muddy – but the single hardest part was the lashes! All I had to hand to do it with was an Illamasqua precision ink liner – I must make a visit to a makeup counter as soon as possible to theif some tester lip brushes! Haha.
Despite my epic tantrum when I fucked up the lashes, I don't feel too deterred and look forward to practising more and eventually creating more impressive face charts. A massive thank you to Victoria and the ProChart team for all their invaluable tips!
Do you do face charts? Any more tips gratefully received!