What nail design could possibly be more apt than leopard print to showcase the awesome colours of the OPI Nicki Minaj collection?!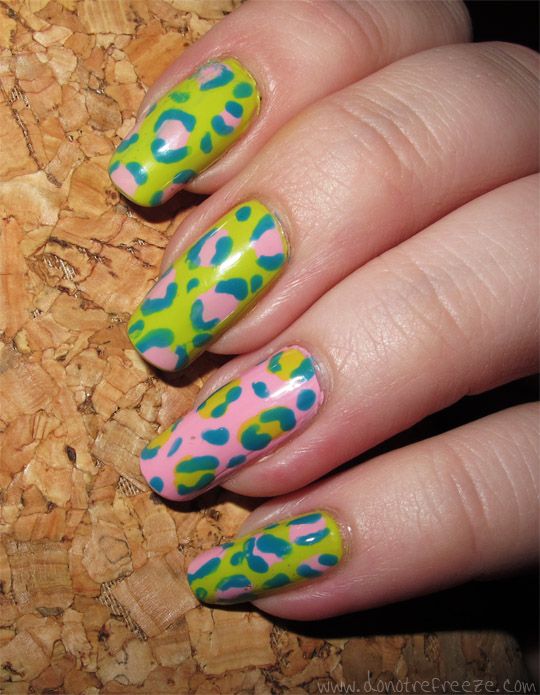 Someone in the office misspelt Minaj as 'Minage' a couple of weeks ago.. and since then we've been calling Nicki something else!
I'm sure you're all familiar enough with the collection now to recognise which colours I've used where – this collection has been all over the blogosphere and frankly I'm quite late to the party with this post. Just in case, though – I used Did It On 'Em (amazing colour) as the base colour on most nails, with Pink Friday for a few accent nails – the thumb and ring fingers on my left hand, and index and pinky fingers on my right. The dots were made with the opposite colours, and I did the outlines with Fly and just a dotting tool.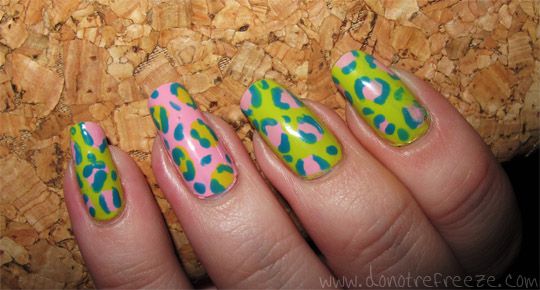 I kept this manicure on for possibly the longest I've EVER kept one on. A week and four days! I KNOW! In all that time, I experienced no chips and only minor tipwear. These photos were taken on the 9th day of wear, believe it or not. Impressive, right? Although I put this down to no longer doing waitressing, I think, as opposed to the polishes.
Did you pick up any colours from the Nicki Minge Minaj collection? Which ones are you loving or loathing? I've also got Metallic 4 Life and Save Me which I'm yet to try out!