Last IMATS London 2012 post, I promise. But the haul is the funnest part, right?

First of all, apologies for the fact that all of these photos were taken with flash. I was FAR too eager to get these photos done on Sunday night so I could start using all my new stuff! As flash photos go, I don't think they're too hideous and they're pretty colour accurate.

I'm really, really pleased with everything I got. I didn't make any rash decisions on purchases – I think it helped on Saturday that I knew I'd be going back the following day, so if there was anything I was undecided about I had a whole day to mull it over. I bought a nice mix of practical and fun things, so all in all I think it was a pretty successful (if rather large) spend!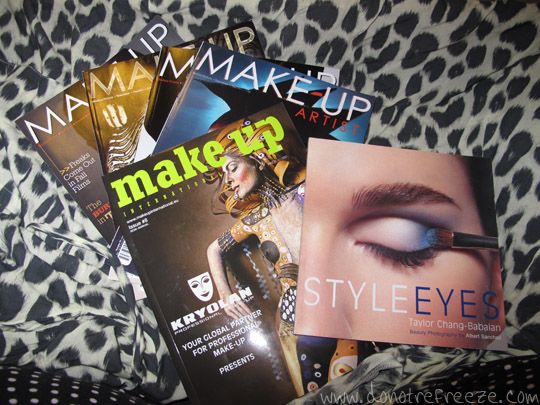 Naturally, I had to grab the most recent issue of Makeup International magazine from Charles Fox – I love this semi-annual magazine, it's always packed full of inspiring images and tutorials. I also got four back issues of Makeup Artist magazine, and a book called Style Eyes by Taylor Chang-Babaian. I'd not heard of the book before but a quick flick through it told me that it was everything I wanted Eye Candy by Linda Mason to be, so I had to get it.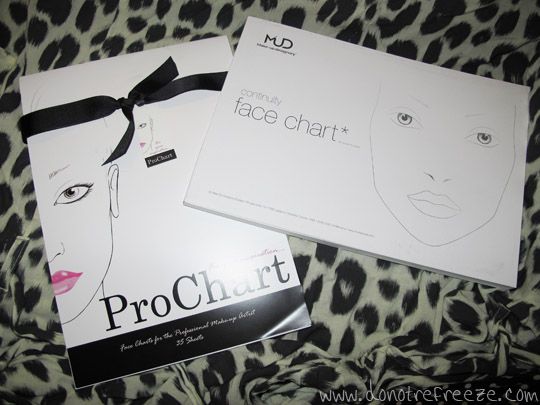 One of the first things I picked up on Saturday was a Pro Chart, as I meant to get one last year and totally forgot. Later on, I learned that MUD had their own face charts, with 15 more pages and heavier, more textured paper for less than a third of the price – sigh! That'll teach me. I picked up the MUD one too, just because. I've never done a face chart before, but it's something I can't wait to start practising now I have both of these!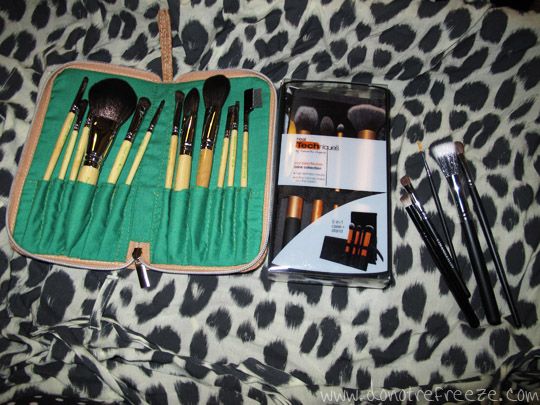 OMG BRUSHEZZZ!!1!1. Colin just doesn't understand the necessity for so many brushes.. anyone else's other half the same, or do they understand? Haha. Pictured on the left is the gorgeous set I mentioned in my last post that was gifted to me by Royal & Langnickel – I haven't taken any closer photos of this as I plan to talk about it separately another time. In the middle is the Real Techniques core collection – yay! I've already used the Buffing Brush, and OH MY GOD it is actually amazing. Best brush for foundation EVER. I could do with about 50 backups of this. Lastly, I got 5 individual brushes from Crown Brush – well actually I bought 10 or 11 but the rest were for my sister so there's no point in showing those.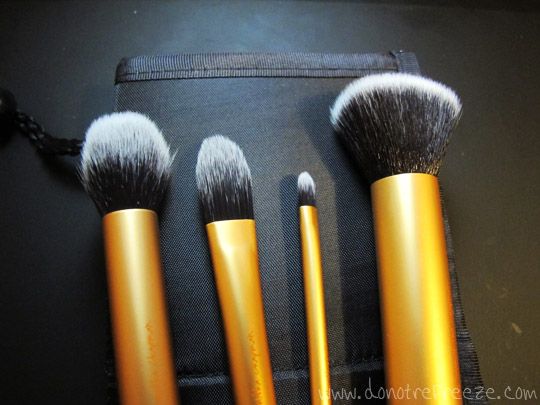 Real Techniques Contour Brush, Pointed Foundation Brush, Detailer Brush and the sen-frigging-sational Buffing Brush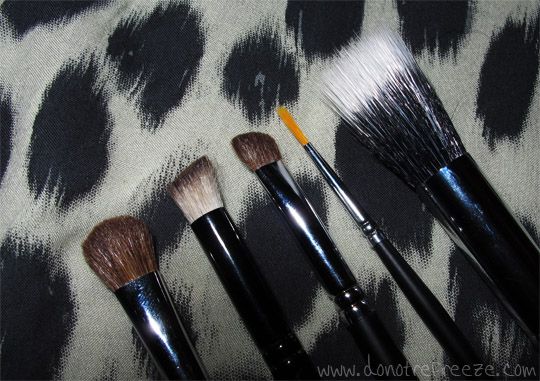 Crown Brushes: C209 Chisel Pointed Fluff Brush, Small Angled Flat-Topped Brush (no name or number on this one!), C150 Angle Fluff Brush, C250-2 Liner Brush, and C404 Small Duo Face Brush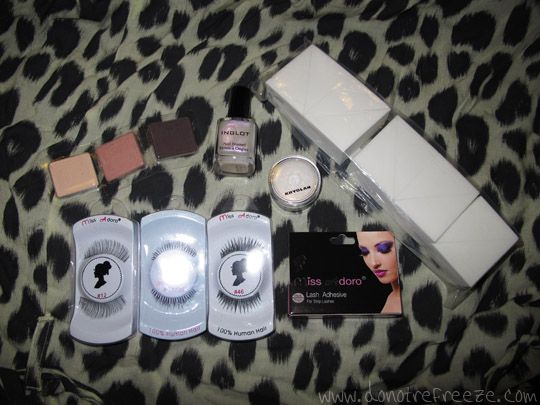 From Inglot, I got 3 matte eyeshadows to add to my Z palette in exceptionally practical colours – I've come to the conclusion that I don't own nearly enough matte eyeshadows. I also got the nail polish in 017 – I've not swatched it for this post but it'll undoubtedly be featured sometime soon. I grabbed it because it really reminded me of Illamasqua Prism, but with a pink shimmer instead of blue. The sponges were £1.65 from Charles Fox so I picked them up for use with foundation or for nail art – it's nice to have a store of things like that! Also from Charles Fox I got the Glamour Sparks glitter in Copper – which I stupidly just realised I haven't swatched. I'm sure I'll post about it soon though. I also got 3 pairs of false lashes and some dark lash glue from Miss Adora; I'm not a wearer of falsies because I am rubbish at applying them, but these were only £2 each so I thought I'd give it another go.

Inglot Matte Eyeshadows in 353, 341 and 326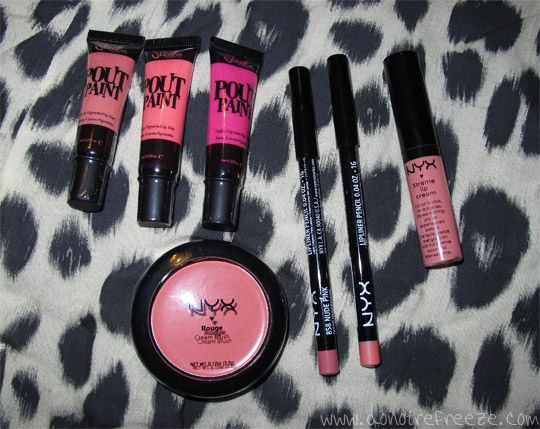 I decided quite some time ago that I prefer Sleek MakeUP's Pout Paints to OCC Lip Tars – OCC might have a much vaster colour range but Sleek's ones are softer, less drying, less prone to bleeding and don't separate in the tube over time. So, I picked up three more of these in lieu of Lip Tars. I also got a few lip bits from NYX – two lipliners and an 'Xtreme Lip Cream' which is reminiscent of the Collection 2000 Creme Puffs, but nicer. I also grabbed the cream blush in Glow, after hearing the lovely Jennie praising it so many times.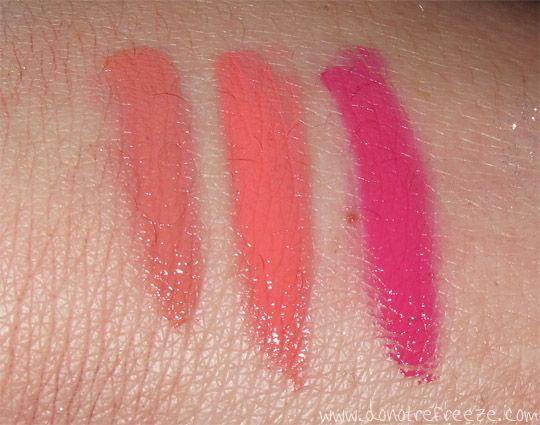 Sleek MakeUP Pout Paints: Minx, Milkshake and Rosette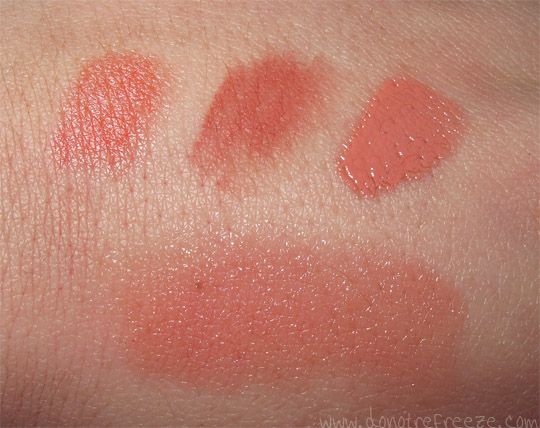 NYX Lip Liner Pencils in Tangerine and Nude Pink, Xtreme Lip Cream in Nude Peach Fuzz and Cream Blush in Glow
Oooh, Illamasqua! I actually picked up a few more bits than this, but those are a secret for now because I'm keeping them back for a giveaway! I've wanted to give their Light Liquid Foundation a go for a while, so what better time than when they're offering it for £7.50? I took a chance on shade 120 and it's just right. By the way, this, applied with the Real Techniques Buffing Brush = my foundation HEAVEN. Everything else was a fiver, or 3 for £10 for the stuff I got on Sunday – except for the pencils, which were a criminal £2 each! The nail polish, Propaganda, isn't swatched here but you know it'll be on here sometime soon.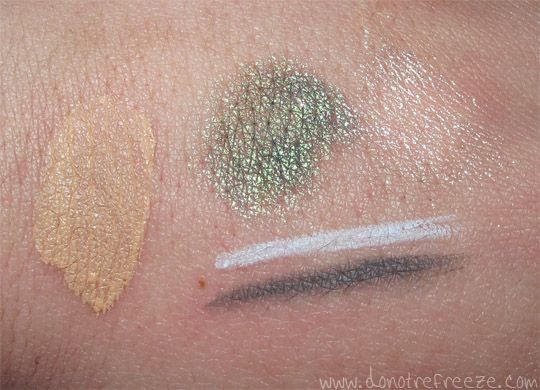 Illamasqua Light Liquid Foundation 120, Pure Pigments in Chasm and Breathe, Medium Pencils in Coax and Exert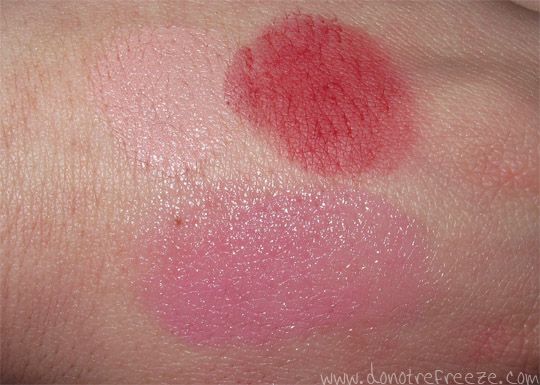 Cream Eyeshadow in Crumble, Powder Eyeshadow in Angst, Cream Blusher in Sob
Ahh, these are probably my star purchases. Make Up For Ever! I knew I wanted to try a couple more Aqua Creams after falling in love with shade 5 months and months ago, so I grabbed a couple of those. I also swatched a load of the Aqua Eyes pencil liners and Aqua Liner liquid liners – there are some BEAUTIFUL colours, seriously. Also, a testament to their lasting power – the swatches were practically untouched after several hand washes and a shower. Amazing stuff! I ended up with two each of these. I also bought a Star Powder – wasn't a planned purchase at all but I spotted this colour out of the corner of my eye and it was frigging stunning, a real red-leaning brown with a STRONG teal duochrome. So so so pretty! The swatch below hasn't done it nearly enough justice.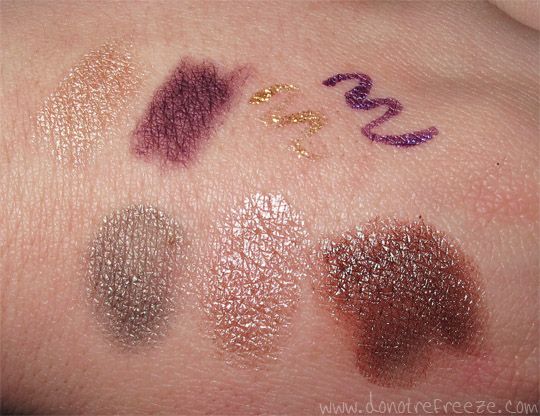 Aqua Eyes pencil liners in 23L and 4L, Aqua Liner liquid liners in 1 and 8, Aqua Creams in 02 and 16, Star Powder in 90955
So that's it! Pretty good haul, don't you think?