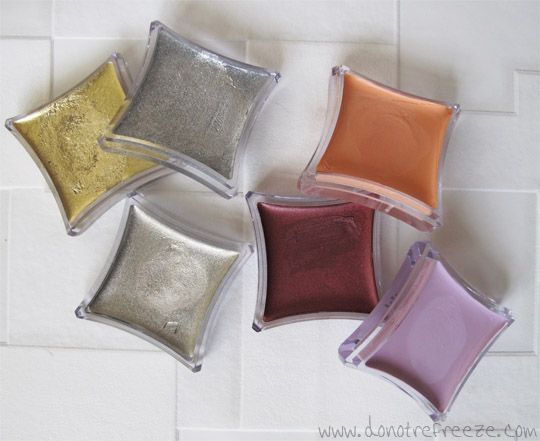 Over the last two and a half years, I've built up quite a nice collection of Illamasqua products. I have a ton of their nail polishes, a couple of their foundations and primers, a nice handful of blushes, lipsticks and eyeliners.. but I never realised how many of their Liquid Metals, Cream Pigments and Pure Pigments I had amassed! I thought I'd showcase them all across a couple of posts, because they are truly lovely products that I don't wear enough so I might motivate myself to use them more through this! Today I'll show the Cream Pigments and Liquid Metals that I have, and I'll do Pure Pigments separately another time.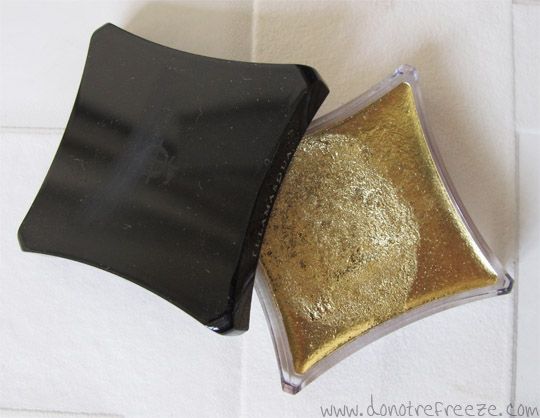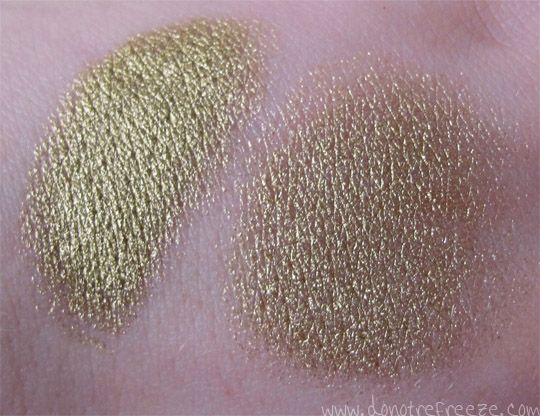 Liquid Metal: Solstice – This was part of my first ever Illamasqua purchase, along with Furore pure pigment and Absorb intense lipgloss on my 18th birthday. So it holds a special place in my heart! It's also the only one that you can't get any more! I noticed whilst at IMATS that one of the products they had there was a gold liquid metal called Electrum. I'd not seen or heard of it before, sort of an antique gold colour, so I asked about it and it was created to replace Solstice. Apparently the pigment used to create the amazing true gold colour of Solstice is no longer available! Solstice makes a beautiful base for gold eyeshadow looks, but my favourite way to wear it is as an eyeliner. Gorrrgeous.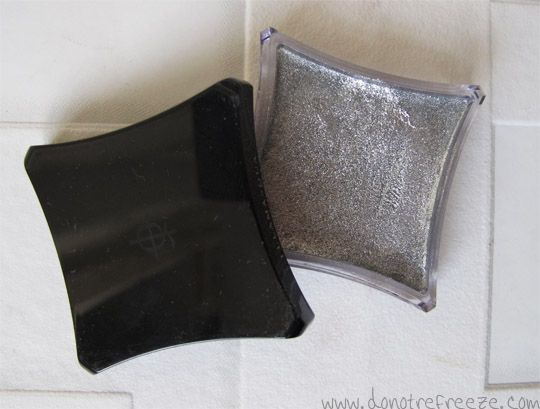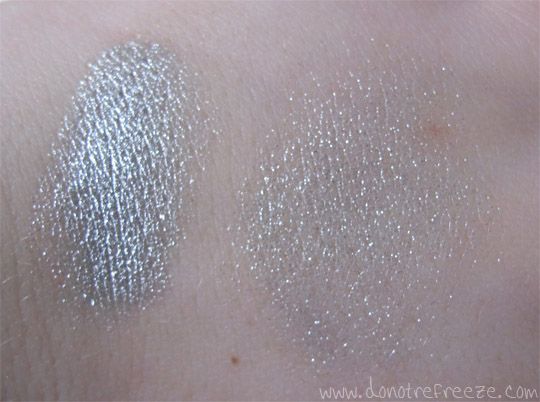 Liquid Metal: Phemomena – A long time ago, I used to have a wishlist in the sidebar of my blog and Phenomena was on there. Colin came to visit me one weekend and had bought me this! I have to say though, this is probably my least favourite. Not sure if I just got a dud one, but it just doesn't have the same luxe creamy texture and intense pigmentation that the others have. The texture of this one is much wetter and more oily, and always creases no matter how thin a layer I use or how well I set it.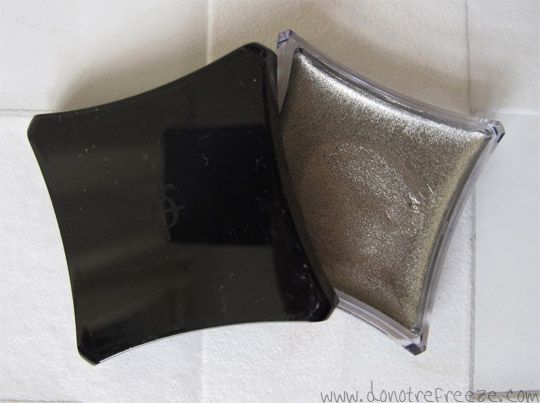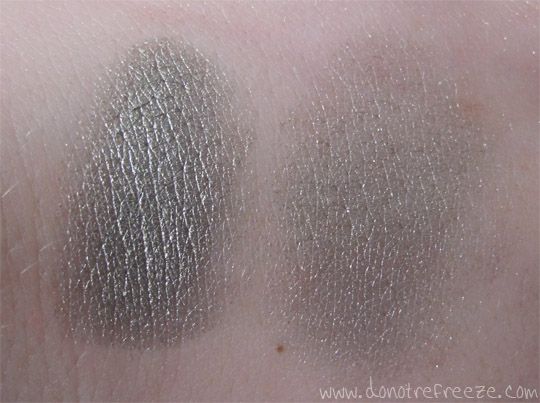 Liquid Metal: Surge* – After my disappointment with Phenomena, I was apprehensive of Surge when I was sent it to review. But this was much more like it – the same texture and colour payoff that came with Solstice. And it's almost silver – although more of a dirty, pewter type shade. I actually really like the colour of this one, it makes a lovely base for warm toned taupe eyeshadows if you want to make them appear cooler toned.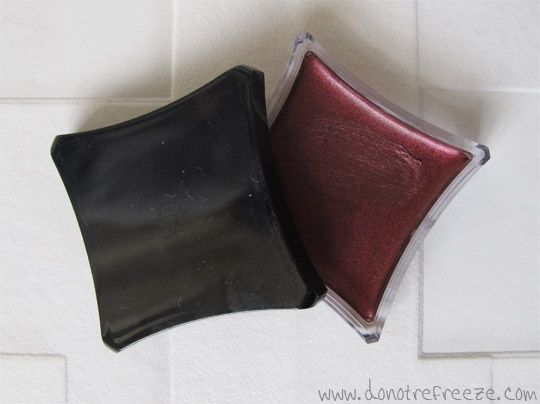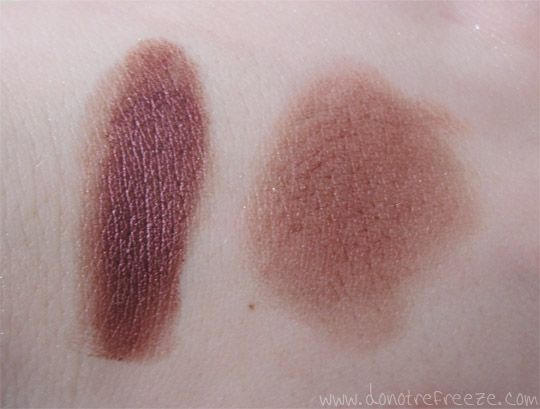 Liquid Metal: Resolute* – At the launch for the A/W 2010 Art of Darkness collection, which included three new Liquid Metals, I noticed that the formula had been changed quite significantly – it's slightly drier than it used to be, which is actually a really good thing because it makes them less prone to creasing. This hasn't come at the cost of pigmentation, though, they're still as luxe and rich as ever. I was glad to see Illamasqua move into more colours with these, too, branching out from the traditional metallic colours of the earlier ones. Although I'm still holding out hope for a Cadbury purple shade! Resolute is a bloody stunning red shade in the pot, but leans rather more brown and rusty on the skin. I really like it though, it's different and you should know by now that I love red shades on my eyes. It makes the perfect base for Berber pure pigment.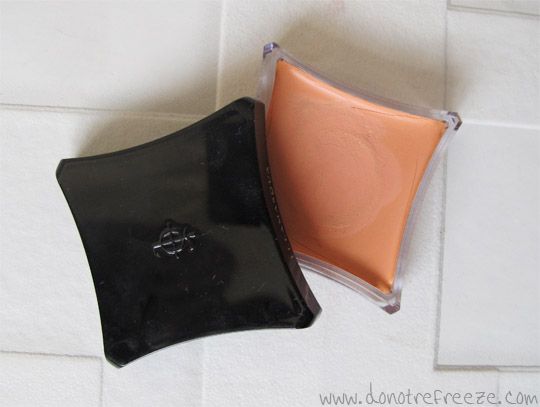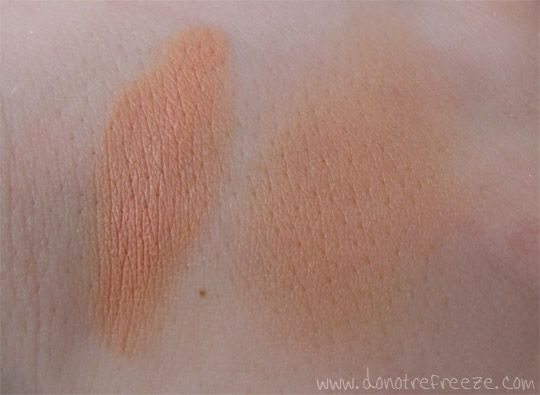 Cream Pigment: Emerge* – The S/S 2011 Toxic Nature collection saw Illamasqua dip their toe into the world of pastel shades (with an alter-ego twist of course), and with it came the brand new Cream Pigments. These are such great products! Much more robust and long-lasting than their original cream eyeshadows, and also great for a multitude of uses other than on the eyes. Emerge, whilst I love it as a base for a peach toned eye look, is also a great product to mix with your concealer to colour-correct any blue shadows. I've also mixed it with cream blushers before to give them a peachier tone, and with lipsticks (and I've craftily used the lid to cover up the corner where I dig little bits out to do this!).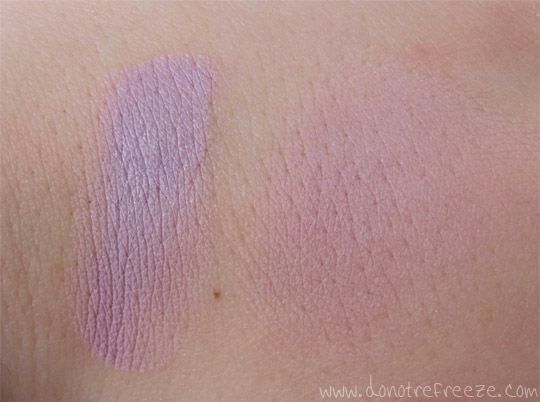 Cream Pigment: Dab* – If you have any sallow yellow tones to your undereye shadows, Dab is the perfect shade to counteract that by mixing with concealear. I also love this as an eyeliner, it's a really interesting shade for that purpose. And again, it's great to mix with cream blushes and lipsticks to create custom shades. Naturally you can by all means use them neat on your cheeks or lips if you want to!
With both the Liquid Metals and Cream Pigments, there's definitely some rules of thumb that I follow for them. As you can see from my swatches, once you start to blend them they do become decidedly less intense but you really can't get away with wearing a thick layer of either product. Naturally because of their nature as cream products, they WILL crease unless you use a thin layer. Also setting them with complimenting eyeshadows will greatly prolong their wear. They apply nicely with synthetic brushes – don't even think about trying to get a decent result with a natural hair brush – but they apply and blend just as nicely with a fingertip if you want to go au naturel!
Do you have any Illamasqua Liquid Metals or Cream Pigments? What do you think of them? I really want to try Hollow Cream Pigment as a contour shade when my Rumour blush runs out!
Liquid Metals cost £17.50 each and Cream Pigments come in at £17.00, available from Illamasqua.com or your nearest counter.
*Denotes products that were sent to me or given to me at launch events – although you know by now that this doesn't affect my opinions.