You're either a bath person or a shower person, and I am definitely a shower person. I've probably only had about 5 baths in the last 5 years, they just don't appeal to me that much. 2007 was probably the year that I took the most baths in my life since I was working at Lush and it would have been rude not to take advantage of the 50% staff discount!

But whether you're a shower person or a bath person, I Love… Cosmetics can definitely cater for you. Their huge 500ml bottles of combined bubble bath and shower gel retail at just £2.05, an absolute bargain I think you'll agree, along with body butters at the same price, gorgeous 99p lip balms and all sorts of other bath and body goodies – with a decidedly Philosophy-like packaging design. Some weeks ago I was sent their Coconut & Cream bath and shower creme, Blueberry & Smoothie glossy lip balm, and their new limited edition Juiced Up Blackcurrant bath and shower gel – and I must say, I was impressed!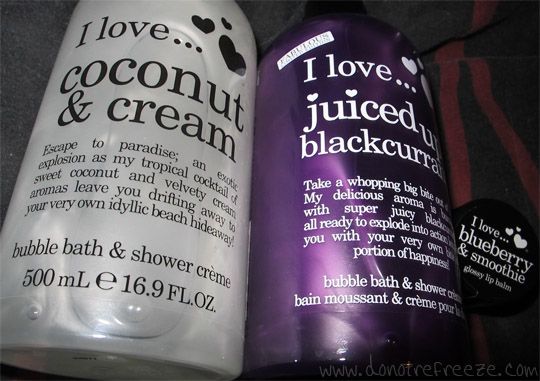 I Love… Coconut & Cream bath and shower creme
Coconut is one of my most favourite scents of all time – I still mourn sometimes for the long-discontinued I Should Coco soap by Lush, probably one of the most authentic coconut scented products I've ever used. This is absolutely lovely, though! It gives a really creamy lather that actually does a half decent job of moisturising your body even though this isn't one of its claims. The scent is just wonderful, really coconutty (!) and the 'cream' part manifests itself as a subtly sugary scent that works amazingly with the coconut.
I Love… Juiced Up Blackcurrant bath and shower gel
I wasn't 100% sure about this one when I got it – I'm not really a fan of blackcurrants. But when these arrived, I was at the lowest point of a nasty cold so I thought the vitamin C aspect might perk me up a bit. Boy did it! The scent of this is strong, and really authentic. I was afraid it would have a nasty synthetic blackcurrant smell, but it genuinely smells like someone's just squished a load of fresh blackcurrants into a bottle. It was a great way to welcome back my sense of smell! The shimmery purple colour of it is a real treat, too, although this one didn't lather as nicely as the Coconut & Cream.
I Love… Blueberry & Smoothie glossy lip balm
Lip balms in pots aren't always my favourite – less because of the hygiene aspect that people talk about (seriously, what's the big deal?), but more because of my long nails. I've taken to scooping a smidgen of lip balms in pots out with the back of my nail to prevent getting any stuck underneath them! The first time I did that with this, I felt slightly apprehensive – it just felt like it was going to be really slippery and not moisturising in the slightest, that it was just going to be a lip gloss. I was wrong, though, this does actually feel nice on although it takes a while to sink into the lips. I've taken to slathering it on before bed to wake up with nice soft lips. Colin loves using this too! Also, because it's blue – although not very pigmented which is good – it works really nicely over pink lipsticks to add a slightly blue-toned milky-ness.
Overall I'm really impressed with what I've tried of the I Love… range, and would definitely like to try out some more of their products! Have you tried anything from I Love… before?
You can find I Love… in selected Superdrug, Co-Op and Morrisons stores. There's a store finder on the website :)