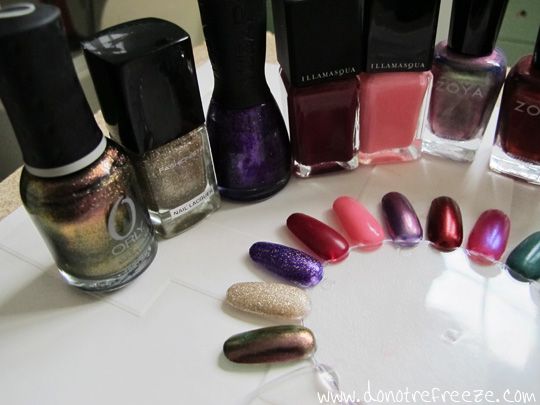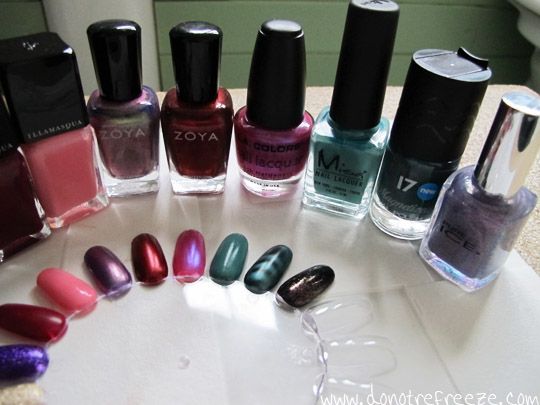 Well, like last year I had a lot of trouble narrowing down my favourite nail polishes for the year. In the end, I settled on 11… because it's for 2011. So there!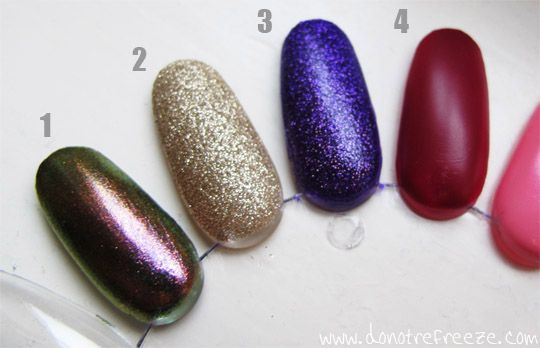 1. Orly 'Space Cadet' – I do love a good duochrome – who doesn't? This is what I was hoping the whole Models Own Beetlejuice collection would be like. Opaque, strong duochomes multichromes like this that have about a million different faces. Naturally, a real bugger to photograph. I've been through my blog archive and am shocked and appalled that I've never posted about this!
2. FashionistA 'Hidden Treasure' – I got pretty into glitters last year. Can you tell?! Super opaque (two coater) champagne gold glitter. What's not to love? I posted about this separately here.
3. NuBar 'Violet Sparkle' – Phwooaarr. This polish is so sexy that it's what started my Polishgasm posts. Posted about it here!
4. Illamasqua 'Vice' – My favourite polish from the A/W11 Theatre of the Nameless collection. Lovely rubber-look finish, hovering somewhere between a satin and a matte, and sultry deep berry colour. I recreated the Theatre of the Nameless corset nail look here (featuring Vice).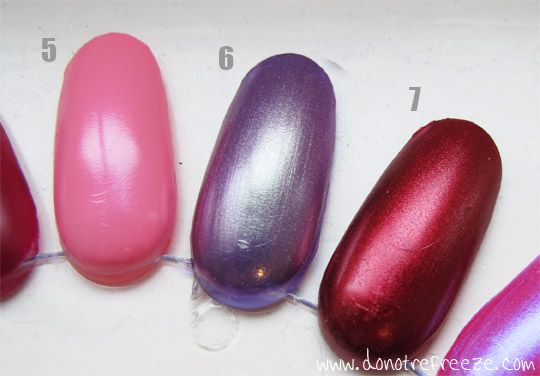 5. Illamasqua 'Loella' – Not from a seasonal collection, this one's part of Illamasqua's core line. It's a truly girly light bubblegum pink, with the subtlest hint of blue shimmer that looks nice in the bottle but barely translates to the nail. I don't mind though, it's still gorgeous. I used it as the base for a leopard print manicure here
6. Zoya 'Adina' – More duochrome goodness! Muted, metallic-y lilac-green duochrome. Really interesting, and this picture does it no justice at all! This made the grade for a polishgasm.
7. Zoya 'Isla' – PHWOAR. I've grown to really like Zoya. I'm not a red fan generally speaking, but this is frigging beautiful. There's a small chance that it might be my very favourite polish of the year. It's THAT lovely. And yes, it was another polishgasm of course!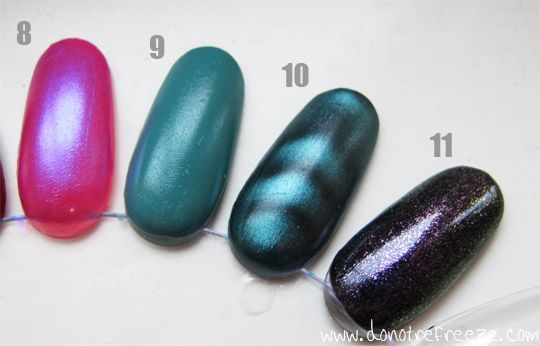 8. LA Colors 'Shocker' – Hot pink shimmer with extreme blue flashes? Don't mind if I do. And do you know the single best thing about this polish? It costs 99p. Bloody 99p! I used it at the base for a pretty cool (if I do say so myself) butterfly inspired manicure here
9. Misa 'Dirty Sexy Money' – Dirty, muted teal creme. Opaque in one coat. My kinda polish! This was on my wishlist for such a long time, and I finally got hold of it last February. I used it at the base colour for this manicure way back in March.
10. 17 Magnetized 'Green' – The magnetic trend was one bandwagon I definitely jumped on, and I regret nothing! I still think the effect is really cool and it's great for a lazy paint-and-go manicure. This was my favourite colour that was released – if you have 'Ego Green' from the Saturdays/FashionistA collab range, this is identical to that. See my magnetic comparisons here.
11. Pure Ice 'Busted' (over black) – I'm quite into layering when it comes to nail polishes. If I come across a polish that's a lot sheerer than I thought it would be, I'm never disappointed – I know it'll work great for layering. If you look at the second photo at the top of the page, it's the one on the far right. Very unassuming in the bottle, but stick a coat of it over black and watch the pinky purply shimmery magic appear! Never got round to posting about this separately, but I have a post featuring it coming up soon.
Please feel free to link to your Favourites of 2011 posts below – I love reading them!