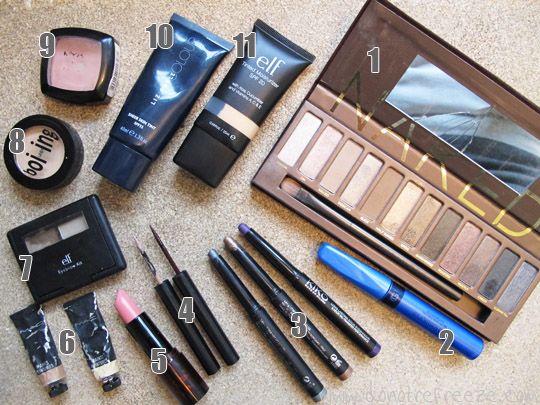 1. Urban Decay Naked Palette – This has got to be on a million people's lists. Correct me if I'm wrong, but I think it actually came out in 2010? Not that I care – I was pretty late getting it, and now I just can't fathom how I got along without it! It was the product that helped me get back into the habit of bothering with eyeshadow on a daily basis. Love it, probably my sole favourite of the year. VERY sad about the mirror though – see it? My suitcase was a little overstuffed on my way home from Colin's after Christmas, and he put all his weight on the case trying to close it. My makeup bag was right on the top. The mirror in my Naked palette is now broken. *Cries*
2. CoverGirl All-in-One Waterproof Mascara (Very Black) – I discovered this badboy whilst I was in Florida in the summer. Prior to this, my all time favourite mascara was RMK's Separate Curl, but at about £22 it wasn't cheap. Imagine my delight when I grabbed the first waterproof mascara I saw in Walmart to get me through the humidity – who'd have thought it makes my lashes look even BETTER than Separate Curl? And it only costs about $5. Winner. I'm onto my third tube, and I recently acquired two more for backup from the lovely Amanda Cheyenne. I will want a stock of this forever.
3. Kiko Makeup Milano Long Lasting Shadow Sticks – Like MAC Shadesticks but about 50 times more pleasant to use, and actually last better. They're softer and glide onto the lid easier. They actually last pretty well sans primer, but with a primer underneath they will literally not budge until you want to remove them. The first one I got was #18, which was featured in this post, and I've got another in the pipeline to show you the other two shades I have.
4. Illamasqua Precision Ink Eyeliners – If you like to wear liquid eyeliner, you NEED these. It currently comes in 4 colours, Abyss (obligatory black), Alchemy (seriously rich gold), and the two I have – Glister, a really unusual nude colour with purple shimmer, and Havoc, a deep aubergine shade. Absolutely LOVE these – Glister looks especially awesome against deep smoky eyeshadow! Both of them are featured in EOTDs in this post.
5. Topshop Lipstick 'Pillow Talk' – Gotta admit, I haven't worn an awful lot of lip colours this year. I find that all too many lip products dry my lips out, and as a lip balm fiend I don't like this happening! I own dozens of lipsticks and lipglosses, but I've got to admit the main reason I barely wear them is laziness. Dryness is just a convenient excuse! I especially don't bother with it on a day to day basis because my job isn't one that's really conducive to topping up lip colour. Pillow Talk, though, was another bandwagon I had to jump on. I saw a lot of bloggers posting about it when it came out. I didn't think it would suit me, but I saw it in store and had to have it. It's lovely!
6. MAC Paints – Really, really like these and am very disappointed that there's not more shades of them. Super easy to use and super long lasting. I posted about them originally here (including an FOTD with Sublime Nature), and even did an EOTD with Flammable (the bright red one!) here!.
7. ELF Studio Eyebrow Kit – I don't know how I got by on just filling in my awfully sparse brows with a bit of powder before I tried this. Once you go wax, you never go backs… Okay, that doesn't work. But still – could not live without this. I've actually found that my perfect brow combo involves both this and the Sleek brow kit, but this ELF one wins out over Sleek for its price.
8. BeneFit Boi-ing Concealer (shade 01) – I think it was actually late 2010 that I was bullied into buying this by a pushy BeneBabe at a counter in Boots. I'm one of those people who feel horrid saying no when I know someone's only trying to do their job, and I felt TERRIFIED as she applied various products to my face. The result wasn't actually too bad in the end, but I felt pressured to buy something and thought the option I'd get the most use out of was Boi-ing. Turns out I didn't like it that much at first, but I slowly learned to love it and now I wouldn't be without it. I've even hit pan on it now! Who'd have thought I'd end up loving a bloody £16.50 concealer?
9. NYX Powder Blush 'Angel' – Had this for about a million years (well, since late 2009) and it's always been one of my favourite blushes. Really soft and pretty. I usually hate blushes with shimmer in, they really accentuate my pores and tend to make most people look overdone in my opinion, but the shimmer in this barely registers on the face. It's my go-to everyday colour, and it's lasting me forever – only hit pan about a month ago!
10. Liz Earle Sheer Skin Tint (shade 1) – Actually feel awful for having never got round to blogging about this after being sent it by the lovely PR at Liz Earle. Will do it at some point! There's just nothing not to love about it, really.
11. ELF Studio Tinted Moisturiser (Porcelain) – 2011 was definitely the year of the tinted moisturiser for me. Between this, the Liz Earle one, and Topshop Skin Tint I had three new loves throughout the year! This was the only thing on my face in the summer when I had a bit more colour, but it's quite noticeably too dark for me in the winter (but Liz Earle sorts that problem out). I don't think I'll ever go back to full coverage foundation.
Please feel free to link to your Favourites of 2011 posts in the comments! I love seeing them :)