Colin bought me an awesome Whoopie Pie recipe book for Christmas, and since then they've rapidly become my favourite thing to bake. They are frigging DELICIOUS and I love how the book gives you recipes for dozens of different types of cake/cookie/whatever you wanna call them and then different fillings, then encourages you to get creative with mixing and matching them! My absolute favourite combo has to be the Classic Chocolate whoopie, with cream cheese frosting in the middle. OM NOM NOM.
Sometimes following American recipes in the UK can be a bit of a pain, since we don't measure in cups, and it's also a pain trying to convert from cups to grams since pretty much every ingredient will convert differently. I gave it a good go, though, using a cup measuring jug I bought in the States last year and weighing each ingredient as I went along so I could give you UK measurements, too! This is a bit of an adaptation of the recipe in the book, I tweaked it around to fit what I had (and also shortening is pretty hard to come by over here).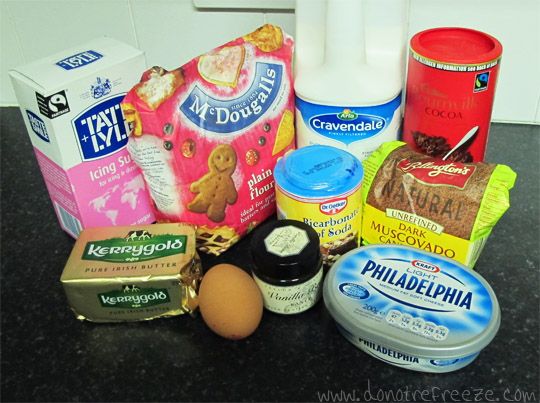 You Will Need…
1 and 2/3 cup plain flour (210g)
2/3 cup unsweetened cocoa powder (95g)
1 and 1/2 tsp baking soda (bicarbonate of soda)
8 tbsp unsalted butter (115g)*
1/4 tsp salt**
1 cup (packed) dark brown sugar (210g)
1 large free range egg
1 tsp vanilla extract
1 and 1/4 cup milk (300ml/half pint)
*The recipe actually calls for half butter, half shortening but I just doubled up on the butter. Also, I didn't actually have any unsalted butter to hand, so I used salted. It won't hurt.
**Omit the salt if you use salted butter as opposed to unsalted.
For the filling
4 ounces cream cheese (110g)
4 tbsp unsalted butter (60g)
Lots of icing sugar!
1 tsp vanilla extract
What to do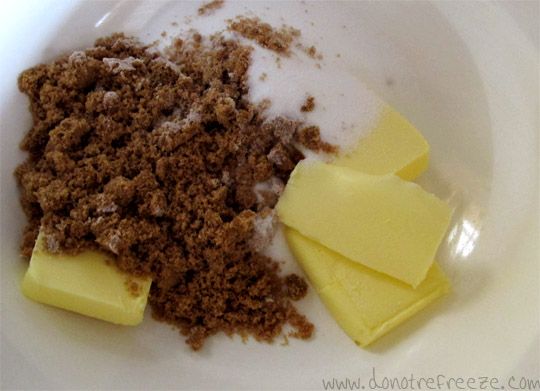 Preheat the oven to 375f/190c (180 for fan ovens). Measure the butter and sugar into a large mixing bowl. It turned out that I didn't quite have one cup of dark brown sugar this time, so I just made up the rest with plain old caster sugar. It didn't really affect the taste at all, I think the recipe just calls for dark brown sugar to add a deeper colour and slightly more depth of flavour.
In a separate bowl, sift together the flour, cocoa powder, baking soda and salt (remember to omit the salt if you used salted butter). Now, cream together the butter and sugar. Whilst it is entirely possible to do this by hand (I usually do all my mixing by hand when I bake, except for these), it's much easier to use a hand mixer – or even a stand mixer if you have one. Make sure you go at it for a good couple of minutes until all the little lumps of sugar are gone.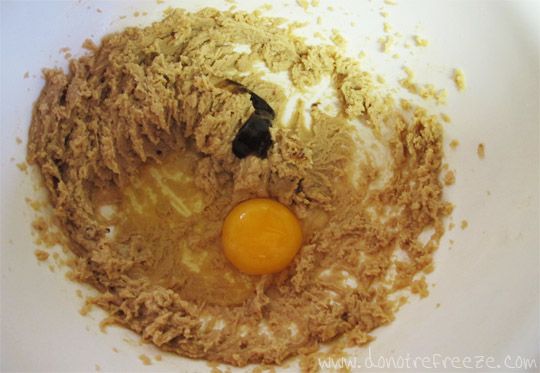 Crack the egg into the bowl, and add in your vanilla extract too (I used vanilla bean paste 'cause that's what I have). Mix until just incorporated.
Now, add half the flour mixture and half the milk to the bowl and mix. Once that's all incorporated, add the remaining milk and flour and mix again. Even once it's all mixed in, continue to beat it for another couple of minutes to help achieve the whoopie's signature fluffy texture.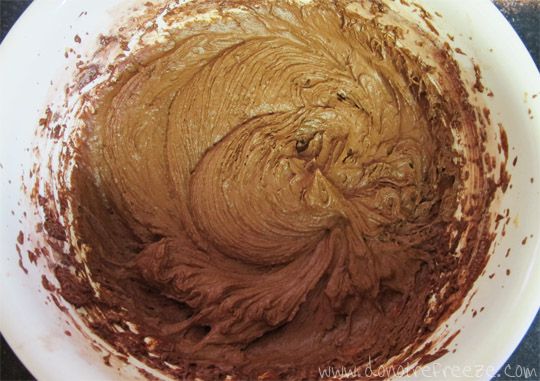 By this point, you should have something along these lines! Now, start dropping spoonfuls of the mixture onto baking trays lined with greaseproof paper. The size of the spoon you use here will depend on how big you want them. The recipe book suggests dropping 'a tablespoon' of mixture onto the tray. I did this the first time I made them, and they came out FRIGGING HUGE. The tray I did here was dessert spoon size, and they still came out pretty huge so I moved onto teaspoons and that was much more ideal. But hey, if you want monster size whoopie pies then go right ahead and use a bigger spoon!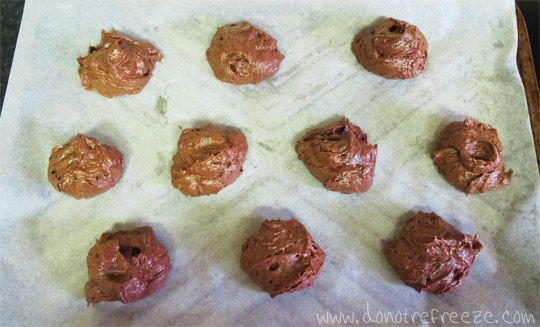 Baking time will also slightly vary depending on sizes. For tablespoon and dessert spoon sizes, I baked them for 11 minutes. For the teaspoon size ones I was making towards the end, I only gave them 9 minutes. The whoopies are cooked when they spring back after lightly pressing them with your finger. Don't be fooled, they will feel much softer than your average cake at this point, so don't overcook them. They firm up just slightly as they cool.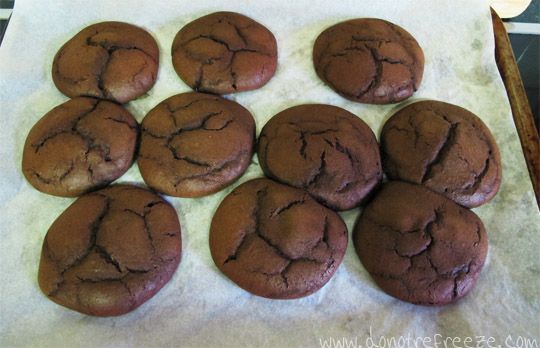 As you can see, you need to try not to drop your balls of mixture too close together! Continue this process until all the mixture is gone, just keep track of the number you've done to make sure you finish with an even number (since you're going to sandwich them). Give them a couple of minutes cooling on the baking tray before moving them to a rack to cool completely. I find they become completely cool more quickly if you put them upside down on the rack.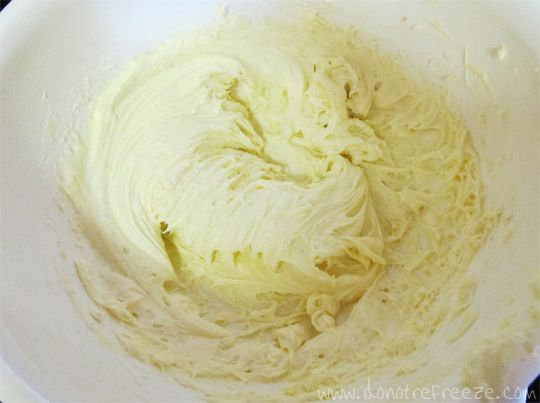 During the baking, you can make a start on the filling. Again, by hand is fine, but beating for a good few minutes with an electric mixer will create a lighter, more airy texture. Beat together the cream cheese and butter first, then incorporate the vanilla. Add the icing sugar gradually until you achieve your desired consistency – I NEVER measure icing sugar when I make buttercreams or anything, I just keep chucking it in until it looks right! I guess I start with about 200g of it and add another 100g each time. Just keep going until it's the texture that you want it! Bear in mind it needs to be spread onto the bottom of whoopies to sandwich them together.
The sandwiching part is self explanatory. Just spread some of the filling on the back of a whoopie with the back of a spoon or a spatula, and stick another whoopie on top. Done! It's actually quite fun to search through all your cooled whoopies trying to match up pairs to stick together according to their size and shape.
Now sit back, admire your (admittedly 'rustic' looking) handiwork, and make sure you hide a couple somewhere for yourself because I guarantee that whoever you live with will EAT THEM. Quickly.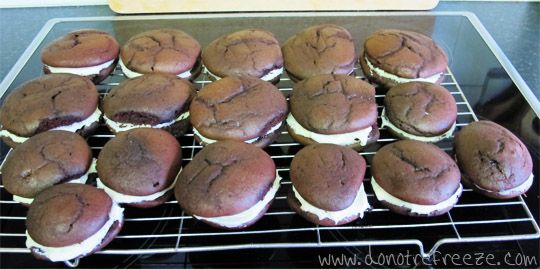 A note on storage: They will keep just fine for a few days in a cool dark place, but if you're going to stack them please put a sheet of greaseproof paper between each layer because they WILL stick to each other!
Enjoy!