I've mentioned these in passing a few times now, and I thought it was about time they had a post of their own. They're probably my single favourite product discovery of last year, I am rather fond of them!
Left to right, these are shades 06, 16 and 18. There's 20 shades of these, so there's quite some choice and you're pretty much guaranteed to find a colour you like. They are very similar in design to MAC's Shadesticks, but I actually like them a lot more. They're a lot softer – the MAC ones I find you have to really warm up on the back of your hand until they're soft enough to glide across your lid with no skipping or dragging. None of that malarkey with these though! I also find they're less prone to creasing than MAC Shadesticks.
I've worn them all rather a lot, so I can make some pretty decently informed statements on their wear. For reference, my eyelids are slightly oily. If I wear these alone, with no primer underneath and no powder eyeshadow on top, I get about 4-5 hours wear. If I wear them over the top of Urban Decay Primer Potion but with no powder eyeshadow on top, they wear comfortably for 8 hours before starting to crease. If I wear them over UDPP and set them with powder shadow, they literally don't go anywhere until I remove my makeup myself. Very impressive stuff!
Another thing I really like about them is that they don't in any way claim that they won't crease, which is a claim that is made about most products of this nature. The tube does claim 8 hour no transfer performance, which is certainly true, but I just appreciate that they're not all like 'omg crease free, will never crease omggg!'. You know where I'm coming from with that, right?
Less rambling now, more pictures. Again, L-R shades 06, 16 and 18. And, just to prove how much staying power they really do have, this is after a vigorous rub with a face wipe!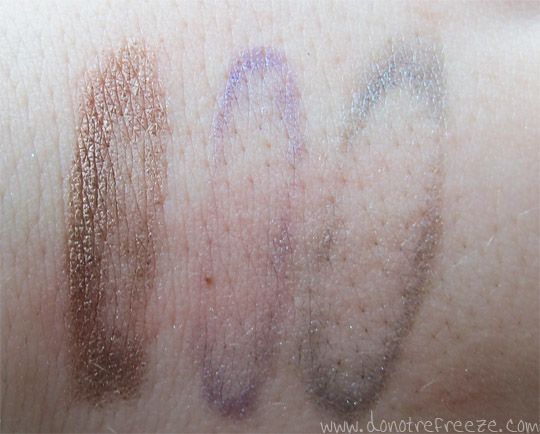 And here's a couple of EOTDs featuring 06 and 16, and some Kat von D eyeshadows. I've done an EOTD with 18 in a previous post, which you can see here.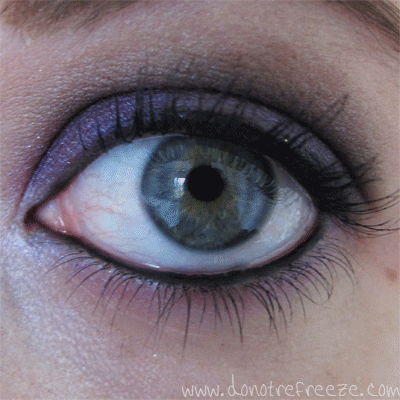 In short, these come with a serious recommendation from me! As far as I'm aware the only two stores in the UK are in Westfield Stratford and Westfield Shepherd's Bush, but you'll be pleased to know that you can buy Kiko online! These shadow sticks regularly cost £6.90 (which is bloody brilliant anyway), but they're currently on sale for an AMAZING £3. Seriously, try one! You won't regret it :)