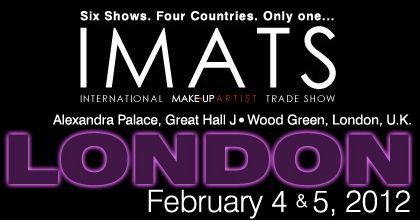 With just another month to go now (doesn't time fly?!), I've been looking at the list of speakers and the schedule for the weekend. These are my personal picks – although I say every year that I intend to go to more talks next time and never do – always too distracted by the shopping!
Saturday
10.30am-12pm: Neill Gorton 'Classic Horror: Reimagined'. I'm secretly a bit of a fan of horror and gore makeup – I've got a strong stomach and it fascinates me how realistic it can be. Neill (of whom I'm also a fan – he's worked on makeup and prosthetics for Doctor Who and Saving Private Ryan, among hundred of others) will be creating a classic horror character live on the Main Stage. Sounds like fun!
12.15-1.15pm: Terry Barber 'Technical Beauty'. Again, on the Main Stage – but I predict the full 720 seating capacity will fill up quickly for this one. MAC's Director of makeup artistry Terry Barber is always a popular speaker, this time he will be discussing the relationship between beauty makeup and macro photography.
1-2pm: Lan Nguyen 'Beauty Make-up for Fashion and Editorial. Lan Nguyen is one of my favourite makeup artists, I absolutely love her work so I'm going to try reeeally hard not to miss this one. She'll be demonstrating runway and editorial looks and discussing the importance of teamwork in the fashion industry and the collaborative process (presumably between the fashion designer and makeup artist).
2-2.30pm: Student Competition (Beauty/Fantasy). ALWAYS worth a watch! The entries for the student competition are never anything sort of brilliant. This year's theme for the Beaty/Fantasy competition is 'Animal Kingdom' – literally so excited to see this!
2.45-3.45pm: Koren Zander (aka EnKore) 'Done and Gone in Seven Minutes (or Less)'. Let's face it, who doesn't struggle to get their face done in time in the morning? As women, we are always in a rush – that's just the way it is, right? But a wealth of tips and tricks and key application techniques from Koren should point anyone in the right direction. I reckon this class will have a huge appeal among the 'general consumers' like me at IMATS (aka not pros!) so slightly disappointing that this will be held at the Londesborough Room Stage which only has seating for 125!
4-5pm: Valenté Frazier 'Red Carpet Make-up: Essential Tools and Techniques'. With a clientèle including the likes of Rihanna and Tyra Banks, it's no wonder Emmy award winning artist Frazier is such hot property. Anyone interested in the demanding world of creating camera-ready looks for the A List would lap this up!
Sunday
10.15-11am: 'A Visual History of the Greatest Make-up Artists of our Time'. IMATS staff photographer Deverill Weekes and actress Juliet Landau will be presenting a collection of portraits of artists visiting IMATS over the last 15 years. Not everyone's cup of tea, but I think it's an excellent idea – as described by the website, it's a 'great way for students or novice make-up artists entering the business to put faces to the names of our industry veterans'.
12.15-1.15pm: Neil Young 'A Darker Shade of Beauty'. MAC's Senior Artist will be using this hour for something touted as this season's big trend – glam goth-rock. This sounds RIGHT up my street, I absolutely love dark and gothic makeup.
2.45-3.15pm: Student Competition Character/Prosthetic. This will be the first time I see the Character/Prosthetic student competition as it's always held on the Sunday and I've only ever been on the Saturday before. But this year's theme is 'Men in Black Aliens', which promises to be lots of fun!
3-4pm: Sam and Nic Chapman 'YouTube Guru Q&A'. The effortlessly wonderful Pixiwoo sisters will be answering questions about all sorts of things, including their favourite makeup items and what's in their bags, to application tips, to how to get started as a makeup artist or YouTube guru.
4-5pm: Nick Dudman and Warwick Davis 'Goblin Make-up Demo'. Okay, I am NOT missing this for the WORLD. Nick Dudman has a jaw dropping CV featuring some epic blockbusters including (but certainly not limited to) the Harry Potter and Star Wars films. If you're a Harry Potter fan like me, you'll be very excited at the prospect of watching Dudman create (one of) Warwick Davis' Harry Potter character Griphook! Honestly so excited about this it's almost embarrassing!
Looks like they've got some really great talks and speakers lined up this year. Not long to go now!
Have you booked your ticket yet? If not, you can do so here. Hope to see you there!