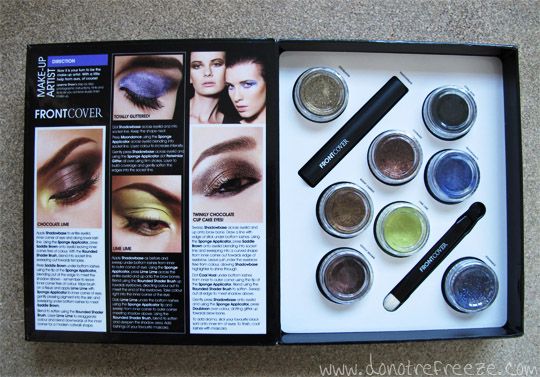 I was hoping to snag a ton of FrontCover and Soap & Glory bargains in the Boots post-Christmas sale, but stupidly I left it a little late to go shopping – the 28th. What an idiot; lesson learned. Next year I'll order online on Boxing Day! There were NO Soap & Glory gifts left apart from one exceptionally battered Yum at Heart set (the one with the cute apron in), and the only FrontCover ones they had left were a ton of Come to Light sets and Blue Eyed Girl sets (obviously their least popular sellers this year). I went back in later for something else, and spotted that they'd put out some of these Moondust sets! I grabbed one without a second thought.
I'm not normally one for loose eyeshadows and pigments, simply because I'm lazy and they require a little more work and attention than your average pressed eyeshadow. Couldn't really say no to this at £8 (half price) though! It contains six pigments, two holographic glitters, Shadowbase (FrontCover's primer) and a dual-ended eyeshadow brush/sponge applicator. On the inside cover of the box, you'll find a few nicely explained tutorials from Frontover's makeup artist Leanne Shaw. Although I feel compelled to point out, a lot of the instructions involve using the sponge applicator – and let me assure you that Leanne knows as well as we do that you will NEVER get results like the pictures using a sponge applicator. Pah.
But let's have a look at some swatches! In all the following pictures, the pigments are swatched over Shadowbase, with a dry swatch on the left and a foiled (wet) one on the right.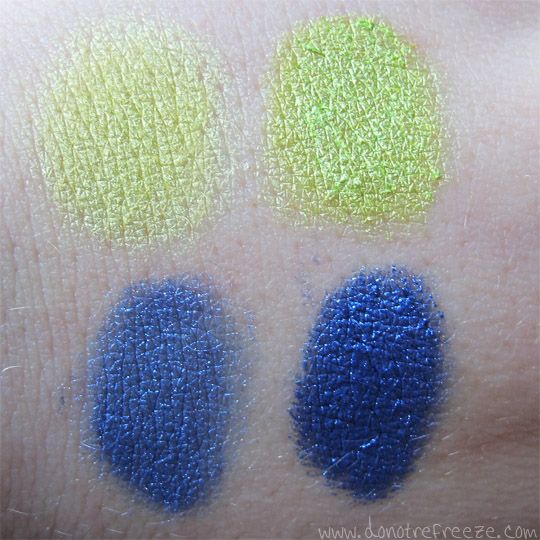 Lime Lime – I refuse to see why they had to give it this stupid name. Why not just 'Lime'? I've got to admit, I felt a little bit funny about this one, I didn't like it at all in the pot. It looks quite matte in the pot actually, but on swatching you see it has some nice hidden shimmer. Amazingly, after using it in a EOTD, I've decided it's actually sort of wearable!
Moondance – I do think deep blue eyeshadows are lovely, but I don't tend to wear them because my eyes are blue so I feel like it doesn't really suit them. Nothing to complain about here, though – super pigmented.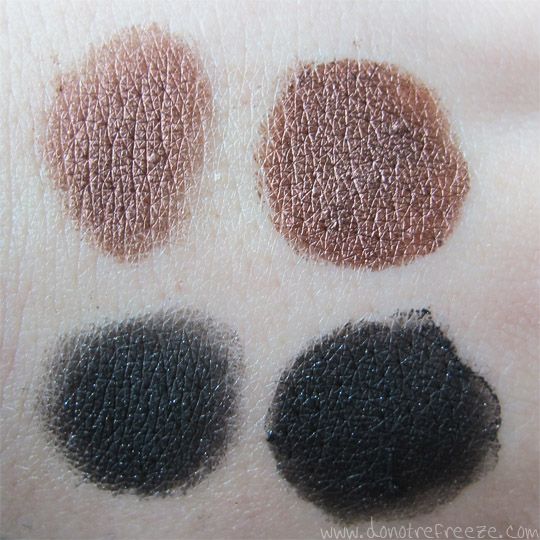 Saddle Brown – Lovely stuff, this is my ideal sort of crease colour. Looks particularly nice foiled, I think!
Coal Hoal – In the pot, this true black pigment has a pretty gold glitter running through it, but it doesn't really translate well when applied.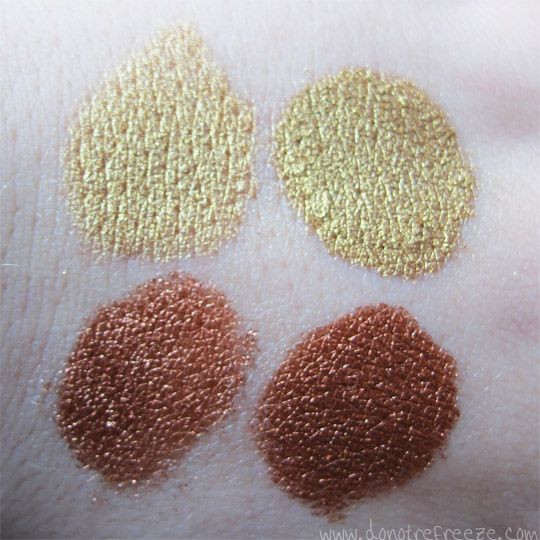 Burnt Carrot – Really? Again with the silly names – this is no sort of carrot shade, burnt or otherwise. In fact, it's an undeniably pretty yellow leaning gold.
Coinage – Mmm, probably my favourite. I love any gold or copper shades that lean quite red, I actually really like red toned shades on my eyes. I have to say, if I was going to call any of these shades a daft name like Burnt Carrot (which, for the record, I wouldn't…), it would be this one.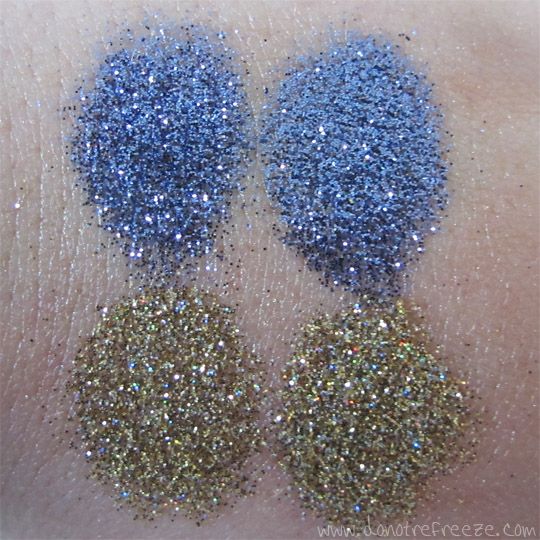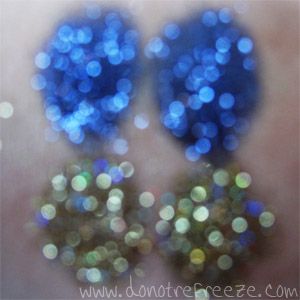 Ahh the glitters! I have to say, I was expecting these two to have no real pigment behind them and just be one of those irritating sparse glitters but they're actually quite nice, if a little gritty. Doubloon is a stunning gold, and Periwinkle is a lovely royal blue – not a periwinkle shade at all, in fact. Haha. I included the intentionally blurry shot to show off how sparkly they really are!
Overall, this is a pretty good kit, especially if you like pigments and loose eyeshadows. I do think it's worth the £16 RRP – think of it as each pot costing £2 and getting the Shadowbase for free! Naturally, it's even better if you can get it for half price so the pots only cost £1 each :) here's a couple of EOTDs so you can see the products in use.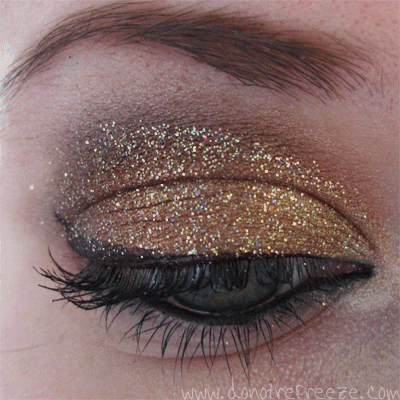 This one uses Shadowbase underneath, with Burnt Carrot on the inner half of the lid, Coinage on the outer half and Saddle Brown in and above the crease. I used Coal Hoal as liner, and patted Doubloon glitter over everything. Trust me when I say the glitter looked nicer in person! Also, I used Urban Decay's Virgin eyeshadow to blend out the edges of Saddle Brown, and Kat Von D's Peanut on the inner corner.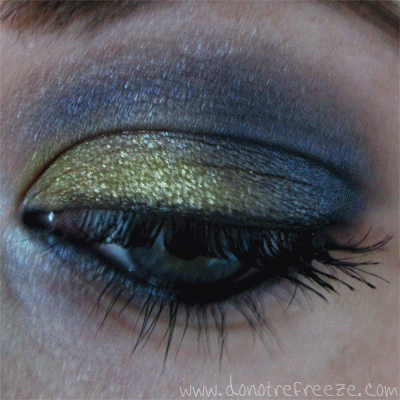 This one was very simple – Shadowbase underneath again, Lime Lime on the lid, and Moondance on the outer part of the lid and in the crease. Coal Hoal as liner again, UD Virgin to blend out and Kat Von D Missy on the inner corner. As you can tell, I'm not very creative, haha.
Did you get any enviable bargains from Boots in their half price gift sale?