First of all, I just wanted to say a huge thank you to everyone who reads my blog – I just hit 2000 followers! I know I haven't done a giveaway in quite a while, and if you read my last post then you'll know I've got quite a lot going on with moving and starting a new job, but I promise once I'm all settled in my new routine and all that jazz I promise I'll sort something out. Thank you! ♥
I picked up a nice handful of Pure Ice nail polishes whilst I was in America last summer. I think they were $1.97 each, from Walmart. I actually did a spot of research before, looking at as many swatches as I could find of the brand, which sadly wasn't that many. I did see a few pictures of both of these gorgeous layering shades, though, so they immediately went on my wishlist. On the left is Busted, and on the right is Heartbreaker.
They both look very tame in the bottles, don't they? And let me reiterate that they are not suitable to use alone, you'll never build them up to opacity. I remember mum borrowed Heartbreaker to paint her toes, she did 7 coats in total and her feet just looked like she had some weird disease. Hahaha.
Layer them over another polish, though, and you'll see what makes them so lovely! As with most layering polishes, I think the best way to show them off is over black. Here's what they look like:
It was incredibly hard to capture the colours, it was so overcast when I took these so I've included a little blurry flash one to show you what I really mean. Nice, right?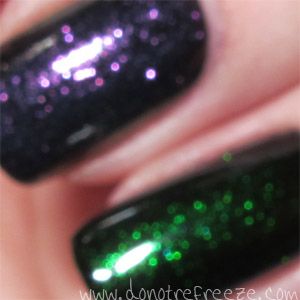 Looking at how the polishes sit over black, I got curious as to what they might look like layered together. Pretty freaking sweet, as it turns out!
Again, a futile exercise trying to capture this accurately. It was SO cool, from some angles you'd see the pinky purple shimmer from Busted and others you'd see the emerald green from Heartbreaker. It's like making your own duochrome topcoat! Here's another flash one, where you can sort of see what I mean.
Do you ever experiment with layering different polishes together?