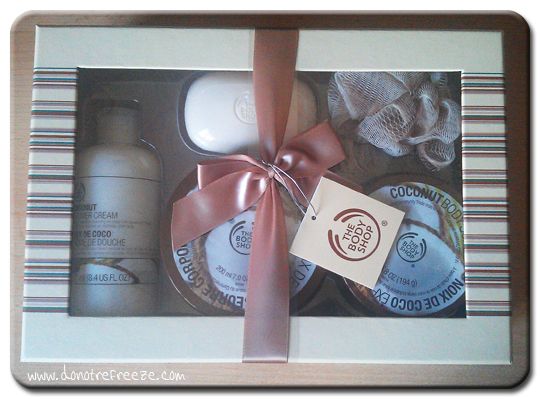 Who doesn't love a good gift set from The Body Shop at this time of year? I for one always buy at least one as a gift for someone and and least one for myself, every year. What can I say.. I'm a Body Butter hoarder. This year, rather than buying one for myself, I've been kindly treated to one courtesy of VoucherCodes.co.uk's lifestyle e-zine, Most Wanted. Naturally, I chose my favourite TBS scent which is Coconut.
These gift boxes come in most of The Body Shop's most loved varieties, including Shea, Cocoa Butter, Moringa, Strawberry, Lemon, Satsuma… The list goes on. And at £25, they're undeniably good value and are beautifully presented in sturdy boxes with a pretty bow. Personally I think that the packaging alone contributes to the set having a more luxury feel, but disregarding the packaging, how much are you saving with the gift box?
This particular gift box contains Coconut Body Butter 200ml (£12.50), Coconut Body Scrub 200ml (£12.50), Coconut Shower Cream 250ml (£4.00), Coconut Soap 100g (£2.00) and an Ultra Fine Bath Lily (£1.50). That's a total value of £32.50, so that's a saving of £7.50. Or, to put it another way, it's like buying the Body Butter and Body Scrub and getting all the other bits for free in a beautiful gift box!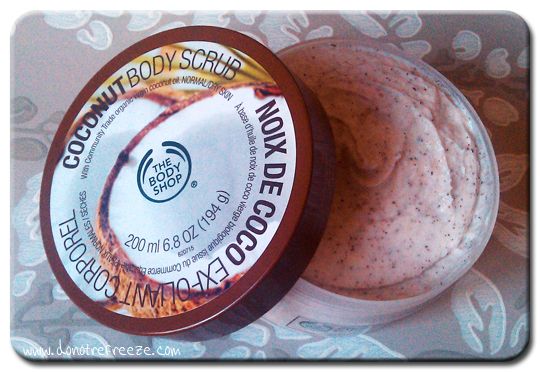 I am a self confessed exfoliation junkie. I love exfoliators and scrubs in all shapes and sizes, and The Body Shop make one of my favourites. There's no better way to make yourself feel as squeaky clean as humanly possible than having a good slough in the shower, and I reckon TBS Body Scrubs are one of the best products for the job. The exfoliating particles are hardy enough to effectively buff away any dead skin cells, but gentle enough to not feel scratchy (if there's one thing I can't bear, it's a scratchy scrub). The perfect balance, really.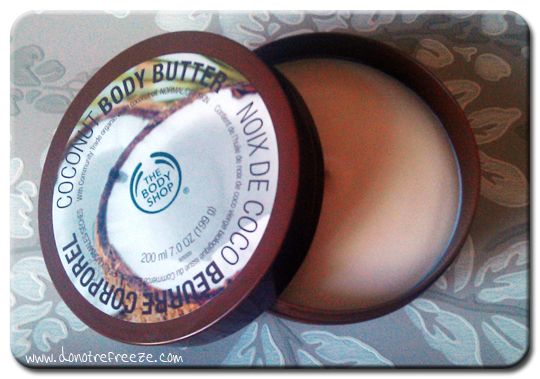 Ahh, the cult classic. More or less every woman I know has at least one TBS Body Butter (and I know several who have a damn sight more than one, myself included). They are cult classics for a reason! Rich, beautifully scented (of course) and incredibly moisturising, but not at the expensive of being greasy. Far from it! They absorb quickly into the skin, leaving behind no oily residue or sticky feeling. TBS Body Butters work wonders on dry patches, too – if you suffer from flaky bits on your knees, elbows, wherever, slather a bit of Body Butter on them after a shower and you'll be feathery soft in no time.
Shower gel is one of my favourite things ever. So is coconut, so this is the no-brainer winner for me. As much as I love the indulgent feeling of scrubbing and slathering with Scrubs and Butters, I simply can't be bothered to do it every night, you know? But shower gel is a necessity every shower, and my word I love this one. Creamy and moisturising with a nice lather, going over my skin with this on a TBS Bath Lily makes a good lazy substitute for proper exfoliation! The smell lingers on the skin for hours, too.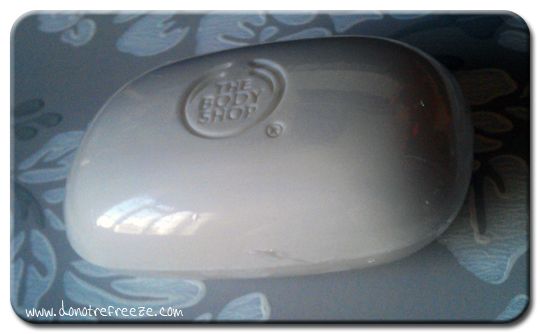 I'm not one for using soap in the shower, but am an advocate for using solid soaps at the sink rather than liquid ones. A pet hate of mine when it comes to solid soaps is lack of foam, and residue. This plain, unassuming little bar boasts a surprisingly rich lather and a good clean feeling. Not to mention it leaves you sniffing your hands for ages afterwards (try not to lick them).
In conclusion, a gift set from The Body Shop is a great choice for Christmas this year. It is every year, actually. You can buy the Coconut gift box, and others like it, on The Body Shop's website (or in store, of course).
If ordering online, don't forget to check VoucherCodes.co.uk's TBS Discounts page to get a cheeky little bit off!