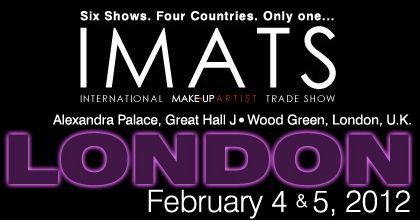 It's getting on for that time of year again! With just two months to go until the International Makeup Artist Trade Show graces our capital again, I think it's about time to start getting excited and making shopping lists!
One of the most exciting things about IMATS 2012, particularly to those who've been to the show before – everything's being moved to Alexandra Palace's Great Hall. This means LOTS more room!
There's always an impressive list of exhibitors, these are the ones I'm most looking forward to right now; but there's still time for others to show up on the list before February!
:: Cazcarra London – I'm pretty sure they were exhibiting last year because the name rings a bell, but I must have skipped over them. After having a look at their website, though, I definitely want to check out their products in person.
:: Charles Fox – Naturally! Anyone who's been around for a while will know how much I love the Covent Garden based store, and their stall at IMATS is always one of my favourites to visit.
:: Crown Brush – I don't think I need to say anything. Awesome brushes, dirt cheap. Roll on February!
:: Guru Makeup Emporium – GME always offer a sizeable discount on Makeup For Ever products at the show, so I intend to try a few more bits and pieces, I've become quite the fan of Aqua Creams so I want to check out other colours.
:: Hakuhodo – Depending on what my budget's like, I might just treat myself to one of these luxury brushes.
:: Illamasqua – You all know they're my favourite brand, so this is a no brainer. I'm interested to see whether they'll have individual products for sale, or if they'll be shifting old stock by offering several products in a cheap set like last year?
:: Inglot – This is definitely one to go to early as it's one of those stalls that is rammed all day long. If you want a Freedom palette, or a browse at their impressive range of nail polishes, get it done as soon as possible!
:: Make-up Designory (MUD) – I've heard rather a lot about their products, but have never tried them myself so I'll definitely be checking them out at the show.
:: Make Up For Ever – I will be very interested to see if they're going to be offering more of a discount than Guru Makeup Emporium.. somehow I doubt it, but we'll see!
:: Naked Cosmetics – Every year at the show, I play with and swatch their beautiful pigment stacks but can never convince myself to part with the cash for them. Will I be swayed this time? I know they do this really cool looking mattifying eyeshadow primer/paste thing, that makes shimmery shadows matte. If they've got that there, I'll definitely be purchasing!
:: Obsessive Compulsive Cosmetics – Well, it's basically a rule that I have to buy at least one new Lip Tar at each show.. you understand, right?
:: Pro Chart – I know I'll be purchasing one of these for sure. A Pro Chart is a sketchpad with a blank face chart on every page – I meant to get one last year but for some reason must have forgotten. I've never done a face chart before, and since I can't draw for crap this is the ideal thing to make me give it a go!
:: Royal and Langnickel Brush – A good place to browse for brushes when the Crown stall gets too claustrophobic.
It's a fair while until the show, so a lot of the details of talks and competitions and whatnot are still TBC. I'll be keeping an eye on the schedule, and will be posting again about the speakers and classes I'm most stoked about!
You can buy your IMATS tickets here. Are you going to be there?

Such a stunning look – I remember this well, it's by Loren Huckin, the winner of the 2011 show's Beauty and Fantasy student competition :)