If there's one thing I will never master, it's water marbling. I just cannot do it for the life of me. It's something that frustrates me so much every time that I very rarely have the inclination to practice it. I was looking back through some very old blog posts a while ago, and saw that it had been over a year since the last time I tried water marbling. There's also a couple of posts with my very first attempts from 2009, but I'm not down with posting the links because they are embarrassing. Haha, if you're that determined to have a laugh at my fail, the posts are still up if you fancy browsing for them yourself!
Anyway, being the glutton for punishment that I am, I decided to give it another shot. NOPE, still crap at it! It's silly really, I know it's one of those techniques that will come with practice but I just seem to think that I'll try it one day and it'll just be perfect. No such luck, of course!
This is the first time I'd tried it over a white base – I thought that might make it easier, but in fact I think it was even trickier than I remembered it. The white base is very unforgiving! I tried several different colour combinations to see what worked, and surprisingly the first finger I did (the index finger) came out the best. I actually think that one looks pretty good, but the others are shoddy.
I just can't figure out how to make a good pattern, and I always get smooshy patches and stringy bits and air bubbles in it and all sorts. It makes me so MAD! The middle finger was especially crappy, I mean what the hell is that?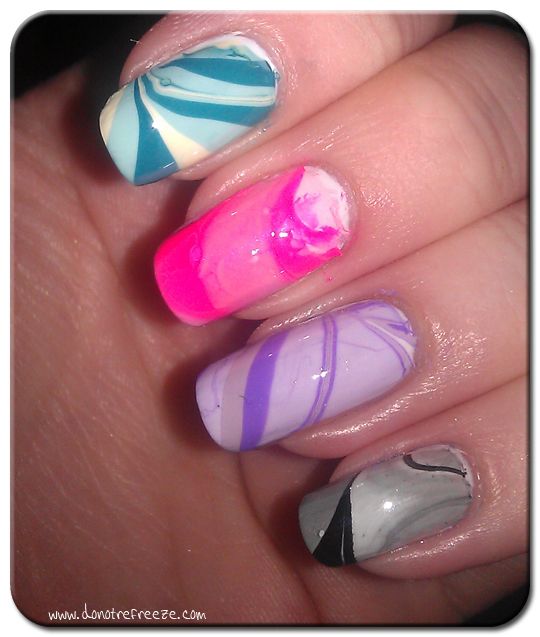 So, I need the help of those geniuses who've mastered the technique. The biggest problem I had this time was the polishes not spreading right in the water. I'd apply the first drop to the water and it would spread just fine, but then by the second or third drop it just wasn't spreading at all, it would just stay as a tiny little bead in the middle of the polish rings. Is that something to do with the temperature of the water, do you think? I was using water at room temperature, but does it work better with warm water, or cold water?
Please, if you have any tips that might help me get even just a fraction better at this, don't hesitate to comment below! I will be forever grateful. I would just about kill to be able to marble like Colette of My Simple Little Pleasures. Just frigging look at these will you! *Sigh*