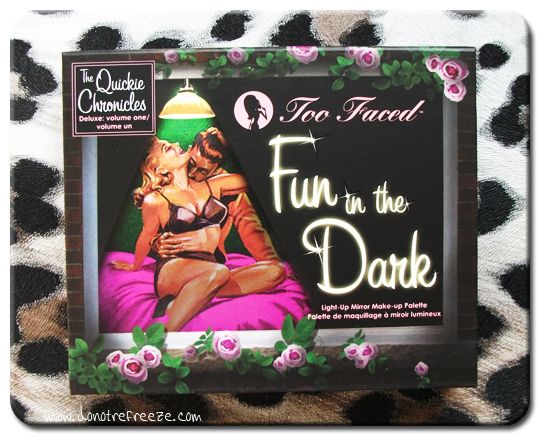 I got this cutesy little palette on BuyaPowa (seriously, I love that website) several weeks ago, at £15 down from the RRP of £25. Although, I should mention that I just had a quick Google of the palette and you can actually get it for about a tenner on eBay – kicking myself. Oh well!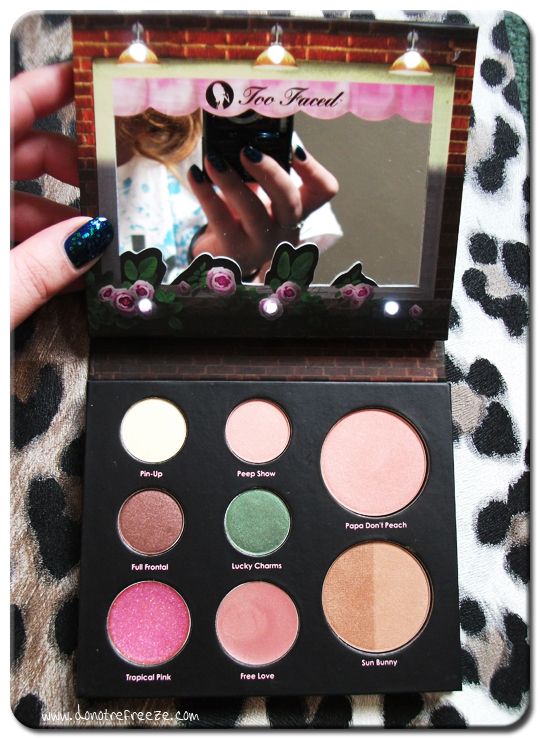 The palette contains four eyeshadows – Pin Up, Peep Show, Full Frontal and Lucky Charms – Too Faced's cult blush Papa Don't Peach, their equally popular Free Love lipstick in pan form, Tropical Pink lipgloss and Sun Bunny bronzer. It also features six adorable little lights around the decent-sized mirror that you can switch on and off by pressing on the top right corner. Cute little gimmick :) but naturally, the products are more important!
Lucky Charms immediately strikes me as looking out of place with the rest of the colours in the palette. I guess that could be down to the fact that I'm not a fan of green eyeshadow, but I just don't think it looks quite right next to the other neutral colours. Sure, throw a pop of colour in the palette by all means, but I think maybe a purple colour might have worked better. What do you reckon? Let's have a look at some swatches!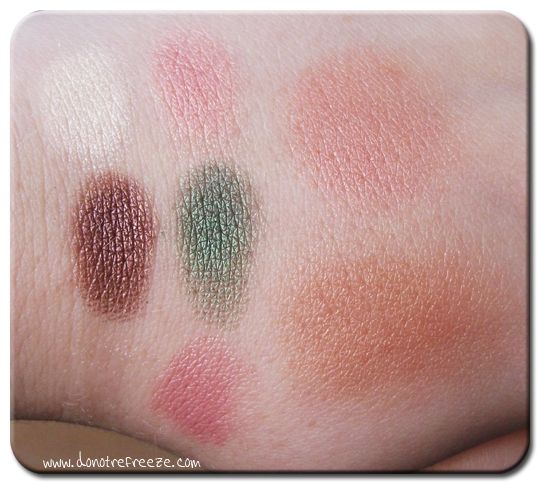 Do you see what I mean about Lucky Charms? You can see that Pin Up, Peep Show and Full Frontal will all work together to create a simple neutral eye – where does the green fit in? Maybe on the lower lashline, but again as someone who's not a lover of green eyeshadow I'd prefer to see a purple or something for that purpose. Certainly no complaints with the formula or pigmentation, though – Too Faced always deliver well on that front. I think Peep Show is my favourite, it's quite brightening and just has a fresh sort of appearance on the lid.
Papa Don't Peach blush is beautiful, possibly my favourite product in here! I wanted to buy it individually a long time ago but never got round to it, so I'm glad I have it in this little kit. Not so keen on Sun Bunny – I'm not one for bronzer at the best of times, but this is definitely too orange and shimmery for me to even try and work with. The worst product is undoubtedly Tropical Pink lipgloss. They should have called it Tropical Clear Nasty Sticky Lipgloss With Gritty Sparkles. Or better yet, they just should have put something else in its place! Free Love lipstick on the other hand is gorgeous, a wonderful 'my lips but better' shade with the most subtle hint of shimmer to lift it a bit. Another product I wanted to buy from Too Faced about two years ago – now I've tried it, I might actually buy it separately for convenience.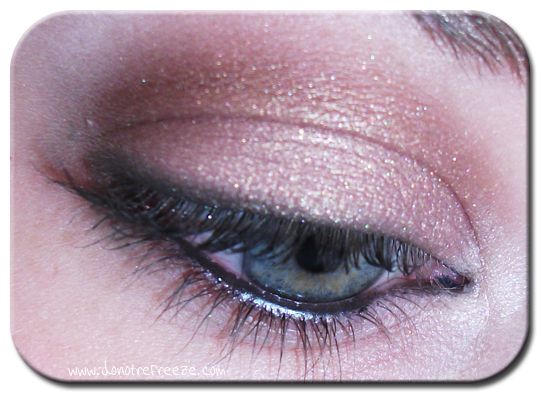 Here's a speedy EOTD using the palette – Pin Up on the inner corner, Peep Show on the lid, and Full Frontal in the crease. The colours look a little different, though, because I used a pale bronze-y coloured gel eyeliner as a base.
Overall definitely a cute little palette that's worth getting, especially for less than a tenner on eBay!