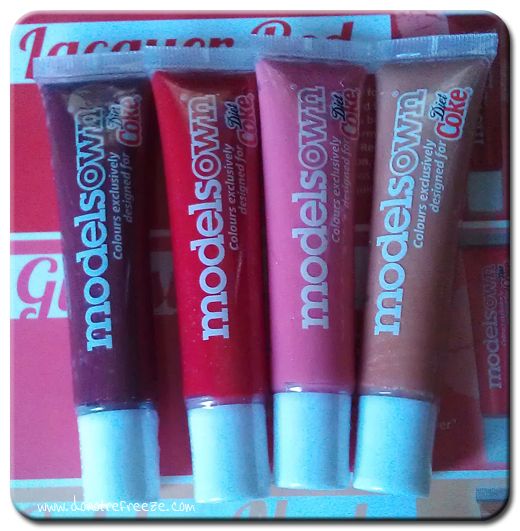 Instead of another collab with Nails Inc for the festive period, Diet Coke have this time joined forces with Models Own to bring us four exclusive lipglosses in the familiar 'buy two 500ml bottle of Diet Coke in Boots and get [insert pretty item here] for free' format!
The offer started yesterday (16th November) and will run until just after Christmas (27th December), so you have plenty of time to chug down some Diet Coke – or just buy the coke and give it to someone else if you don't drink fizzy stuff like me – and snag yourself some glosses. And of course you get Boots Advantage Card points too; can't go wrong!
The four colours are Golden Nude, Glossy Pink, Lacquer Red and Pure Plum. Here are hand swatches for you, followed by some lip swatches and a little bit about each colour from makeup artist Lauren Parsons (labelled as 'One to Watch' by Vogue magazine!).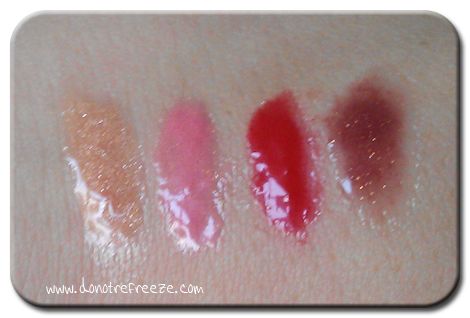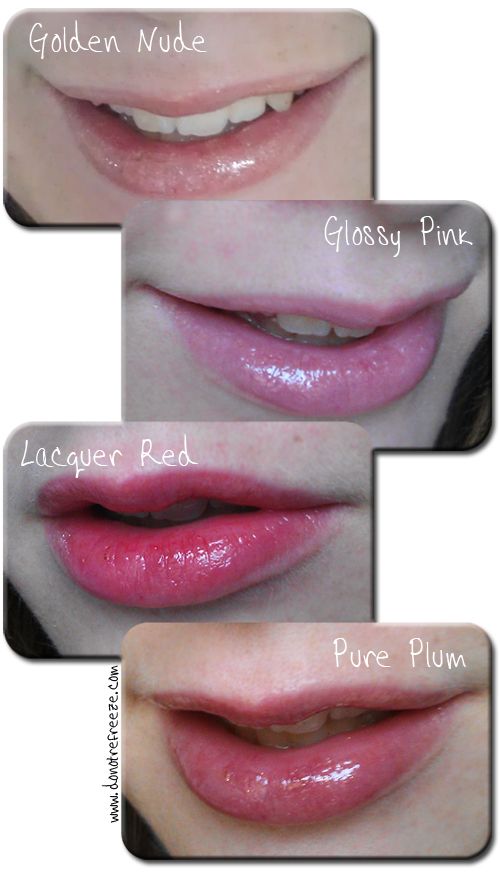 Golden Nude: Surprisingly my second favourite from the collection. I didn't think I'd like it at all in the tube because it looked a little yellow for my skintone, but it's sheer enough that it should suit everyone.
Lauren Says "Dial up an A-lister look straight from the red carpet with smoky eyes and nude buff lips. Create forget-me-not lips by glossing them with Golden Nude matched with layers of liner and on-trend precious metallics for statement eyes."
Glossy Pink: Unsurprisingly, my favourite one of the four. I've developed a real thing for milky pink colours this year, and you really can't go wrong with this kind of colour – it'll go with pretty much anything!
Lauren Says "Feminine pink lips never go out of fashion, so pucker up and make your kissable pout the focal point of your look. Try Glossy Pink with statement lashes and big backcombed hair for a timeless and classic makeover."
Lacquer Red: Red just isn't my colour, so I wore just a very sheer slick of this in the above swatch. This is the most pigmented gloss out of the collection, though, so be aware that you most certainly can achieve an opaque red gloss finish with it!
Lauren Says "1940s glamour is big news for A/W 2011, take the trend from your wardrobe to your make-up bag with stand out red velvet lips. Transform into an instant icon with Lacquer Red, pair with just a touch of rosy blush across the apply of your cheeks and feline liquid eyeliner to create a siren look."
Pure Plum: I actually quite liked this one – again, I wore it quite sheered out and I think it would look amazing with a gold eyeshadow look.
Lauren Says "With the vamp glam look totally on trend this season, now is the time to dial up deep tones with Pure Plum. Taem with a smouldering shade of pearlescent eyeshadow for sultry and striking make-up then contrast your outfit with lighter fabric and nude hues to complete the look."
Overall, a pretty nice little lipgloss collection that's well worth buying eight Diet Cokes for (presuming you want to collect them all, that is!).
One thing I do want to mention, though, is to be careful when squeezing the tubes. The samples I had were fine, but some of the tubes I played with at the launch event were VERY hard to squeeze and I quickly discovered that applying just a touch too much pressure will result in the tube bursting. The pink one seemed to be the worst culprit (I managed to burst three tubes of pink at the event, I shit you not), but as I said the samples I swatched above were absolutely fine. Just something to be aware of!
P.S. Speaking of Christmassy things, what do we think of my brand new super festive layout? :D