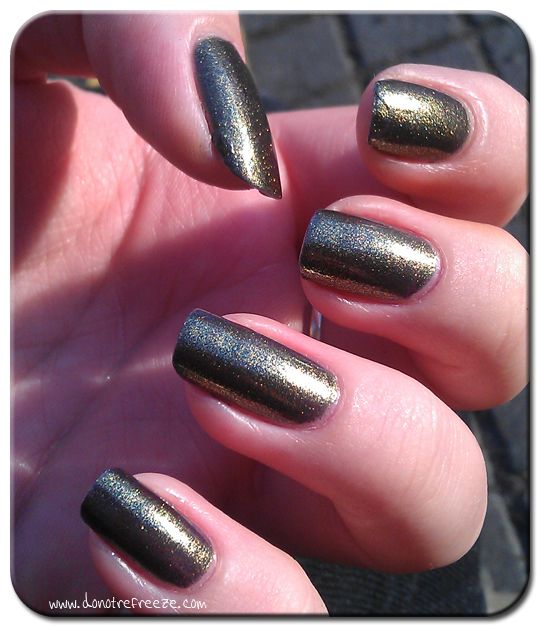 You would be forgiven for assuming that a brand with nail polishes at 99p might be a pile of crap. However, I urge you to give LA Colors a go! I've been buying mine from Beauty Base in Westfield Stratford, but I'm sure there's a ton of places you can get them online.
There's an awful lot of polishes in the range that aren't particularly interesting, but if you have a good look you can come across some really great colours. My personal favourite that I've found so far is Shocker, a hot pink with an intense blue duochrome. What other brands are you going to find a pink-blue duochrome from for 99p?!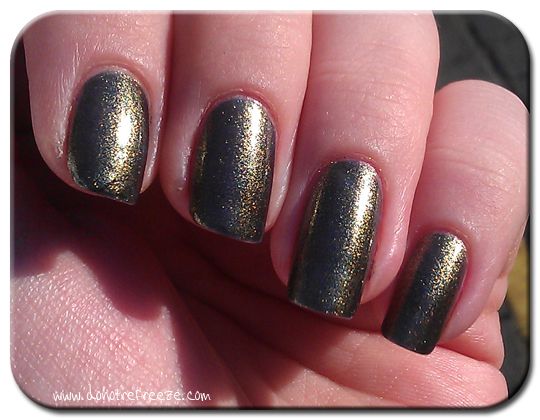 This one's called Cactus. In the bottle it looks sort of like a black base with golden green glitter through it, but on the nail it's quite different. Not much to write home about in dull lighting, but get it in the sunlight and you'll see all sorts of colours shining back at you – myriad shades of gold, green, orange; it's really quite lovely!
I do have one annoyance with this polish, though. Despite wearing it with my favourite basecoat (Orly Bonder, if you're wondering), it stained my nails pretty badly on removal. And despite being a blackened gold/green shade, it didn't stain them any of those colours… it stained them a serious orange colour. A little puzzlig, but I must admit that staining doesn't bother me too much since I never have my nails unpainted anyway. Just something to be aware of!