I'm sure we all jumped on the Beetlejuice bandwagon when Models Own released their new, highly anticipated collection of duochromes. When mine arrived, I had a good stare at the bottle of Purple Blue trying to figure out why it seemed so familiar. I knew it looked just like something I already had in my collection. It took me a good few minutes to realise what it was – Orly's Galaxy Girl from the A/W 2010 Cosmic FX collection.
Sure enough, I dug out my bottle of Galaxy Girl and held them side by side. Most of you will know what a pain in the arse it is to try and accurately photograph duochrome polishes, and it's even bloody harder in the bottle as you can see above! But it's plain to see that they are twins. How about on the nail?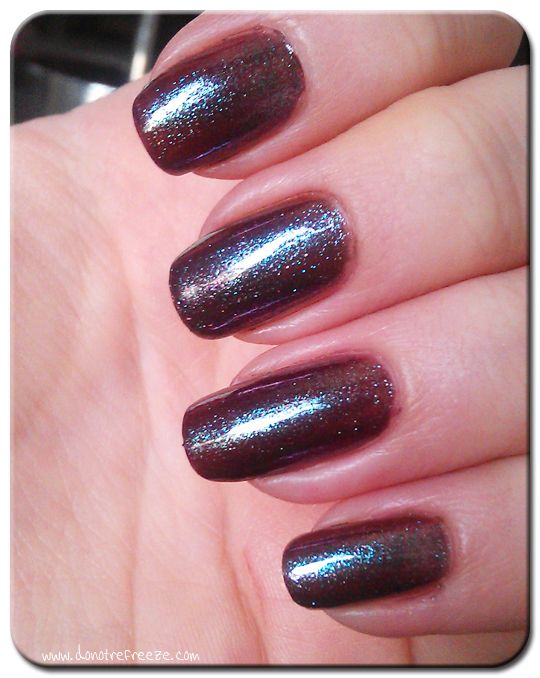 Index and ring: Orly Galaxy Girl
Middle and pinky: Models Own Purple Blue
They are super similar, aren't they? The unusual reddy-brown sort of base that's completely transformed by the multi-chrome glass fleck type particles that glow purple and blue and all sorts. It's such an interesting colour – but I actually think there's a little difference. Not sure if it's just me, but I think the blue flash in the duochrome is actually stronger in the Models Own one. What do you think?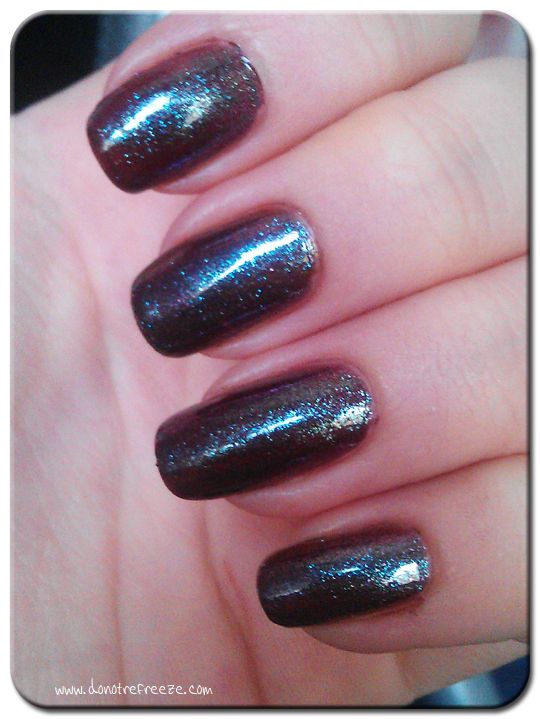 Index and ring: Orly Galaxy Girl
Middle and pinky: Models Own Purple Blue
Overlooking that tiny little difference, do I have a preference? Probably the Orly one, I'm quite the fan of Orly in general. You notice quite a difference between them on application as well, Purple Blue needed 3 good coats and was exceptionally sheer on the first coat, whereas Galaxy Girl needed 2 and was much stronger on the first coat.
Considering it's not easy to get your hands on the Cosmic FX collection anymore, and the RRP on Orly in the UK is higher than Models Own (I've seen the Orly RRP listed as £9.85 in some places and £6.95 in others – who knows what the real one is? Haha), Purple Blue definitely makes a good substitute at £5.