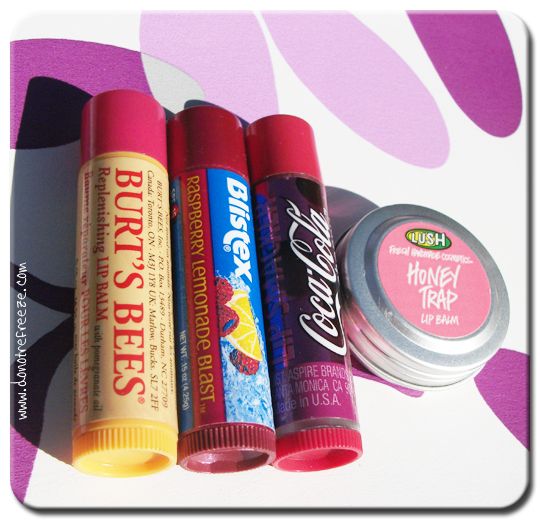 Okay, so there's not a lot I can really say about lip balm. And I know that four is a funny number – it's normally top 3 or top 5 or something, but I am a self confessed lip balm addict and I couldn't bear to narrow it down to 3, and on the flipside my high balm standards refused to accept a fifth one as a favourite!
I mean it when I say I'm an addict. It is one of my biggest weaknesses and I pick up a different one nearly every time I pass a Boots or a Superdrug. I have one in the pocket of every coat I own, I have several on my beside table and several on my desk, at least one in every bag, and let's not talk about the ones hidden in my makeup drawers. I apply it constantly, no matter if I'm walking or talking or smoking or working or travelling, I barely go about 2 hours without reapplying lip balm of some description. These four are the ones that I always come back to, though.
First, absolute favourite lip balm ever, is Burt's Bees Replenishing Lip Balm With Pomegranate Oil. This has got to be the nicest, most moisturising formula I've ever used – it's one of the least oily-feeling balms I've ever tried but it's not dry in the slightest. Very difficult to describe! The pomegranate scent almost has a herbal twang to it. The first tube I tried was a PR sample, which I promptly lost within about 2 weeks. I ended up buying another one from Boots (where it costs about £3.50), then another one when I'd used it all up. Whilst I was in America earlier this year, I spotted it in Walmart for $1.95. I shit you not, I bought ten backups. I don't think I need to say any more than that.
Second place goes to Lush Honey Trap. Whilst £5.25 might sound a little steep for a lip balm, bear in mind that the Lush tins contain 10g of product vs an average of 4.5g in most stick balms. Honey Trap is BEAUTIFUL, and comes a very close second in my favourites. In fact, it would probably be number one if it came in a stick as opposed to a pot! Beautiful beeswax-based formula, honey and white chocolate scent… what's not to love? This was the very first product I tried from Lush, I think in 2005? Maybe even earlier. I stocked up on 12 of them using staff discount during my employment at Lush in 2007, but it was only £3.95 then anyway! They do love to hike their prices up, don't they?
Number three is another purchase I made in America, Blistex Raspberry Lemonade Blast. This lasts an impressive amount of time on my lips, and it smells like Love Hearts or Refreshers. A very cheerful summery scent as another harsh British winter closes in on us! I paid somewhere just over one dollar for this, I can't even remember where I bought it, but I'm pretty sure you can get it in Boots and Superdrug over here for somewhere around (probably just below) £2.
Last but certainly not least, Lip Smackers Cherry Cola (the top one in the image!). Colin is quite the fan of Lip Smackers, too (but shh, only behind closed doors), and between us we have about 20 different flavours. Haha. I have a lot of favourites from Lip Smackers – I'm particularly fond of the Vanilla and Cotton Candy ones – but the Cherry Cola one is my ultimate. Little known fact about me: I don't actually like fizzy drinks, at all, and I've never drank Cherry Coke in my life. I think the lip balm will suffice!
Do you have any favourite lip balms? What's your biggest cosmetic addiction?