Every cloud has a silver lining – a couple of weeks ago I spent a few days off work ill (AGAIN), and even though I felt like absolute death it did give me time to do a few things I'd wanted to do for a while. Most specifically, the Illamasqua Theatre of the Nameless corset nail design! You know the one I'm talking about, this one…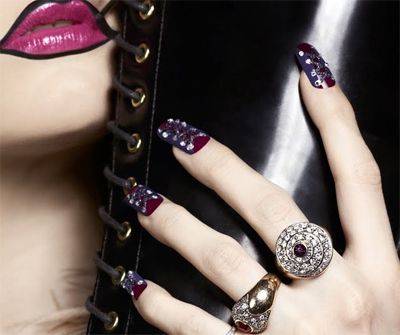 I wanted to recreate it the moment I saw the promotional images. I was lucky enough to get Vice (the burgundy/claret type colour) in my gift bag from the launch event, but I wanted to hang on until I'd bought Faux Pas (the blue-ish violet colour). I bought that a few weeks later, but then typically I couldn't find the time to sit down and recreate the design.
I actually did a corset nail design a long time ago, one of my earliest Easy Peasy tutorials. But this look is really quite different!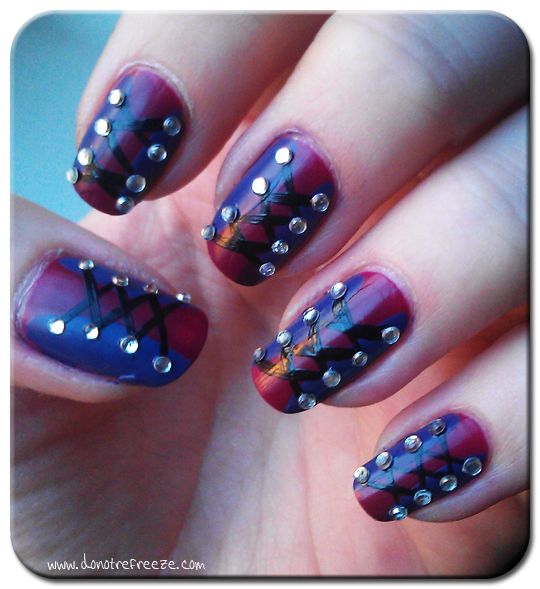 In the original Illamasqua image, it looks as though they've used some sort of thread or ribbon to create the ties on the corset, so I was planning to do my recreation with black striping tape as that has a little more texture than just a line drawn with nail polish. Unfortunately though my striping tape seems to have gone walkabout (god knows how anything manages to go missing, my nail and makeup collections are the only things I keep OCD-neat-and-tidy round here!), so I had to go for polish in the end. I did make a few mistakes, but I don't think they show up too much!
I also used a whole lotta rhinestones for this – there's 8 on each nail, so 40 on each hand, and 80 in total!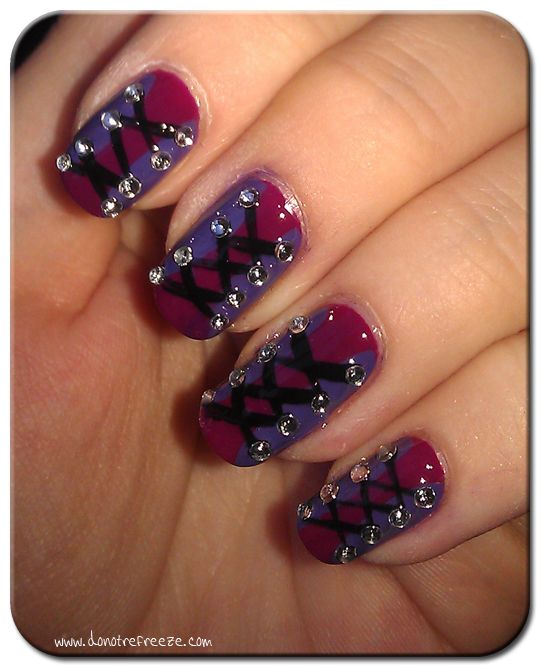 I much preferred the design without a topcoat, as the satiny, rubbery looking finish of the nail polishes looked like real material. Obviously I had to give it a good thick topcoat, though, to keep the rhinestones secure. I guess the shine could maybe pass for a PVC look corset? Kinky ;)