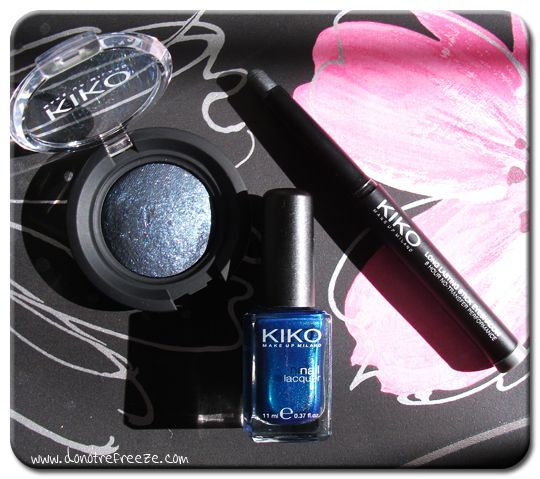 Yeah, I recycled this photo from my Westfield post.. bad blogger!

Kiko Makeup Milano is an Italian cosmetics brand that has just opened its first UK store in Westfield Stratford City. When I popped in there on my first visit to Westfield, it was opening weekend and the place was heaving so I didn't have a proper look around like I wanted to. In fact, I let Colin pick out which few items I should pick up to try.

The products don't seem to have names, but the nail polish I got was number 300. Take a look!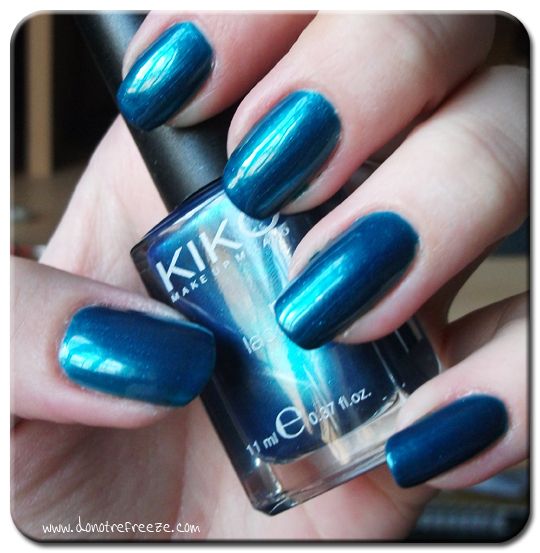 An undeniably beautiful blue with a seriously shimmery finish. Up close it looks as though it has tiny microglitters in it – blue, green, silver. It's lovely! The formula was great, just the right consistency and really easy to work with. Slightly sheer, though – the above is three coats to cover any visible nail line. The brush is really nice to use too, it's a flat one – reminiscent of the OPI wide brush but skinnier. Which is good for me, because my nails are narrow so the OPI wide brush is always too big for my little fingernail! Haha. Either way, for £3.50 I have no complaints with the polish.
I did feel there was a little something missing, though, so I slapped on a coat of a polish that turns the average into the stunning. Inglot XL1, a no-nonsense sparkle-in-your-face topcoat. Now THAT is a good combination! It almost looks galactic :)
Now as much as I love blue nail polish, I very rarely wear blue on the eyes because my eyes are blue and I feel like it does nothing for them. But Colin loves blue eye makeup on me, so he chose the Colour Sphere eyeshadow in 36, a mineralised eyeshadow, along with the Long Lasting Stick eyeshadow in 18.
I probably would have picked up the stick of my own volition – they are just like MAC's Shadesticks but BETTER! These are softer, creamier (I always find the MAC ones get really hard and you have to warm them right up to get any even colour out of them) and just nicer to use. Shade 18 is a beautiful gunmetal grey packed with micro shimmer particles in all colours of the rainbow. SO pretty! The Colour Sphere eyeshadow, though, I definitely wouldn't have gone for myself for the simple reason that it's blue. Colin swatched it on my hand and I was like 'meh, it's alright', then I swatched it over the shadestick. PHWOAR!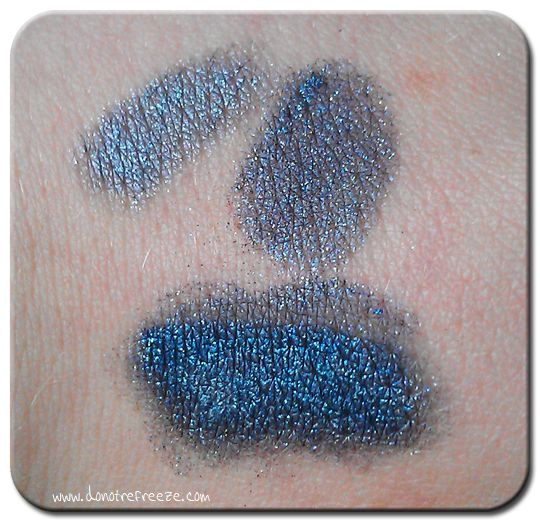 Shadestick 18, eyeshadow 36, then the eyeshadow swatched over the shadestick
HOW pretty? Powerful shimmery blue goodness! I wasn't going to argue with the swatch, it was too sparkly and pretty. So I parted with £5.90 for the shadestick and £4.90 for the eyeshadow (I think). And I regret nothing!
A few days after buying them, I wore the eyeshadow over the shadestick (with another base of MAC Paint in Bare Canvas to minimise creasing), with a little matte black eyeshadow in the crease for a full on smokey eye. I really, really liked it actually! And after about 10 hours of wear (8 of which were spent in the hot kitchen at work) I'd experienced only minor creasing. Nothing that wasn't fixable with a quick smudge with my finger… come on, we ALL do that! What I found interesting though was that the shadestick claims on its packaging to deliver '8 hour no-transfer performance' – so it actually surpassed its own claims! And I'm always impressed when something holds up well in my work environment.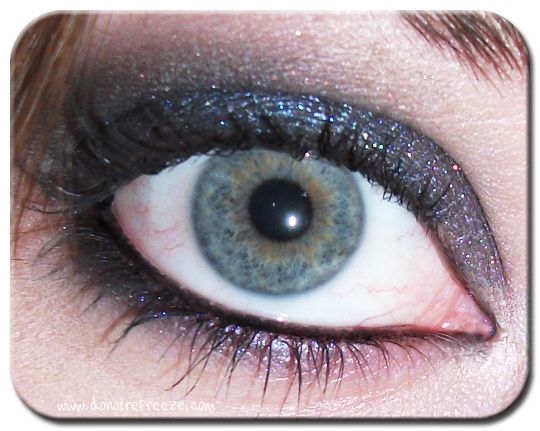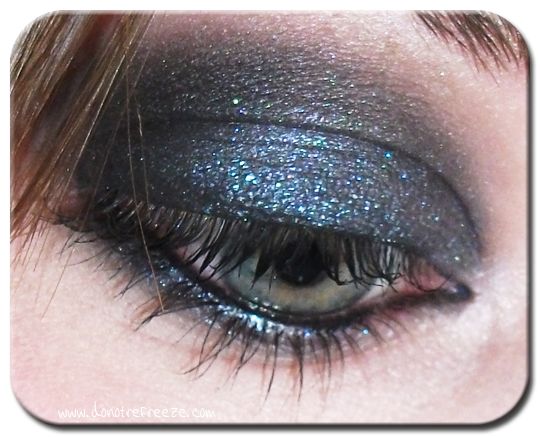 In short, I am thoroughly impressed with my first experience of Kiko. I'm definitely going back for more – I want to explore everything in the store! In fact, by the time this goes live I should already be in possession of more from the brand as I'm scheduling quite far in advance at the moment. So watch this space for more Italian goodness from Kiko Makeup Milano!
Have you tried Kiko?