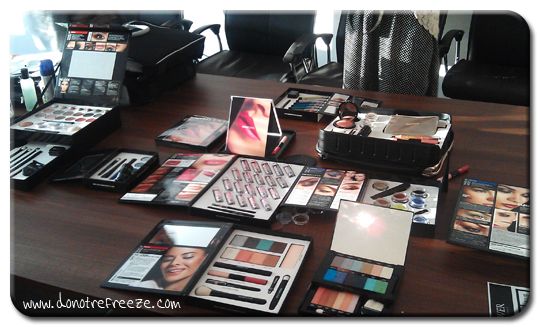 Last Tuesday, I made the excessively long trek to Chiswick (seriously, furthest I've ever gone for an event before and will NOT be going that far again! Haha) to preview the new kits from Frontcover for their Autumn/Winter collection. There are a huge 14 new sets to choose from – although you may have trouble choosing just one!
The collection comprises of the following sets (click the names for product images – I didn't want to make this too pic heavy!)
:: Airkiss (£20)
The ultimate lipstick library with an array of shades in creamy and pearl textures
Contains a whopping 20 mini lipsticks, one nude lipliner pencil and a retractable lip brush
:: Come To Light (£10)
Essential tools… lip colour plus a mirror
Contains a desk mirror and a double ended lip product – a 'suits all' lip stain and sheer iridescent gloss.
:: Blue Eyed Girl (£12)
This season's colour story translated into the latest eye look combined with a flash of colour for the nails
Contains 3 'shot silk' eyeshadows (Frontcover's newest eyeshadow formula), the cult Shadowline (transforms any eyeshadow into a liquid eyeliner), a double ended mascara with blue and black, and a midnight blue nail polish.
:: Micro Rainbow Eyes (£12)
Frontcover's cult Rainbow Eyes made miniature!
Contains a palette of 9 baked eyeshadows – a miniature version of their very popular (but very bulky) Rainbow Eyes set from 2009 (I think), Shadowline and a metallic faux leather pouch.
:: Finger Print (£14)
This season's coolest nail polish shades plus gold glitter topcoat for endless possibilities
Contains 6 metallic/shimmer finish nail polishes, gold glitter topcoat and two dual-purpose nail files/buffers.
:: Eye Popping (£16)
Double layer compact with lenticular lid and mirror – showcases 3 fine line colour combinations for eyes and cheeks
The top layer contains a mirror and two fine line colour combinations for eyes, each featuring six colours so twelve eyeshadows total. The bottom layer houses one fine line colour combination for cheeks (or also eyes if you like), a flat cheek brush and an eyeshadow applicator.
:: Moondust (£16)
A collection of loose pigments and glitters in pots to create twinkly sumptuous looks
Contains 6 iridescent pigments, two holographic glitters, Shadowbase (Frontcover's awesome eye primer) and an applicator.
:: Top Drawer (£16)
Six chunky eye pencils in an array of textures – creamy, sparkly, metallic and glitter!
Contains six chunky eye pencils with one of four formulas; cream, metallic, shimmer or glitter, one slimline black kohl pencil and a dual-sized pencil sharpener.
:: Packing Case (£18)
Everything you need for eyes, lips and cheeks in one slimline box. Perfect for that weekend away or overnight stay
Contains 4 fineline baked eyeshadows, 4 fineline baked cheek (or eye, again) colours, translucent powder, double ended lipstain/gloss, double ended black mascara/sealer, black kohl pencil with smudger, mini tweezers, eyeshadow applicator, cheek brush and mirror. A serious amount of stuff for £18!
:: The Point Is Pink (£20)
Lashes and eyes have never looked like this before – endless combinations of effects from vamp to va va voom
Contains 'twinkling pink' fake lashes, mini black kohl pencil with smudger, lilac holographic glitter, 2 sparkle powders, double ended mascara in black/silver glitter, eye applicator, lash glue and lipstick.
:: Brush Work (£20)
Experiment with the art of nail decoration. Everything you need to be creative with nails
My personal favourite (naturally)! Contains 3 sets of nail wraps, three pots of different rhinestones (round silver, square silver, teardrop black) and a pot of silver stars, an orange stick, a thin nail art brush, 2 nail polishes and a clear topcoat, nail glue, a buffer/file, mini tweezers and mini scissors.
:: Gilt Edged (£25)
The ultimate party collection for golden girls… Glitter, shimmer and shine from your head to your toes
Contains a mini cosmetic bag, a shimmer stick (think NARS Multiples), a baked powder blush/bronzer/highlighter/whatever you want it to be, double ended lipgloss, double ended chunky eye pencil in gold and copper, one holographic glitter, one iridescent pigment, Shadowbase, an eye applicator and a cheek brush. All housed in one large makeup case!
:: A Billion Stars (£35)
A array of textural products for eyes. Experiment with NEW satin pressed eyeshadows, NEW shot silk eyeshadows, iridescent baked powder eyeshadows and luscious twinkle baked powder eyeshadows
Contains 4 satin pressed eyeshadows, 4 shot silk eyeshadows, 4 baked shadows, 4 twinkle baked shadows and an empty compact which any four of the shadows can be clicked into. Also contains 2 iridescent pigments, 1 holographic glitter, a pot of little silver stars, Shadowline, Shadowbase and lash glue.
:: Style Queen (£35)
The ultimate collection of timeless makeup essentials for eyes, lips and cheeks plus makeup artist tools to get the look
This is a big one! Contains 7 baked eyeshadows, 6 satin pressed eyeshadows, 6 lip colours/glosses (in pans), 2 baked cheek powders, double ended mascara/sealer, 2 iridescent pigments, Shadowline, 6 makeup brushes (actually really good quality!), mini lash curlers and dual-sized pencil sharpener. I would be happy for them to bump the price up to £40 on this one if it included Shadowbase as well!
******************************
So as you can see, there's a pretty huge amount of offerings from Frontcover this season. I like the look of most of the sets as it happens – I would get Moondust if it wasn't for the fact that I can never be arsed with using loose pigments. I'm really quite tempted by the Style Queen set as it's packed full of really wearable shades and there's nothing in there that I wouldn't use, although the absence of Shadowbase is a little disappointing. You can buy Shadowbase separately in some Boots stores for £8, but I'd just like it in the kit. I chose Brush Work to take home with me (how could I not, really?), so you should be seeing a proper post on that one in the future!
Overall, I'm really impressed with the amount of work that Frontcover have put in this season. Naturally they make great Christmas gifts (since they're always in the Gifts section at Boots), and that means they're usually on 3 for 2 as well. So it would be rude not to try something!
I did take some pictures of my own at the event, but they're not great because they were taken on my phone (stupid blogger forgot her camera!), so I thought it would be better to use proper product images in the links above. But I have to show you this picture of the cupcakes at the event – HOW cool?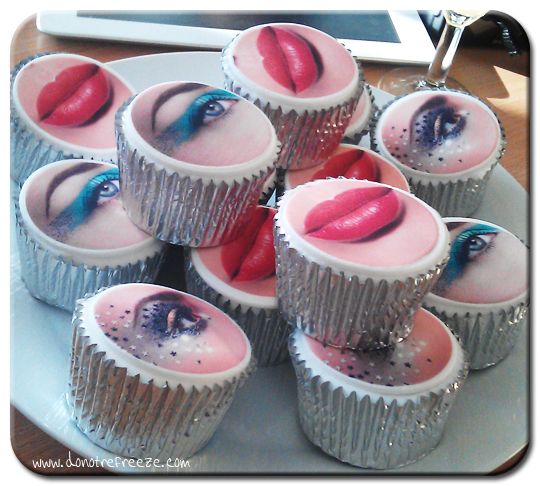 So, is there anything that Frontcover are tempting you with this season?