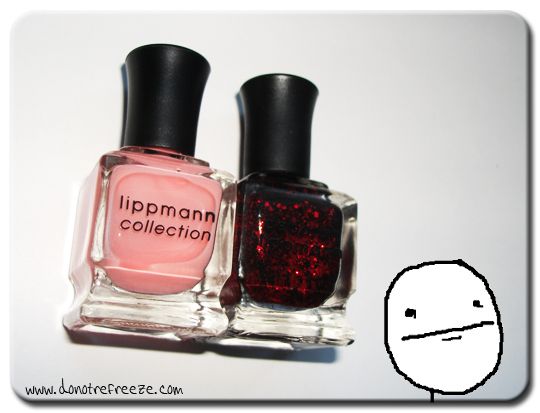 I was SUPER excited to be receiving a couple of the coveted Deborah Lippmann nail polishes in he swap I did recently with kittypolishnbags. I'm not going to beat around the bush here – I really don't see what all the fuss is about. In fact, the best way to describe my experience with them is disappointing.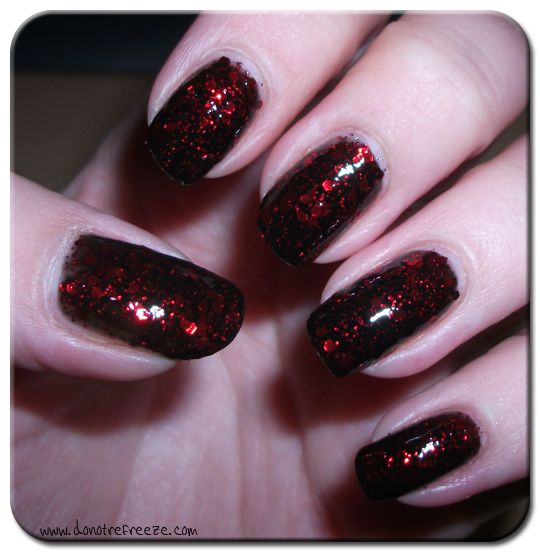 This is Ruby Red Slippers. It looked completely awesome in swatches I saw, but oh my god WHAT a pain in the arse this polish is! Now I'm not meaning to brag or anything, but my manicures are normally very neat around the cuticle. My painting is pretty accurate, but I always shape up the edges of my manicures with an angled brush dipped in acetone for a really crisp edge. Due to the varying sizes of glitter in this, though, it was just impossible to get the neat edge I always feel I need. It just bloody annoyed me to look down at my hands and see those obnoxious specks of glitter messing up my cuticle area!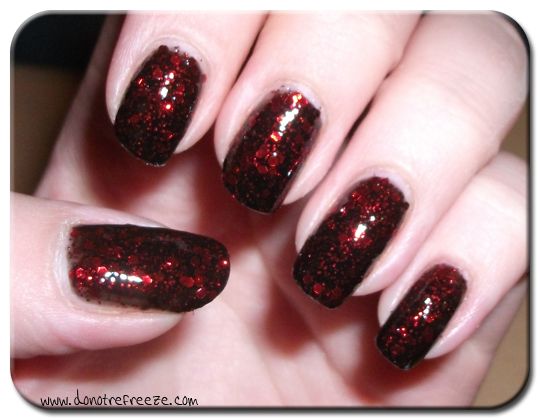 It's an undeniably cool colour (which admittedly isn't done any favours by my crap photos) – multi sized red glitters suspended in a black jelly base (which surprisingly took three coats to achieve complete opacity – I normally find glitters with jelly bases have to be layered over a corresponding base colour). I don't have any trouble with the placement of the larger hex glitters in it – I know that some people push the larger glitters around with an orange stick when using a polish like this but I have quite a few polishes with large glitters in and I think I've got the hang of placing them well as I'm painting. So it's not the large glitters that annoy me, it's the small ones that I can't clean up around my cuticle. And naturally, removal is an utter pain. I just can't imagine ever mustering up the effort to bother with this one again I'm afraid!
This one is Pretty Young Thing. I WANT TO LOOOVE YOU, PRETTY YOUNG THANG! Yes, I really did want to love this. It's such a beautiful, beautiful colour. But oh my god, it's got to be one of the sheerest polishes I've ever used. The above swatch is a staggering six coats. Yes, SIX. You read that right. And there's still visible nail line.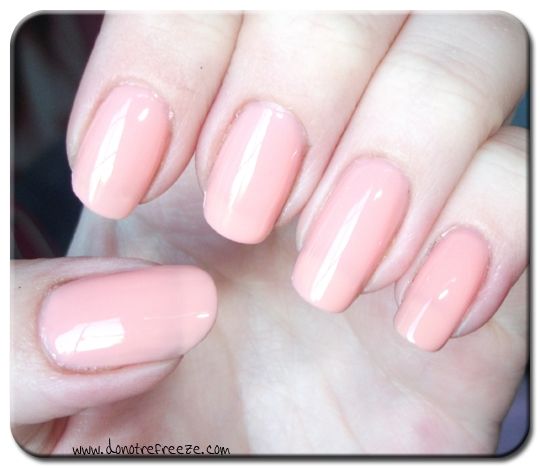 I had no problems with the application of this, in fact the formula is very pleasant. I just find it shocking that a polish can cost so much and deliver such poor pigmentation! Also, it takes an absolute age to dry. I was planning to let it dry between coats but it was just taking far too long, so I ended up slapping on coat after coat for these pictures and taking it off immediately. It's such a shame because I really do love the colour. I've been intending to try it layered over a white polish to fix the opacity issue but haven't got round to it yet.
Overall, for polishes with a $16-18 price tag, I don't think they've got a lot to boast about.
Have you tried Deborah Lippmann nail polishes? What are your experiences with them? Are there any shades that are completely awesome in every way that just might convert me?