I've actually been quite good with using different bits and pieces in my makeup stash over the last couple of months – you know, waking up 10 minutes earlier to actually get some eyeshadow on for a change, trying to cycle different blushes every day to get some use out of the obscene amount I own, that kinda thing. But the above products are the ones I've been coming back to most frequently!
:: Illamasqua Precision Ink eyeliners in Glister and Havoc – I've had Glister for a few months now, and it's got to be one of my most loved products EVER. It's what finally weaned me off of black eyeliner; I still love to wear black liner but I'm just completely in love with the soft, shimmering nude colour of Glister. It's perfect for mornings when I have to get ready in a hurry, it only takes me about 60 seconds to do both eyes because I don't have to be too super neat – if I make a little mistake with this it's not going to show like it would with black. Not that mistakes happen very often, because the brush on the product is so easy to work with. It's more of a spongey kinda tip than an actual brush. Anyway, this looks fabulous with no eyeshadow for just a hint of shimmer on the lashline. LOVE IT. It also looks frigging awesome when worn with a dark smokey eye, it really contrasts with deep shadows and just looks so different and fantastic. As for Havoc, it's helping me with the transition into autumn/winter makeup. A really deep aubergine shade, it's just beautiful. Adds darkness and drama to my makeup, but just a little more soft and a lot more interesting than plain black. Basically I just love Precision Inks.
:: Estee Lauder Pure Colour lipstick in Hint of Peach – Just a really beautiful lipstick. Not massively long lasting, but I don't mind too much because it's just really pretty (and I bought it in a blog sale so it's not like I paid full price for it, haha). It's really quite sheer on it's own, which imparts a pretty peachy toned sheen to the lips, but my favourite way to wear it is layered on top of MUFE's Rouge Artist Intense in number 39. The MUFE is a super pigmented peach colour, so the EL shade tones down the starkness and boldness of the MUFE whilst adding that classic Estee Lauder crystal shimmer finish. Laaavly!
:: MAC Pro Longwear Lipcreme in Dress It Up – They're not lying, it really does last an incredibly long time. I got this quite recently, about a month ago. It's from one of the newer collections, not even sure which (who can seriously be bothered to keep up with MAC LE collections these days?!). I think it might be Styledriver. Or Styledriven, whatever it's called. Regardless, I actually really like the product and I might pick up another shade or two if it's still about the next time I manage to hit a MAC store. Dress It Up isn't usually my sort of shade, it's quite 'bubblegum' for me and has definite purple tones to it. I normally try to avoid anything purple or lilac as it really makes the yellowness of my teeth stand out, but my teeth are actually getting a little whiter! My dentist prescribed me a toothpaste with a much higher flouride content than your usual (5000ppm vs 1000-1350ppm in normal toothpastes). So yeah, that's making my teeth look a whole ton better so I feel like I can actually get away with shades like this now!
:: Make Up For Ever Aqua Cream in shade 28705 – Guhh I wish MUFE products had names instead of numbers, don't you? Anyway, I completely love this. I am a huge fan of cream products for the eyes that genuinely don't crease – MAC Paints, BeneFit Creaseless Creams and the like. This badboy has given me serious lust for more Aqua Creams! The formula is just amazing – bouncy, soft and just wonderful. It lasts ALL day without a single crease showing up, and that's on its own without an eye primer or even with any eyeshadow over the top to set it. I love to just wear a slick of this on its own, the peachy tone compliments my blue eyes fantastically. I like to apply just a sheer wash of the colour with my fingertips, but the colour can easily be built up and layered for a more intense look.
:: Sleek MakeUP New Skin Revive foundation in Oyster – I actually gave this a proper review back in May, so rather than regurgitating my words too much here you should probably check that out. I almost exclusively wore ELF Studio's tinted moisturiser throughout the summer, but now we're moving into autumn I'm favouring a little more coverage on my face. There's nothing I don't like about this foundation, so please take a look at the thorough review!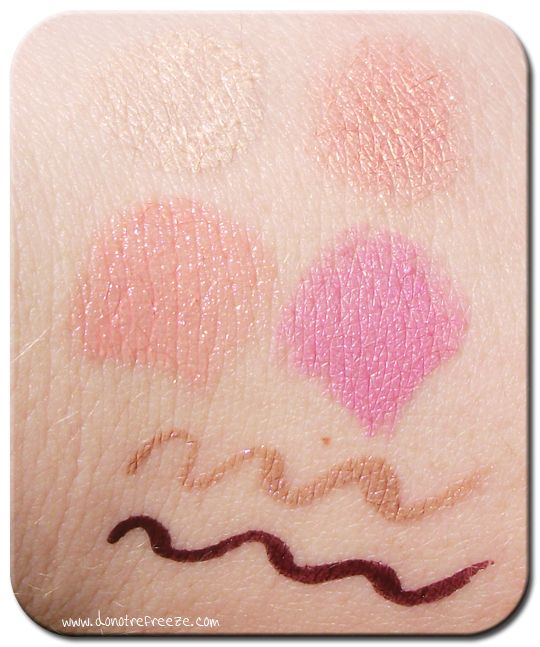 Top – Sleek New Skin Revive, MUFE 28705
Middle – Estee Lauder Hint of Peach, MAC Dress It Up
Bottom – Illamasqua Glister and Havoc
What have your most used products been recently?