First of all, I'm really sorry for missing my posting schedule AGAIN. I've been exceptionally busy lately, I'm trying really hard to get back into my routine. Sorry :(
Secondly, I would frankly be astounded if you haven't yet seen any posts about Illamasqua's new Autumn Winter collection, Theatre of the Nameless. I'm not going to talk too much about the collection's story and whatnot, because I have to be honest with you I'm not a great lover of it. You all know I LOVE Illamasqua, they are hands down my favourite brand of all time, but I can't help but feel that the story behind this collection glorifies prostitution. I'm certainly not a prude (if you know me, you know that!) but that's just how I feel about this one.
Regardless, I can just not pay attention to the story and just enjoy the promo images and products, which are astounding as always. I'm afraid I couldn't get any decent product photos at the event because the lighting at the venue wasn't conducive to good pictures :( I do have swatches of all the products, though – but apologies again, because I swatched every product on my hand before leaving the event so I could take a photo outside in the natural light, but I only went and smudged a coupe of them when I put my coat on… even so, you get the idea :) Oh, and I should mention that the collection also includes the new Masquara and two new pairs of lashes, but naturally I can't swatch those ;)
1. Shimmer Blusher in Morale
2. Shimmer Blusher in Ambition
3. Cream Pigment in Androgen
4. Cream Pigment in Depravity
5. Pure Pigment in Zeitgeist
6. Pure Pigment in Berber
7. Pure Pigment in Beguile
8. Intense Lipgloss in Facade
9. Sheer Lipgloss in Violate
10. Intense Lipgloss in Belladonna (online exclusive)
11. Lipstick in Kontrol
12. Precision Ink in Havoc
I must say, I was quite intrigued by the Shimmer Blushers – a first from Illamasqua, with all their previous blush offerings being matte. Also, I could be wrong but I think this is the first time any blushes have been included as part of a collection, I believe all their others are part of the core range. I am also interested in getting my hands on Androgen cream pigment to use as a blush and lip colour, but I could take or leave Depravity.
I also really liked all three of the Pure Pigments. Zeitgeist reminded me of Android from the A/W09 Dystopia collection but with much less shimmer particles. Berber is absolutely BEAUTIFUL, so rich in its auburn colour and just amazing to look at – I was thrilled to discover this one in my gift bag. I can't wait to try it paired with Resolute liquid metal from the A/W10 Art of Darkness collection :D. Beguile also has a cousin from the Dystopia collection – remember Static? This is very much like that, but without the blue/purple/pink reflects. Beguile was designed to look like water, and it almost really does in the right lighting!
I'm passing on all the lip products, none of them are really for me. Belladonna is a beautiful colour, though. The Precision Ink in Havoc is another story, though – the moment I saw it I had to have it, so imagine my delight when Kim swapped it with me for Kontrol lipstick ;D. I bought the Precision Ink in Glister early on in the summer and it has quickly become a holy grail product for me, so I'm really excited about having another colour to play with. It looks almost black in my swatch above, but in reality it's a gorgeous aubergine shade.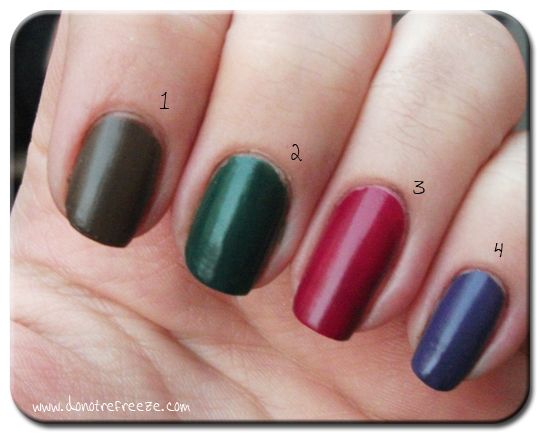 1. Nail Polish in Taint
2. Nail Polish in Kink
3. Nail Polish in Vice
4. Nail Polish in Faux Pas
Ahhh, nail polish. I love you. I like all of these – even Taint, which I thought I'd hate when I first saw it. Vice is my favourite though, how beautiful is that? And luckily enough, it showed up in my gift bag! You must have heard of these 'rubber look' nail polishes before. The finish on them hovers somewhere between matte and glossy, it looks almost like candle wax. Although, as with any polishes that have a matte or semi-matte finish to them, they will lose that finish over a few days on the nails. I lazily wore these swatches for 4 days and by the time I removed them they looked like just a normal creme finish polish. So yeah, I definitely really like these but I have just one pedantic little complaint. These polishes feature a rubber lid to allude to the finish of the polish, which is a nice touch admittedly. But I am a bit of a hoarder when it comes to Illamasqua polish, and it's going to get on my nerves that my bottle of Vice doesn't match the rest of them! Haha.
So yes, there's swatches and my thoughts on the new products – is anything catching your eye? I'll leave you with my two favourite promo images from the collection; I MUST get around to recreating those corset nails!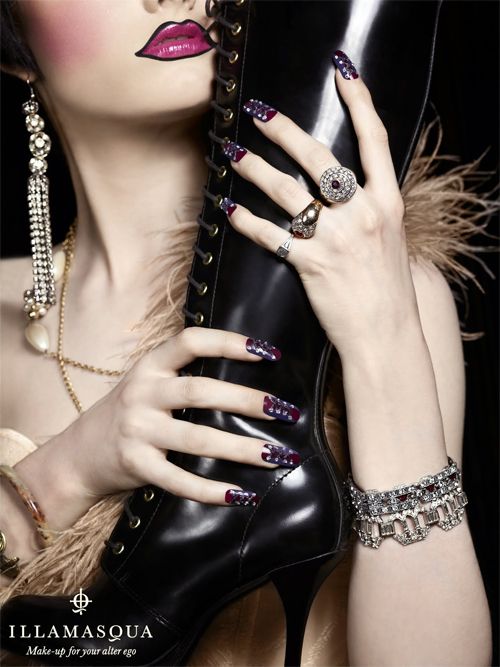 The Theatre of the Nameless collection is available online now, and on counters nationwide from tomorrow!