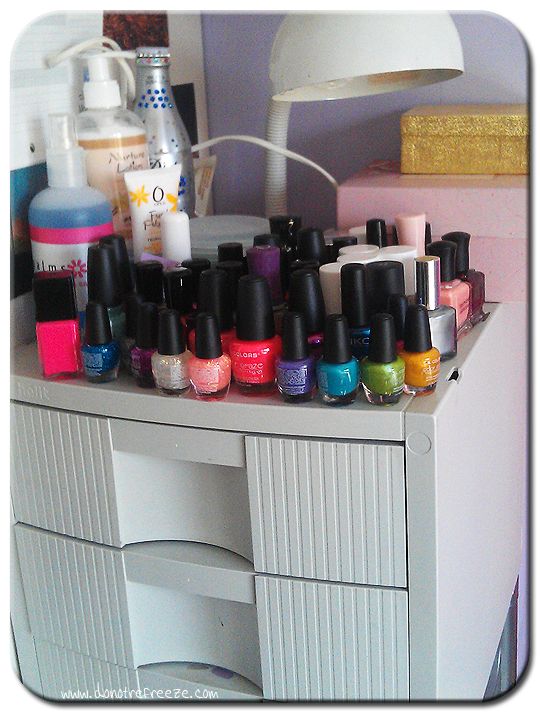 When your constant purchasing causes your nail polish collection to grow exponentially, the time will inevitably come when you literally run out of space for everything. This is what happened to me! The drawers above used to fit all the nail stuff I owned six months ago, but it got to the point where I just couldn't fit any more in. I'd been wanting to buy an IKEA Helmer for quite some time, and seeing these 40-odd homeless polishes on top of my old drawers (despite getting rid of a LOT of polishes this year) should have given me the push I needed, but I just procrastinate terribly with things like this. Luckily though, I have an exceptionally thoughtful boyfriend who ordered one for me! Thank you Colin ♥
I must admit I had a little internal panic when I took everything out of its flat-pack box and realised that I've never had to build or assemble anything before. Despite that, I managed to do the WHOLE thing, ALL by myself, with NO help from my dad (I think he was quite disappointed that I didn't ask him for help actually, haha), all in about an hour and fifteen minutes. I must say I was rather impressed with myself!
And here's my new baby in pride of place next to my desk. It fits perfectly underneath, I think it was meant to be. I'm completely in love and I want to buy twenty more Helmers and keep my entire life in them! And I've managed to fill three drawers with polish, and I've also devoted the top drawer to things that are normally strewn across my desk making a mess, so it's made me a little more organised. This means I've still got two more drawers to fill up with nail polish – I've kept all my nail art supplies in the old storage drawers which will probably eventually be used for spillover when the Helmer gets full.
The top drawer for stuff that I use on a daily basis. Notepad and pens, everyday makeup, Batiste, cuticle oil, that sort of stuff.
Drawer number two – Base and top coats, Illamasqua, Orly, Nubar, Barry M and all brands of glitters and crackles.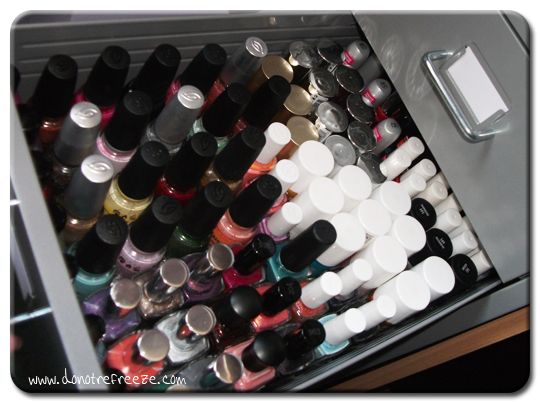 Three – China Glaze, Zoya, two lonely Deborah Lippmann ones, Milani, Pure Ice, Inglot, Hard Candy, Essie, Models Own, Accessorize, Nails Inc, Eyeko, GOSH, and a few more dtugstore ones.
Aaand number four – LA Colors, OPI, Sinful Colors, OCC, Color Club, and loads of other drugstore stuff from all over the world! Haha I actually really like this drawer, there's a lot of stuff I've acquired in swaps in this one. I like looking at them and thinking of the different countries they've come to me from!
So that's my wonderful sexy new Helmer. I really do want a million more! What do you store your nail polish in?