The wonderful Aisling from Fashion Closet Lover very kindly agreed to review these KISS Nail Art polishes for all of you, and has also included a tutorial! I hope you enjoy this awesome review-come-tutorial :)
**********
Hi everyone, it's Aisling from Fashion Closet Lover and I'm here on Leanne's blog to review some KISS Nail Art Paints for her. I will warn you now that I am nowhere near as talented as Leanne when it comes to nail art designs so bear with me please! I thought to fully test out the paints I would show you a quick, and fairly easy, tutorial for some snakeskin effect nails!
The colours paints I used; (L-R) Black, Silver, Silver Glitter, Pearl White and White.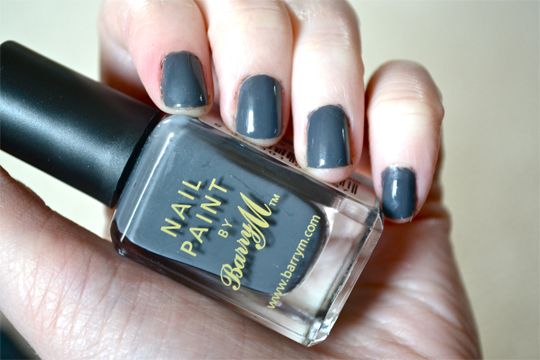 To start off this design I used a grey nail polish, I used Barry M's 293 but you can use any grey that you have to hand. Obviously use as many coats as you need to get a solid colour, I think it took me about 3 coats to get this results. As is usual with Barry M polishes! You then need to let this set properly, as it will be more difficult to do the design if your nails are a bit tacky. I think I let my nails dry for 4 hours, went off and did something else, but if you can I would recommend painting your base the night before. Then when you wake up you know they are properly dry.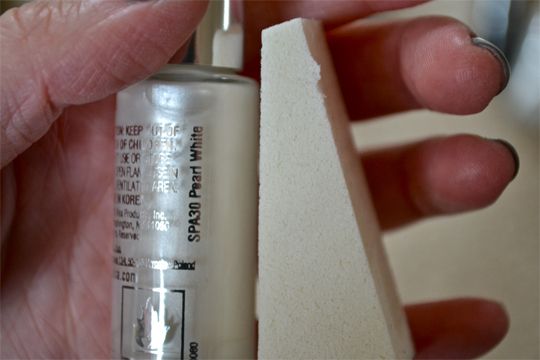 I then used a cosmetics sponge and a small amount of the Pearl White colour to create a light coverage over the base colour. The messier you are with this the better as you're trying to recreate a snakeskin effect, the nails don't have to match either as you want a natural look.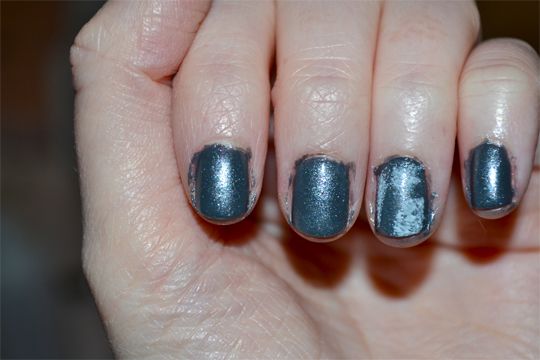 I also used the White paint to do a slightly different nail, or a ring finger accent nail if you like. The great thing about doing this kind of effect with a sponge is that it dries really quickly meaning that you can move on to the next step fairly quickly. Using the paints to get a small amount of the sponge was really easy, as there is such a small brush you can control the amount that goes on the sponge. This is important as you don't want too much on the sponge, also it means you don't waste too much which is always a bonus.
For the next step, I used the Silver Glitter and Pearl White paints to do various lines and blobsto add another dimension to the look. Again, you don't need to be perfect with this, get your create juices flowing and do different patterns of each nail. Although I found this quite easy to do with the small brush, sometimes it did go everywhere on my finger. Hello nicely painted fingers! I think this is because the length of the brushes, as you're holding it right at the top, it's hard to control, especially when using your non-writing hand.
As you can see the brush is quite long, especially when you compare the control to a nail art pen (with a nib instead of a brush).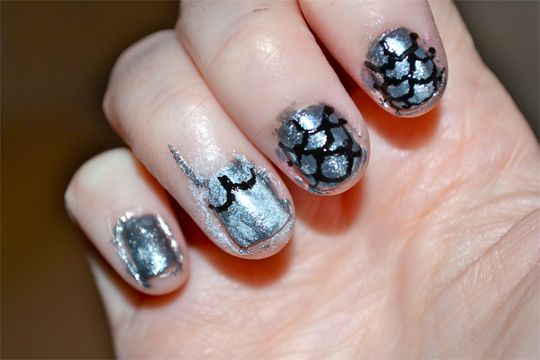 Please excuse the messiness fingers in this photo, you can see what I mean about sometimes losing control of the brush…
Anyway, the next step is drawing on the 'scales' of the skin using the Black paint. You do this by drawing semi-circles or 'c's in a repetitive pattern. You want the start the line of the next row halfway through the arch of the last row. I hope you can see what I mean from the photo.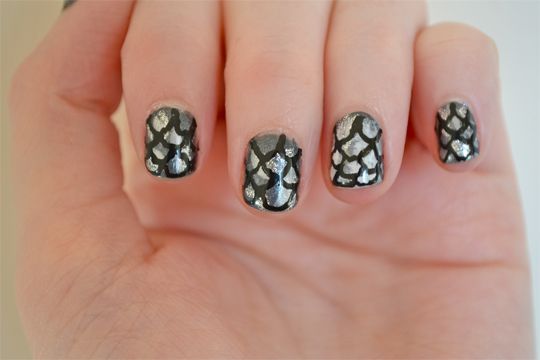 And volia! The finished, and very cleaned up, product. Once the black lines had finished drying, I put a top coat on to protect the design.
Overall, I think these paints are quite good to use. Although you do have to have a really steady hand, something I don't really possess! It too me a really long time to do the scale details, and I had to correct a few mistakes. For the less detailed parts the paints were easy to use, so I think it really depends on the type of design that you want to do. And whether you're more skilled artist than I am!
I hope you liked the review and the design, thank you to Leanne for sending these to me to play around with!
**********
I LOVE snakeskin! Thanks so much for this Aisling :)