On a day out with some lovely bloggers recently, I picked up some products that I definitely didn't plan on.

I'd never tried the Famous by Sue Moxley brand before. I remember in my first year at college they had a stand in the nearby Superdrug, but the palettes were about £14 and whilst I loved the look of them I was only just starting to get into makeup so it was a little out of my price range. Then the stand just disappeared from that Superdrug, and I could never find it in any other Superdrugs near me. In fact, I don't even remember it being in this Superdrug on Oxford Street (the Marble Arch one) last time I went in there either!

Having said that, I don't know if the range is being discontinued or something but everything on the stand was half price. Naturally that meant that most of the stand was empty – I probably would have picked up a lot more if it wasn't all sold out! But here's a look at the few bits I did get.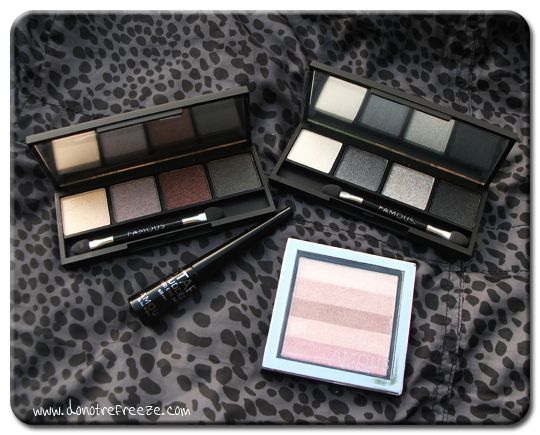 I picked up the Star Studded liquid eyeliner in silver, the Shimmer Brick in Pink (as if they couldn't even be bothered to give it a different name than the Bobbi Brown original? haha), and two of the Eye Collection palettes in Cafe Culture and Shooting Star. I can't remember exactly how much everything cost now, but the palettes were definitely £4.50 each down from £9, and I think the liner and highlighter were about £2.25 each.
So, swatches!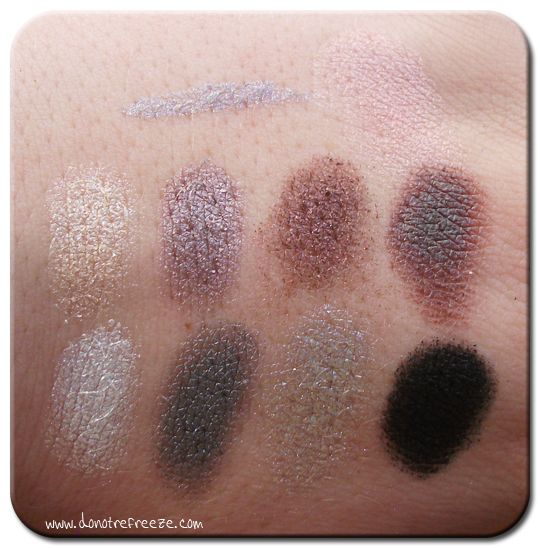 Top – Star Studded liner in silver, Shimmer Brick in pink
Middle – Eye Collection: Cafe Culture
Bottom – Eye Collection: Shooting Star
Okay, so the eyeliner is pretty pants straight off the bat. I didn't swatch this before I bought it as there was no tester available, but I figured I'd give it a go as it was so cheap. You can build up a reasonable level of opacity with it if you go for a few layers, but I'm probably too impatient for that. I can't comment on wear time or anything as I've not even bothered using this yet, but I'll let you know when I do.
The shimmer brick is nice, but nothing too special. The swatch doesn't do it much justice, it has a lovely golden shift to it but it's really not much different from other highlighters I have.
I quite like the palettes, but they do have their faults. They are pretty nicely pigmented as drugstore shadows go, but they're certainly not the high quality of Sleek MakeUP which I've come to think of as my benchmark for drugstore eye colours. The texture is a bit funny on them, though, they are quite loosely packed and they're almost kind of… flaky? If you get what I mean. If you use these you will DEFINITELY experience fallout, so I would suggest doing your eyes before your foundation. I am impressed with the blendability (that's SO not a real word) and the longevity of them, though. Below is an EOTD with the Cafe Culture palette, which I applied over a base of MAC Paint in Bare Canvas and the shadows lasted all day at work with no fading and only very minor creasing by the time I took my makeup off at about 10pm (which is when these pictures were taken).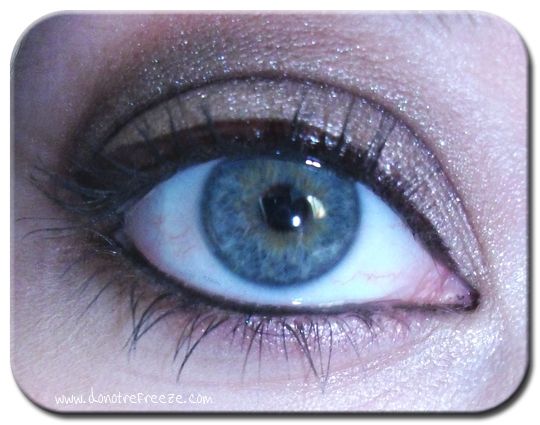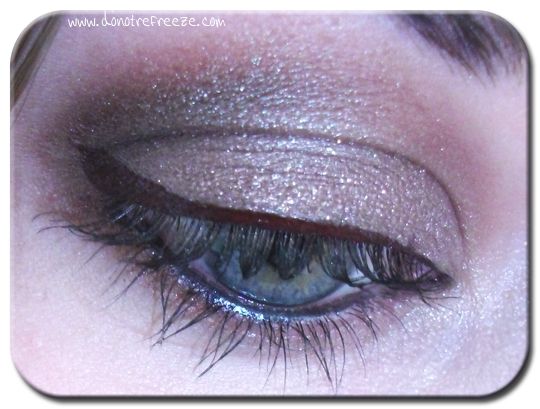 And here's another EOTD with Shooting Star – and for anyone who's interested, the eyeliner is Illamasqua's Glister from the Toxic Nature collection; I think it offsets a dark eyeshadow look SO well!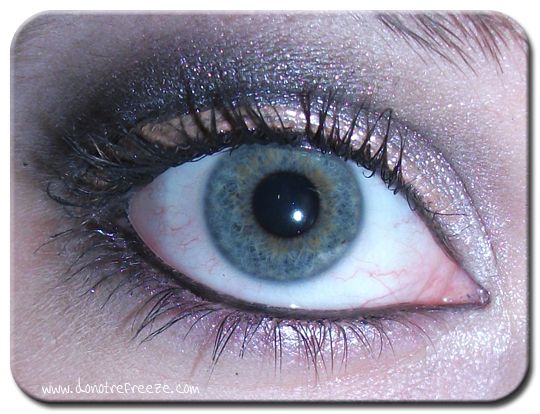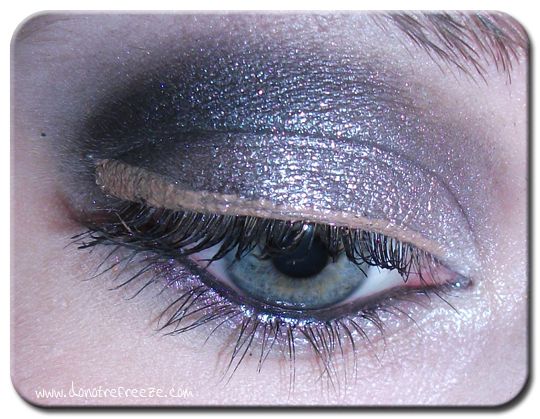 Sorry about the crap image quality on those, my heinous excuse for a camera isn't very good at Macro mode, particularly with flash on.
Generally speaking, from my small taster of the brand in these few products, I have to say that overall it's nothing to get too excited about. Although, it's definitely worth snapping up a couple of the eyeshadow palettes if you see it half price. Personally I don't think the palettes are worth their RRP of £9 but I'd be happy to pay £4.50 for a couple more!
Have you tried much from Famous by Sue Moxley?