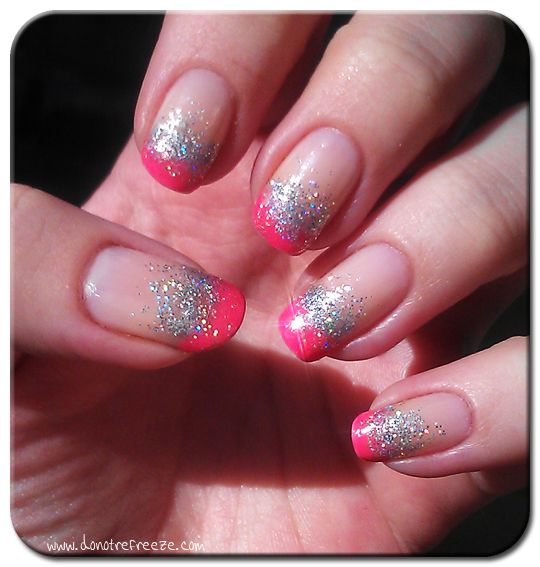 I call this 'part one' because I intend to do a good handful (har har) of different tip designs for you. I call it 'Tips with a Twist' when most people would call it 'Funky French' because frankly, I completely abhor the word funky..
Anyway! Let's get on with it. This is SERIOUSLY frigging easy, potentially the easiest Easy Peasy I've ever posted. Ever. You don't even need any tools apart from an unused eyeshadow applicator!
Start out with a clear basecoat. If you have nasty yellow stained nails like I do, you might consider a coat of a sheer pink or something to slightly disguise it (I applied a coat of Bourjois' Rose Lounge). Now paint in your tips in whatever colour you choose – this is Illamasqua's Collide. If you're rubbish at painting your tips in freehand, this is really not a design where that needs to concern you! The edge will be covered up, so it doesn't matter. Don't bother wasting tip guide stickers or anything on this, it honestly doesn't matter if it's messy at this point.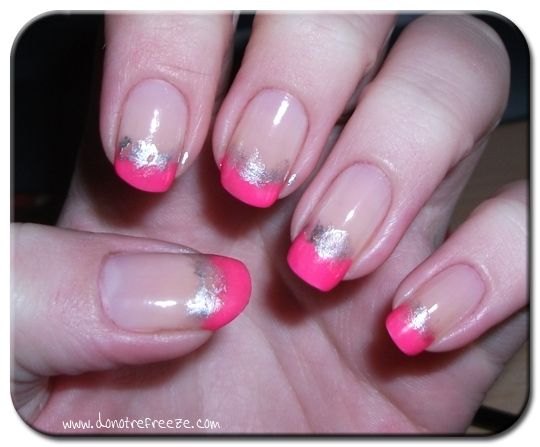 Consider the colour of glitter you are going to use and grab an opaque polish of the same hue – I'm using a silver glitter, so my next step is to sponge on some plain silver polish (Pure Ice's Silver Mercedes) over the join between my tips and the rest of the nail. If your tips are impeccably neat, though, this step is pretty much optional as it mainly just disguises any messiness of the tips that might show through the glitter.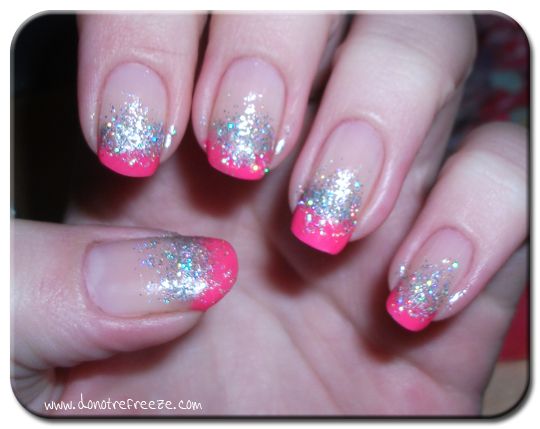 Now, sponge on your chosen glitter polish! This is Models Own's Juicy Jules. You would not believe the bloody hassle I had with this polish, I'll tell you all about that in a minute! Concentrate the majority of the glitter on the join between the tips and rest of the nails, but also bring it down a little so there's a few sparse flecks of glitter further down the nail, and the same thing on the tips themselves.
That's literally it, so go ahead and apply a topcoat, clean up the edges et voila!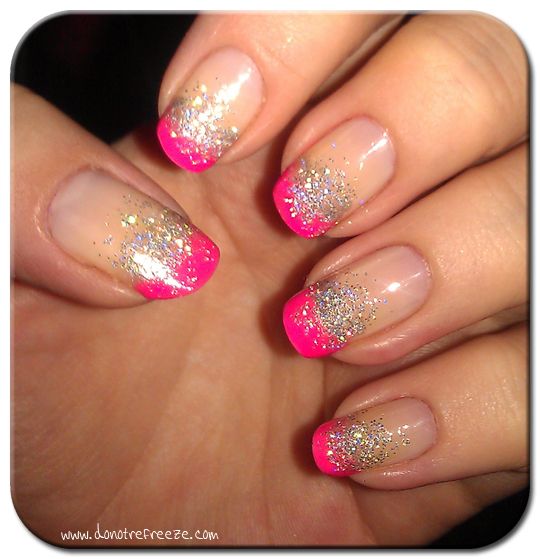 There are SO many colours that this design would work with. Any sort of bright colour would look great, and black tips would look especially awesome I think. Or how about giving it a go with a rainbow of different polishes across the nails? Please give it a go, it's such an easy one :)
So before I go, let me tell you about my Models Own debacle! I ordered a few polishes from them in their recent 50% off sale. The first time I made the order, I got an email saying that Paypal had withdrawn the payment, but I got no order confirmation from Models Own. I emailed them about it, and a few days later they refunded me in full and said that my order didn't go through properly. Fair enough, the servers were getting quite a pounding. So I ordered again, order confirmation arrived fine. TEN days later I'd received no shipping notification, which I thought was taking the piss a bit so I emailed them again. 'Oh your order is still being processed and you'll get an email when it's shipped, make sure it's not in your spam folder' – I'm not stupid.
Anyway, it eventually arrived and I'd had this design in mind for a while but was waiting on one of my new purchases, Juicy Jules, before I went ahead and did it. So imagine my absolute FURY when, after painting my tips and sponging on my silver, I cracked open my brand new bottle to find… no brush. Really. I was frigging fuming, it just felt like rubbing salt in the wound after I'd had such a hassle just getting the damn thing. I decided I'd email them to ask for a replacement, but in the meantime I needed to finish my manicure! So I just decided to stick the eyeshadow applicator into the bottle since I was only going to be sponging with it this time anyway. Shockingly enough (or maybe not so much given this whole saga), the consistency of the polish was like treacle. I shit you not. I was determined to finish my nails, so I sponged it on with difficulty.
Seriously though, Models Own, no bueno! I doubt you'll be receiving my custom again.
P.S. I'm still going to do my Stumbles posts, I've just decided to make them fortnightly instead of weekly :) thanks for the good response on it!